Canyons on Crete: There is a big difference between walking, hiking and canyoning. On Crete there are canyons where people with little hiking experience easily can pass through. By hiking through the many gorges and canyons you can discover the exceptional nature of Crete. There are also larger and more dangerous canyons, where you should always pass with a guide, even when you are an experienced hiker. On Crete there are several canyon clubs that we can help you to get in touch with. Whether you want an easy walk without many differences in altitude or a heavy hike through a canyon on Crete, everything is possible.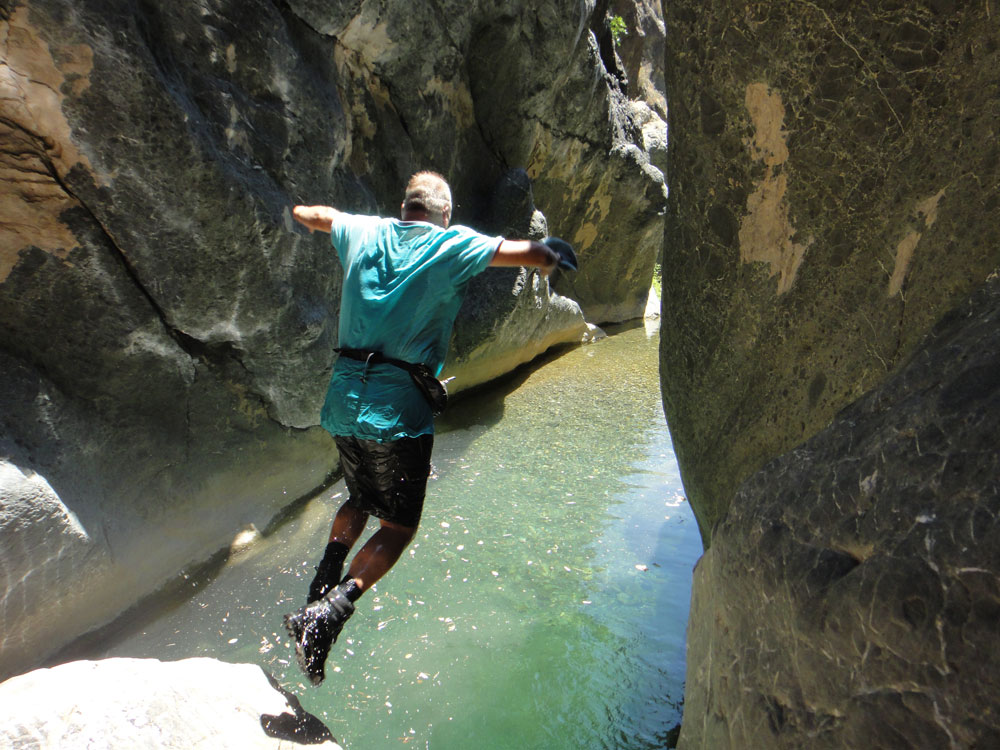 Canyons on Crete – For whom is hiking through a canyon suitable?
Canyons hiking on Crete: Hiking through a canyon on Crete is achievable for everybody with a normal physical condition. We have a variety of canyon hikes from 5 to 15 kilometres. On Crete there are more than 50 easy to go through canyons. We start at the top of the canyon and hike an easy way downwards. You should always be aware of possible loose stones and wet feet. We leave early in the morning to make the most beautiful pictures and to enjoy in peace the wonderful nature in the canyons of Crete. We do not mind to start early our walk, for example at 6 AM.
These hikes cannot be expressed in kilometres, but actually only in time. It is possible there are parts where you pass one kilometre in an hour, but there are also parts where you do 3 kilometres in one hour. The easier canyon hikes on Crete have been created in a way that you choose if you want to walk from 4 to 8 hours. Just ask us which options there are! To bring with you: walking shoes and sports shoes, extra socks, an extra pair of trousers and a T-shirt, backpack and sunscreen.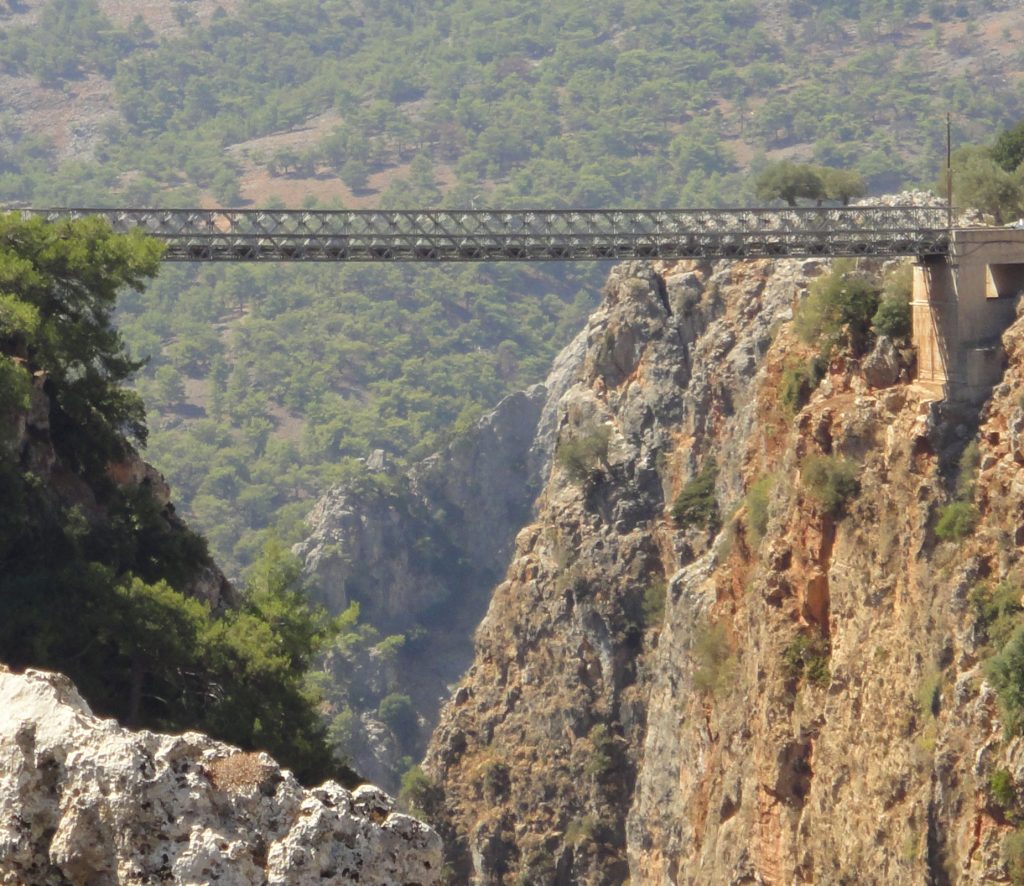 Hiking through canyons on Crete: Heavier hikes on Crete in canyons. Also with these hikes it is not about the distance, but about the amount of obstacles you encounter along the way. Canyon hiking on Crete is a combination of walking, climbing, descending and swimming. We also bring a climbing rope to give people a hand where needed. The heavier hikes take from 6-8 to 10 hours. To get wet and dry up during the hike is part of the game. There are all over Crete possibilities for challenging hikes through canyons. To bring with you: walking shoes and sports shoes, extra socks, Neoprene socks, wet-suit (spring and winter), helmet (not always), extra pair of trousers and a T-shirt, backpack and sunscreen.
Extreme canyoning on Crete: There are many deeply carved canyons with waterfalls on Crete. In these canyons you can do abseiling (rappelling) and climbing with luggage. For these canyons we like to bring you in contact with the canyoning clubs on Crete. Do not underestimate canyoning on Crete! Some canyons are more dangerous than in Austria, Switzerland and France. Never go alone and always go with an experienced group. We would like to help you on the way.
Canyons on Crete – Where and when can you hike through a canyon?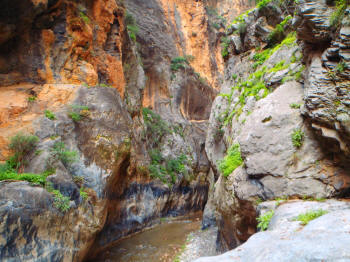 Canyons on Crete in the summer and winter: There is a big difference in which time of the year you hike through a canyon on Crete. The most spectacular period is from November until June. Then there is plenty of running water in the canyons. Hiking through the canyons with clear running cold water is an amazing experience. From June until November many canyons on the island have no water. But lucky enough there are exceptions where there is running water all year round. You should not be afraid to get your shoes wet on a hiking day.
Canyoning on Crete, Greece: There are so many options that you are spoilt for choice. Actually there is behind every hill or mountain on Crete a canyon, the one even more spectacular than the other. There are longer and shorter hikes through canyons possible all year round.
Heavy nature hiking with canyons on Crete: There are possibilities to hike right through nature in combination with canyons and without walking trails. In this way you discover the real and unspoilt Crete with lots of beautiful nature, flowers and plants, birds of prey, etc. Crete offers so many alternatives to enjoy holidays out in the nature. The scent in the mountains is unforgettable, whether it is spring or autumn.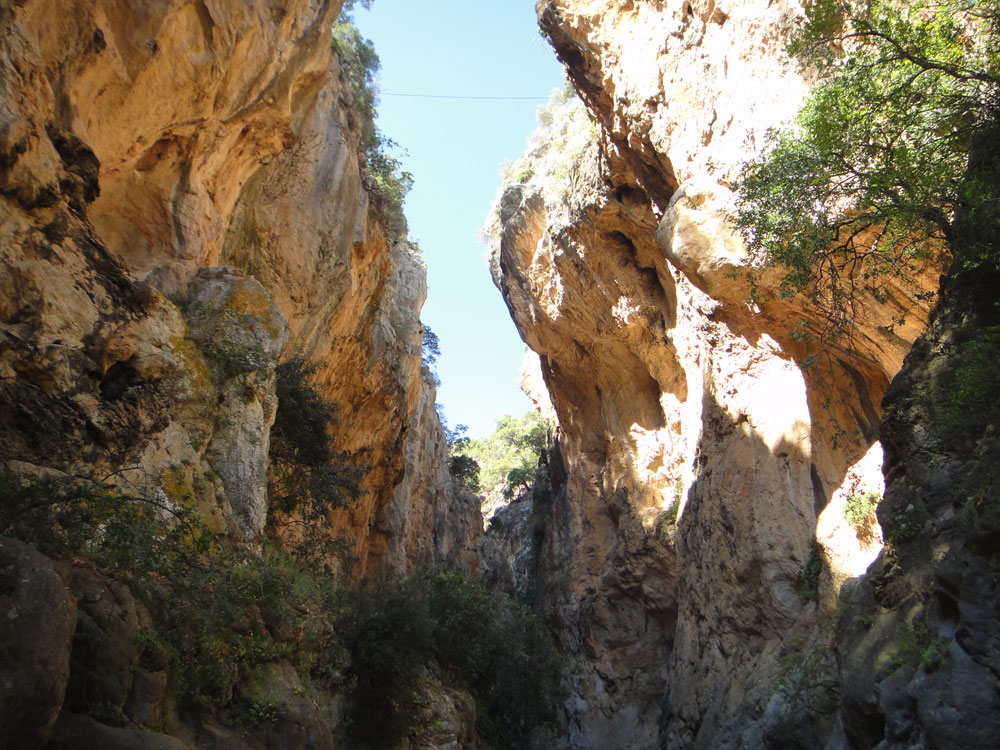 Canyons or gorges on Crete: Once you have been reading about the numerous walks we organize, you will quickly come to the conclusion that there are many gorges on Crete. It is not only the Samaria gorge or the Imbros gorge. Crete even has the nickname "the island of the 100 canyons". Anyone who reads more into it, will come to conclusion that this is no exaggeration.
Walking on Crete on YouTube: Here you can see a lot of movies of our hikes on Crete. Each week we post a new video of our last walk, so you get an idea about hiking in summer and winter on Crete.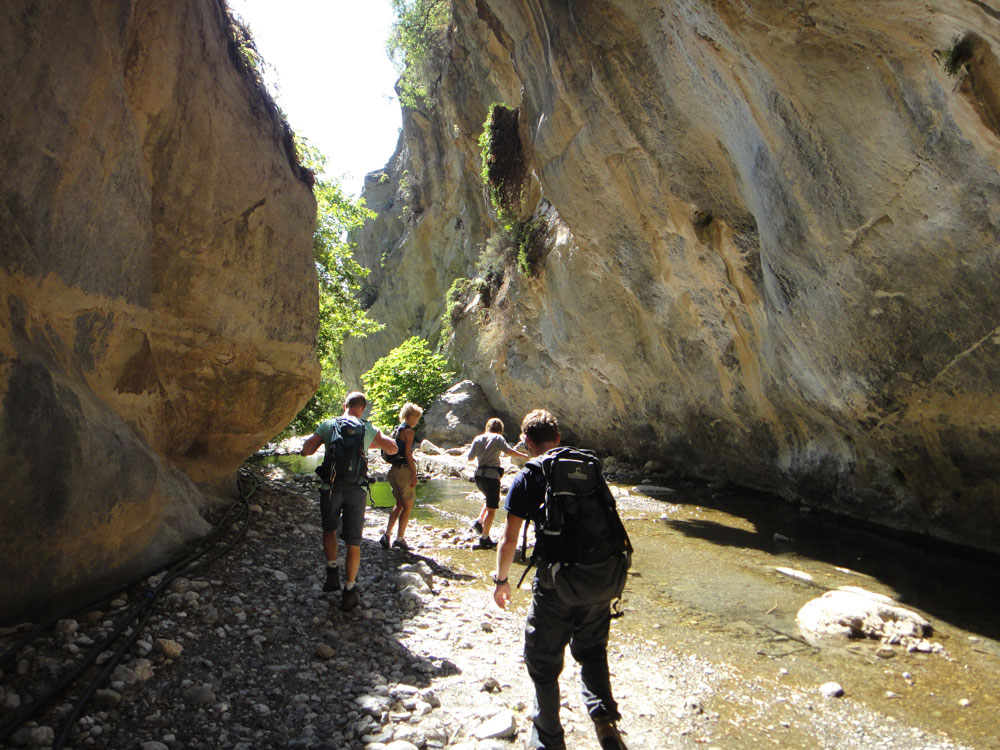 Hiking holidays and nature holidays Crete: Click here for all the hiking and walking possibilities on Crete. Whether for a novice or an experienced walker, Crete is the Greek island that is perfect for hikes. This is a page with an overview of many hiking options on Crete!
Hiking and accommodation on Crete: The location of our apartments is directly by the sea and the apartments are suitable for everybody: from families to groups, but also for two persons or singles!
In case you like more information, please send an email to zorbasisland@gmail.com
Canyons on Crete