Cycling in Crete: Crete has many cycling opportunities for the holidays. We can offer you various types of cycling holidays in Crete. MTB CRETE. We provide information on this page about the various options. We offer possibilities for accommodation and cycling in Crete, Greece. Cycling holidays in Crete (off-road) with mountain bikes. MTB tours in Crete, Greece: A cycling holiday with mountain bikes. We have made a selection of choices for cycling in Crete.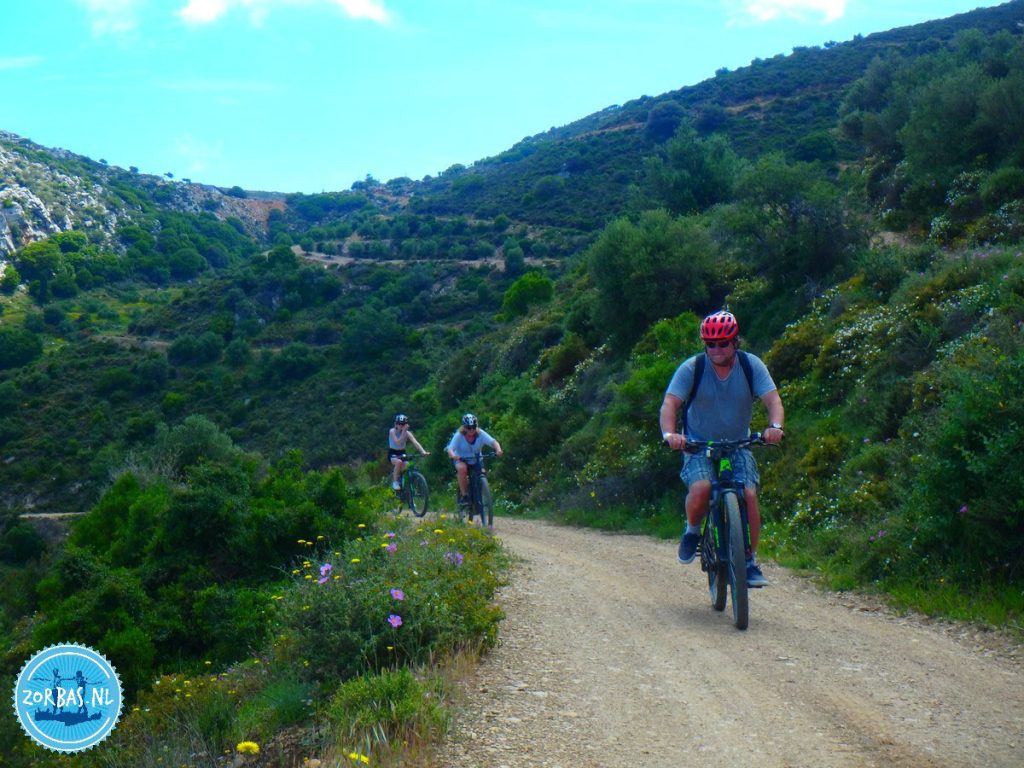 Cycling tours Crete : You can make a tour of 2, 3, 4, 5 or 6 days (combined with accommodations). We offer bicycle tours that can be done individually, but we also organise group cycling tours a number of times a year. You can book cycling holidays in Crete throughout the whole year. If we are cycling with a group, we make tours of 40 to 60 km per day. We also have GPS routes for the countryside of Crete.
Cycling in Crete – Cycling tours
You can cycle in several ways: Relaxed tour of around 40-60 km per day. Strong tour, 80-100 km per day. Extreme tour from 100 to 120 km per day (through really heavy terrain). The relax MTB bike tour is a one day excursion. (fatbikes)
All bike tours have up slopes and down slopes. In spring, autumn and winter, you need to consider wearing rainwear. The bike tours: Relax tour: We leave with the bikes from the accommodation, which saves a lot of travelling and time. We organise during the week a bicycle tour of 80 kilometers, then we let a bike trailer take us to Lassithi and we will cycle back to Kokkini Hani over asphalt roads as well as off-road. Strong tour: With this tour we leave a few times with the trailer to the starting point, but we also depart from the accommodation. Extreme tours: These bike tours go through rough terrain with many rocks and stones.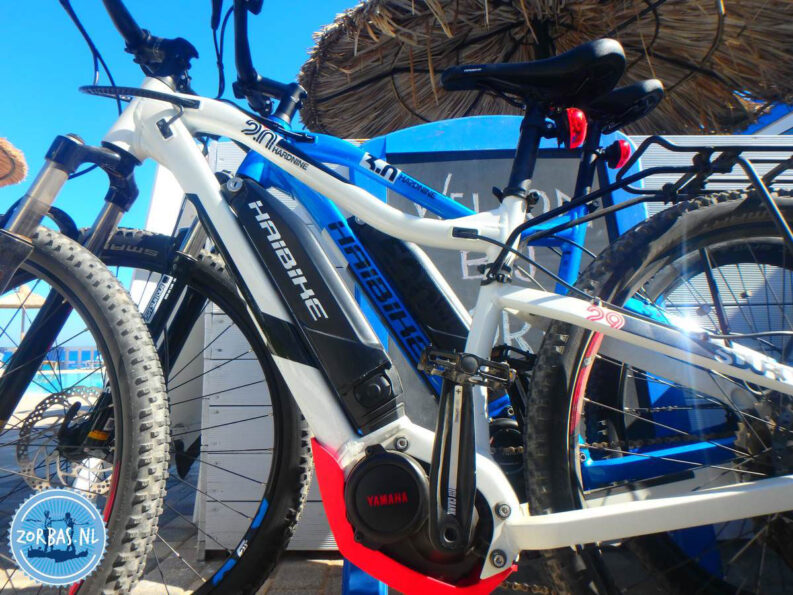 Mountain Biking Crete: Our trails are no official cycle routes; we have created the routes ourselves. You will cycle in a group with a guide. All participants will get a roadmap to take along. If you would like to go mountain biking individually on Crete, we can give you instructions and a route map. Daily we will brief the cyclists about the routes; during breakfast we will explain what can be expected later during the day. MTB cycling around Crete.
Cycling Crete Greece – Cycling routes and accommodation on Crete
Accommodation for cyclists: We have 3 different accommodations where you can stay during your cycling holidays on Crete. You also have the option of half board. During your cycling holidays you can stay in a 1 up to 6 person apartment. These apartments are located at walking distance from Zorbas Island.
We offer you accommodation of 3, 2 & 3 days at different locations. This means: cycling on different routes from accommodation to accommodation. At each accommodation you will receive the following bicycle routes for the other days. You will stay at 3 different locations during one week. This is a beautiful cycle tour with lots of nature, culture and adventure.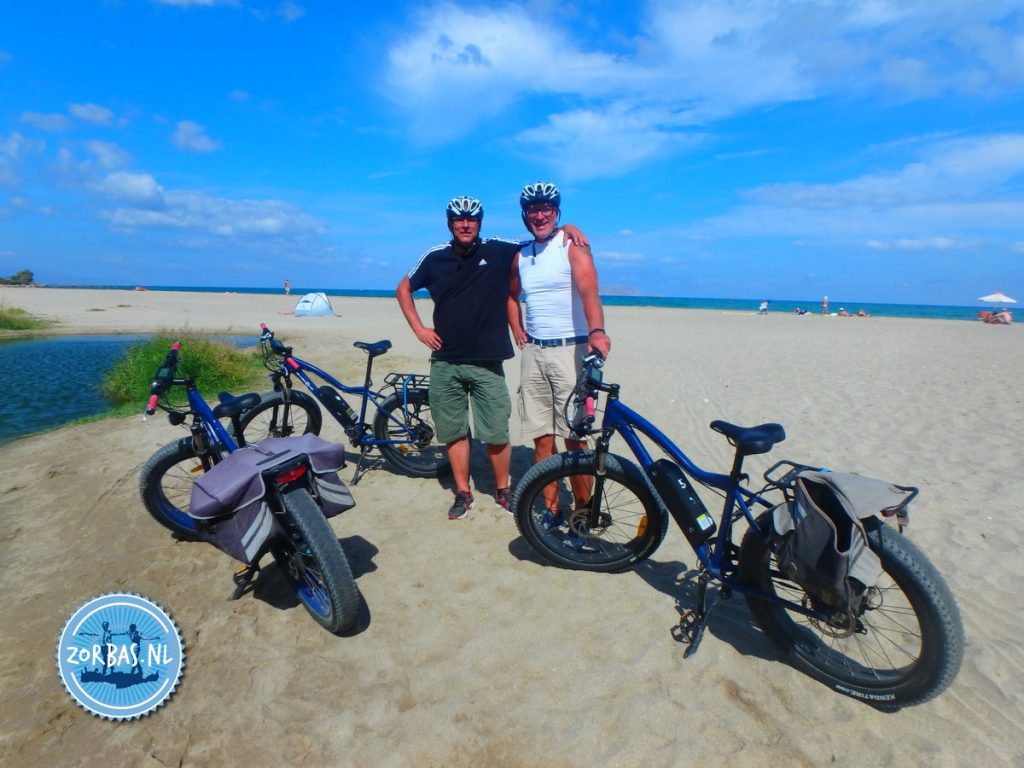 Day 1: cycling on Crete, arrival at Kokkini Hani, Crete. The first day we welcome you at our accommodation and explain more details to you about your bicycle tour. Day 2: early breakfast and start of the first bicycle tour: "the Gournes trail", this tour is approximately 80-90 kilometers. Day 3: after your breakfast you will cycle via Lassithi to Agios Nikolaos, this bicycle tour is approximately 100 – 120 kilometers. Day 4: a bicycle tour in the area of Elounda, this tour is approximately 80-90 kilometers. Day 5: departure from Agios Nikoloas to Mirthos, this bicycle tour is approximately 100 – 110 kilometers. Day 6: after your breakfast you will cycle a route in the area of Myrthos of 100 kilometers. Day 7: today you will cycle back to Kokkini Hani, where you started you bicycle tour, but this time via the South Coast of Crete. Day 8: we will bring you to airport of Heraklion.
This is a nice alternative to explore Crete by bicycle in a different way. You will see the magnificent scenery of Crete through this tour.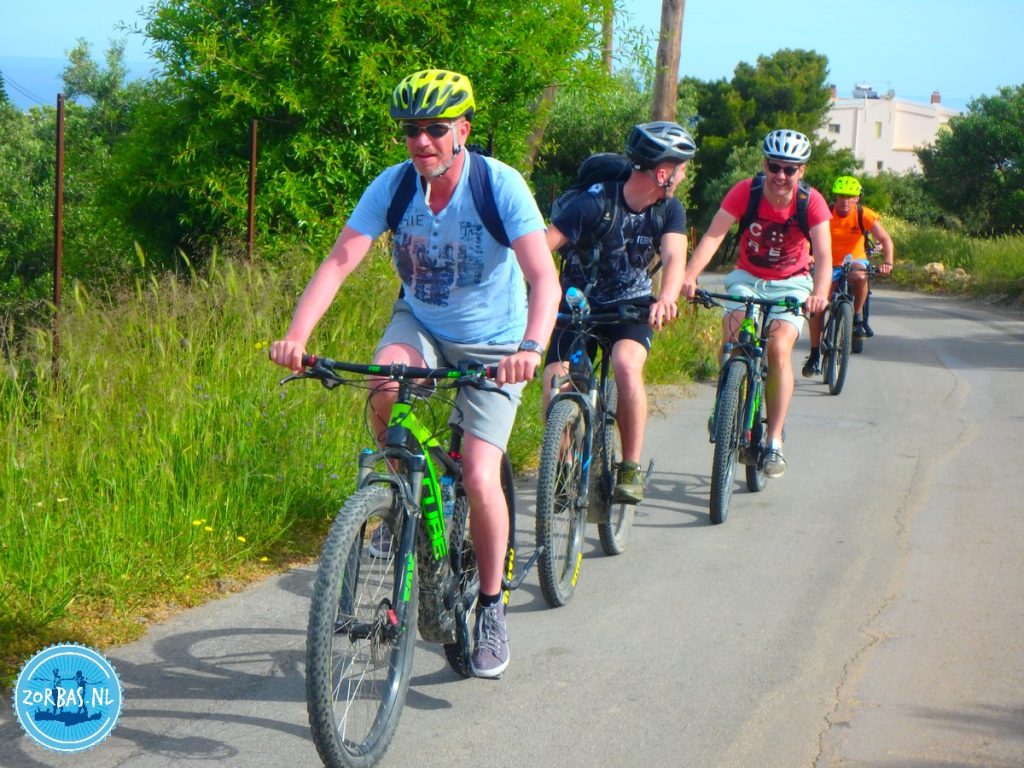 It is important to always have with you a repair kit, rain gear and warmer clothing for in the mountains. We have our own tools, sets of tires, pumps, etc., and these are always brought along during the bike tours. Bring your own bike pedals for your bike shoes.
In addition we also offer options for combination holidays: cycling in Crete, hiking, diving, jeep safari, Crete 4×4, golfing and horseback riding. You can always email us for information about combination holidays on Crete or an active holiday on Crete, but it is also possible to combine active holidays with relaxing holidays on Crete.
For whom are our cycling tours in Crete: You can book all holidays that we offer individually, but we also offer group holidays such as team building holidays in Crete, even cycling clubs have already found us as well.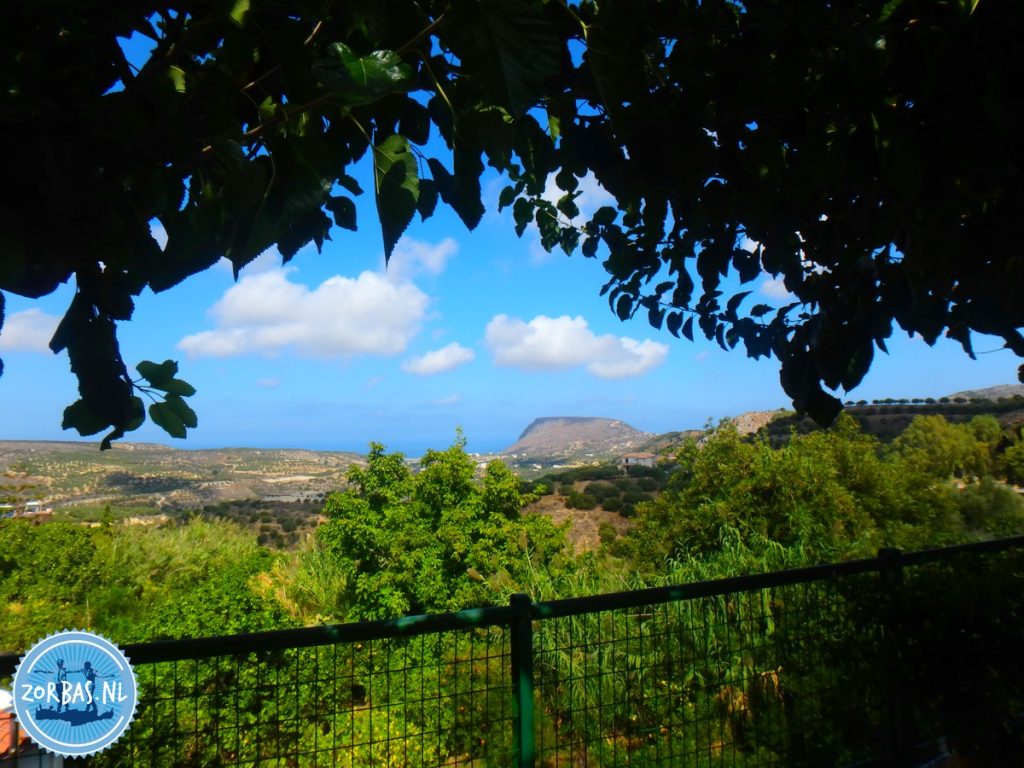 You can rent your bike through us, but you can also bring your own bicycle. We can pick you up with your bike and your luggage from the airport of Heraklion. If during your holidays on Crete you should have special wishes for a bicycle, please let us know before you arrive here what material you require during the tours. We always make sure that when you arrive on Crete everything will be arranged.
Crete does not have official cycling paths, but there are many nice tracks for Cycling in Crete through the rough landscape. During our tours you will not encounter many other cyclists; we want to remain unique with our bike tours. Every year we outline new cycling routes in Crete. A successful route for us is a nice bike path where there are many things to see; an exciting bike tour, with a lot of nature and culture. We have over 10 years of experience in the summer and winter on Crete, Greece.
Off-road tracks in Crete (MTB): Generally you can pretty well cycle all the way through on Crete. The tracks (off-road) consist of sand, stones, gravel, (sometimes) mud, concrete up slopes and down slopes. We can cycle for hours without encountering other traffic.
We don't give a complete description of our bike excursions on our website, because we prefer to keep these tours on Crete unique. Below we give you a description of the possibilities of our bicycle tours in Crete.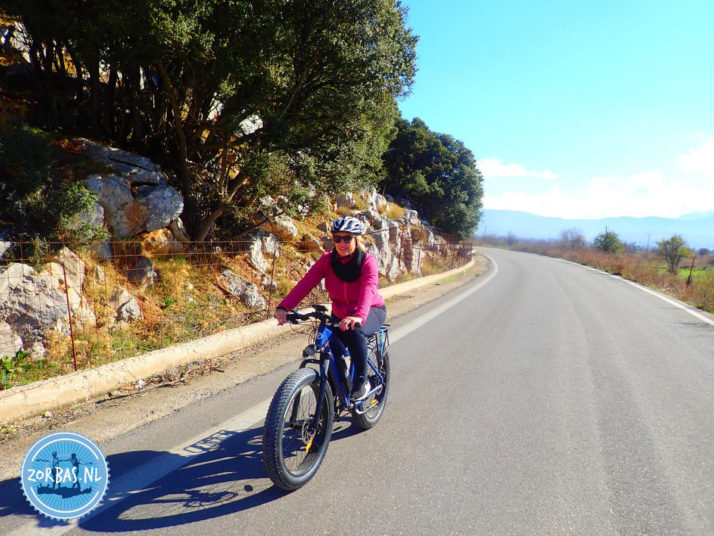 Cycling in Crete – Cycling tour area Kokkini Hani
MTB vacation bicycle tours in Crete, Greece: below we will describe a few routes:
Kokkini Hani active cycling (01) : Depart from your accommodation in Kokkini Hani. We ride towards the old church on an off-road track of about 5 km. After the old church (from 1700), we head towards Galipe, between the olive trees on a sand and red earth track. After about 10 km we stop in Galipe for coffee in the old village kafenion (Greek coffee house). After Galifa we go on a long off-road track to Episkopi. On the way we pass grape vines and olive trees. There is a lot to see along the way! We pass a medieval arch bridge which cannot be found in history books. This region contains many old kalderimis; these are the old donkey paths between the Greek villages. In the old days this was the only connection between the villages in Crete. We also pass a beautiful track along an old river.
In Astraki, a beautiful village where tourists rarely or never come, we have lunch. Up till now we have driven 35 km. After lunch we depart via the hills filled with vineyards back to Kokkini Hani. We cycle back on the white donkey path; we have given the track this name, because for many years already two white donkeys are grazing there. We also pass a special place where many turtles live. Tortoises are common in Crete. Some turtles are up to 40 cm long. Only in mid-summer these turtles are not around. This spot is practically deserted; we ourselves ended up here by chance.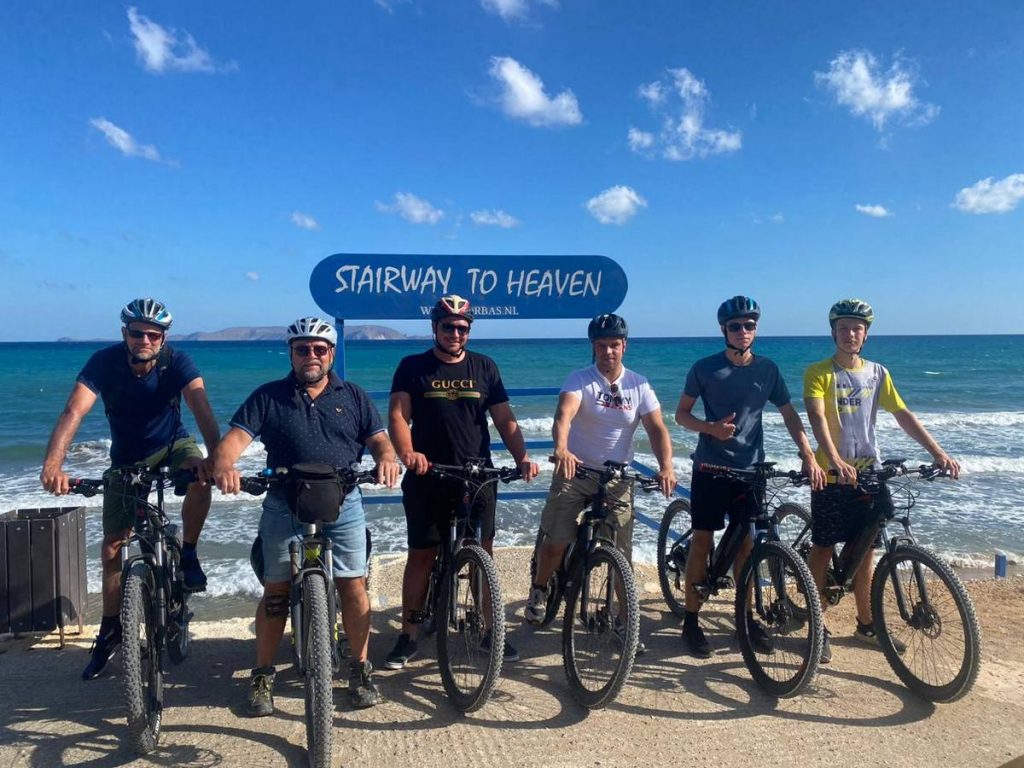 Via Koxari we will go to the cave of Skotino. You can see the entire inside of the cave! After visiting the cave we cycle back to Kokkini Hani. This bike tour is 62 km long. We cycle through mountainous and hilly terrain with sand, gravel, stone and clay ground. This tour is suitable for everybody who is reasonably in shape.
Cycling in Crete – Cycling tour area Potamies
Potamies active cycling (02): We will start cycling from Kokkini Hani. After a bit of asphalted road we cycle off road to Kalo Chorio. In the village we visit an old restored mill. From here you can have a beautiful view of the sea. We drink coffee in Kalo Chorio in an ancient Greek kafenion. Kalo Chorio in Greek means "good village", we believe that it certainly is so! After our coffee stop in the village, we cycle through a bit on an asphalt road and then we continue cycling off road.
We will ride off-road to the village of Messa Potamies, which means "in the river". The road to the village is via a steep path, where at two parts many cyclists get off their bike for a bit! We climb a bit here in a relaxed manner. Then we cycle as during the tour "Gournes track 01" on a track along many old kalderimis. After 5 km when we have reached the top part, where we have a short stop at a nice little church. Then we cycle through forests of olive trees, bay trees, agave, etc. In this area you can see many birds of prey; sometimes they pass right in front of you on the road. On this track we will probably not encounter other traffic. Along the paths grows a lot of vaskomilo, this is a wonderful herb for making tea. Its smell is delicious.
In Messa Potamies we go for lunch at a village inn. After the lunch at Messa Potamies there is a short distance on an asphalt road before we visit a small monastery, where no one lives. After the monastery we will follow a beautiful off-road track and at the end of the tour we will be in Pano Gouves. Through a surprising off-road bike track we cycle back to Kokkini Hani. The entire tour is 58 km, with light to medium terrain. The terrain of the cycle paths is red clay, gravel, stone and concrete. We cycle through hills surrounded by mountains.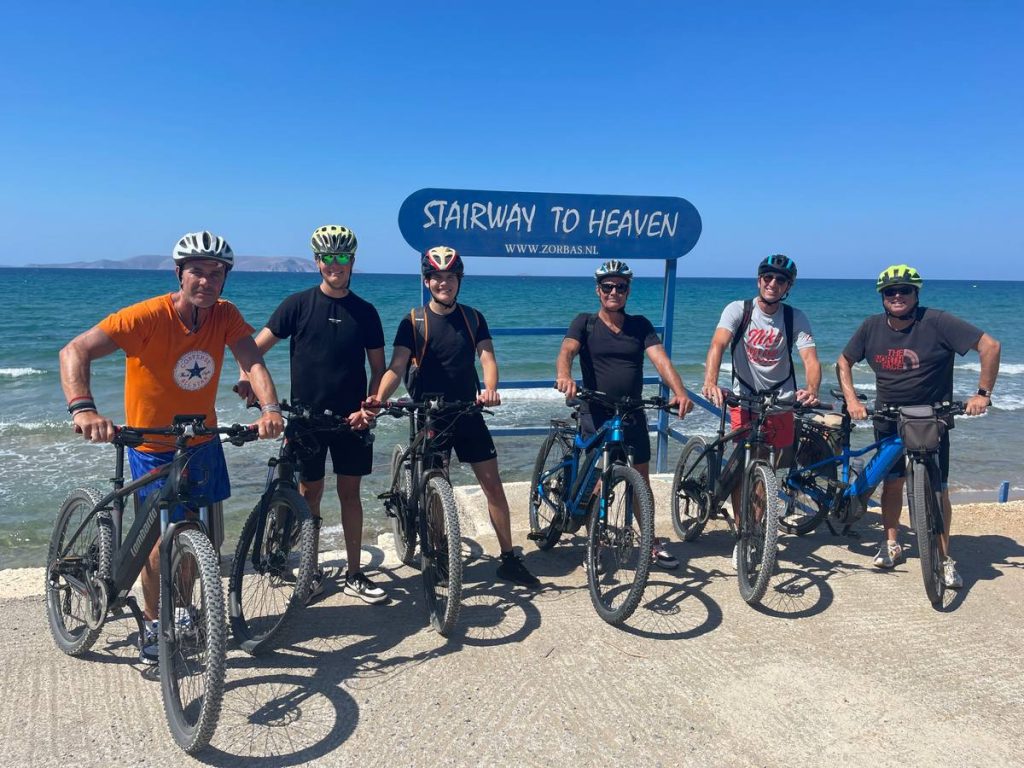 Cycling in Crete – Cycling tour area Geraki
Geraki active cycling (03): We leave with a bike trailer towards Lassithi Plateau. We stop at Kaminaki where we will prepare our things and begin a wonderful bike tour. We now make a long descent on a path that consists of gravel and red clay. A breathtaking descent with beautiful views! In spring there are many wild orchids growing here; by the way you can find more than 60 species of wild orchids in Crete.
We stop at a church that is built into the rocks and from here you will have a magnificent view over the mountains and valleys. In this area there are also many birds of prey. The landscape is not sheltered, so sometimes we can be bothered by the wind. Arriving at Geraki, we go just outside this charming village to an ancient Greek kafenion to drink coffee. We drive on a nice asphalt road until Aski, where we go off road to Avdou. In Avdou we will enjoy our lunch. From Avdou we go via a nice winding road to the tourist resort Piskopiano. Then via a beautiful road we cycle off-road to Agriana. After Agriana village we go to the seaside resort of Analipsi from where a nice route takes us back to Kokkini Hani.
The last track is along the beach. The entire tour is 68 kilometers of light – to medium level terrain. You can sometimes be bothered by the wind a bit. The roads consist of red earth, asphalt, concrete and stones. We start the tour with a bike trailer and we will begin to cycle from an altitude of 2000 meters, after which we cycle back down to sea level. This does not mean there are no up slopes in the tour.
Cycling in Crete – Cycling tour area Thrapsano
Thrapsano active cycling (04) MTB Crete: We will depart from Kokkini Hani towards the mountains and hills of Kastelli. This track has a medium up slope. Along the way we will see a Roman bridge, at least its remains, but still visible. We will pass a lot of orange- and grapefruit trees, walnut trees, etc. In the small town of Lagos we will drink coffee in an old kafenion. Via the church of Kaleri Moni we will cycle off-road to Ano Karouziana, and then later we'll descend off road to Kastelli. Via Kastelli we continue cycling towards Zofori. We pass a lot of farm land, with beautiful eucalyptus trees. After Zofori we will visit the pottery village of Thrapsano. We will visit the pottery farm of a Cretan school. Here many of the famous terracotta pots are baked. Just outside Thrapsano we will enjoy a lunch in an old village tavern.
In the afternoon we will cycle on to Galatas, Voni, Sambas and Agia Trias. This environment is very diverse; we will be cycling through rocky landscape but also forested landscape, from a lunar-like landscape to an oasis. We will stop in the afternoon at a Raki factory. Raki is the most famous drink in Crete. Via an off-road winding road we will reach Voros. Through this small village we will return to Gournes Pediados. The entire tour is 70 km. We will be climbing and descending heavily a few times up and down hills. We will cycle on tarmac roads as well as on roads with red clay, stones and gravel. This tour is medium level, but also has many descents.
Cycling in Crete – Cycling tour Lassithi area
Lassithi active cycling (05) MTB Crete: We leave in the morning with the trailer and we will cycle to the mountain plateau of Lassithi. We will go to the highest mountain in the area, the Dikti Mountain. We stop at an altitude of 2147 meters. From here we cycle through Limnakaros to Lassithi. This is a difficult run, a hard road with many rocks. En route we enjoy the wild nature, beautiful carved rock formations and a lot of greenery. At the end of the descent we arrive at Agios Georgios. Here we go for a coffee at the oldest kafenion of the village. After the coffee break we cycle across the plateau of Lassithi. You can see a lot of the agricultural area, which is a fairly flat route. Lassithi is a mountain plateau, a landscape wedged in between the mountains.
Via Kera we leave the plateau of Lassithi. We go off-road to Gonies where we enjoy our lunch. In the afternoon we cycle through Krasi and Mohos back to the coast. In the afternoon we will cycle along the coastline back to Kokkini Hani. This time we cannot get out of seeing tourists, as we cycle through the seaside resorts of Malia, Stalida and Hersonissos. The entire tour is 67 km. We will ride on rough terrain, but also on light terrain. The descent of Limnakaros is hard. You will need concentration for this descent. The roads we cycle on consist of sand, red clay, asphalt and concrete.
This was a brief description of 5 of our most popular tours. We have over 20 different tracks. Many of our bicycle guests in Crete choose a tour from 3 to 5 days. We organise bicycle tours almost all year round. Only the summer months July and August are not suitable, since the temperature is too high. For more information about Mountain Biking, cycling in Crete, group holiday in Crete, individual Mountain Biking, Mountain Biking and accommodation in Crete etc. please email us.
Cycling in Crete – Rent a bicycle on Crete
Bicycle rental during your holidays on Crete Greece: Through us you can rent a bicycle in Crete, both for the professional cyclist and for those who just want to ride a bike for a bit. We have our own trails on the island; we have created our own bike routes. We also offer opportunities for cycling on Crete, Greece in winter.
Bicycle trailer: For groups who want to go cycling, we have our own bicycle trailer with space for 16 bikes. We can go visit various locations with rented bicycles or with your own bicycle. Minimum participation is 8 persons. We bring you to your desired distance from the accommodation and we will give you all the bicycle routes that you need.
E-bike electric cycling on Crete: During a cycling holiday on Crete you cycle through the impressive nature and get acquainted with the culture. You keep on moving while discovering the most beautiful places. From nature admirer to culture lover; with our varied range of cycling excursions, there is something nice for everyone. Electric cycling on Crete is becoming more popular, because this makes cycling in the mountainous landscape a bit more pleasant. Already for years you can book with us a cycling holiday. But now we take it a step further and also offer electric bikes with a place to stay on Crete Greece.
Hike and bike adventurous walking and cycling tours on Crete: This year we have set up a number of new walks and cycling routes. Here we give an overview of these new possibilities for a hike and bike holiday adventurous hiking and biking tours on Crete. You can walk and cycle these routes with us. But we also have GPS options to do these routes individually. Also the guests who have hiked and/or cycled with us more often will be pleasantly surprised by these new routes.
News and photo page: On Crete today you find the latest pictures, so you are always informed about our activities. You will also find an extensive collection of photo albums and photo books of our excursions, both in summer and winter.
Excursions on Crete: Here you find a lot of information about excursions during your holiday on Crete like: car and bike rental, car and accommodation, diving, cycling, hiking, hiking combinations on Crete, Greek cooking lesson, playing golf, boat trips, horseback riding, outdoor activities, sailing, jeep safari, fishing, group excursions, weekly excursion programs or fly-drive.
Accommodation on Crete: This page gives you an impression where you will be staying during your holidays on Crete.
Holiday information Crete Zorbas Island: For renting apartments and holiday homes, all your excursions and cheap flights to Crete. If you are looking for apartment rental and accommodation on Crete, you have come to the right place. We have a variety of apartments, suitable for families, singles, couples or more people travelling together. We can help you to organize your holiday on Crete Greece to your wishes. An active outdoor vacation, active holidays, a beach holiday, or a combination of both we can all realize for you.
In case you like more information, please send an email to zorbasisland@gmail.com