Hiking and walking week in Crete Greece: a whole week walking through the magnificent and diverse nature of Crete with accommodation. We offer you a variety of hikes to get to know Crete in a different way. Included are: all hikes, transfers, breakfast, dinner and accommodation. There are also options to do 8 hikes in 10 days including a two-day hike. With the two-day hike we sleep in tents or in a hotel en route. Crete has a great variety of walking areas that are suitable for longer walking holidays.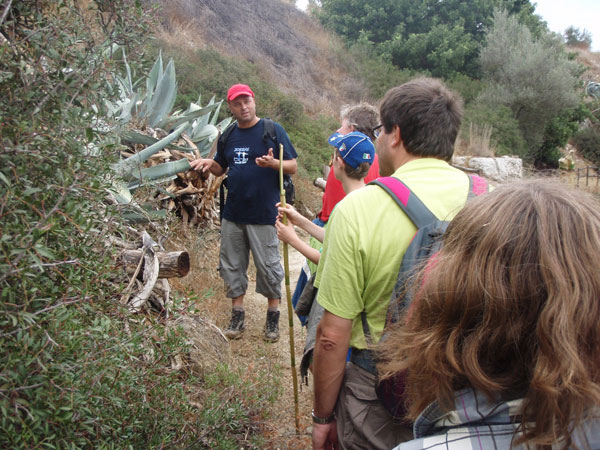 All the hikes are between 8 kilometres and maximum 20 kilometres per day. Walking in Crete Greece is heavier than in countries of Northern Europe. We ensure that you will visit places where others do not come. You will really discover the unknown Crete.
Walking week in Crete Greece – Description of a week hiking on Crete
Description of a hiking week on Crete: On this page we have a number of potential walks for our hiking week on Crete, but it is also possible to fit in other hikes. A choice of all different walks will be made. There is also a resting day in the middle of the week. This day you can do something yourself or join on an other excursion.
What you should bring: walking shoes, walking socks, trousers (airy), shorts, T-shirts, but also rainwear (especially in winter), a backpack and a sleeping bag for the two-day hike (we then stay overnight in the nature, but you can also sleep in a hotel). We always bring gas burners along for coffee, tea and soup, but we often stop on the way for a cup of real Greek coffee in traditional Greek kafenion.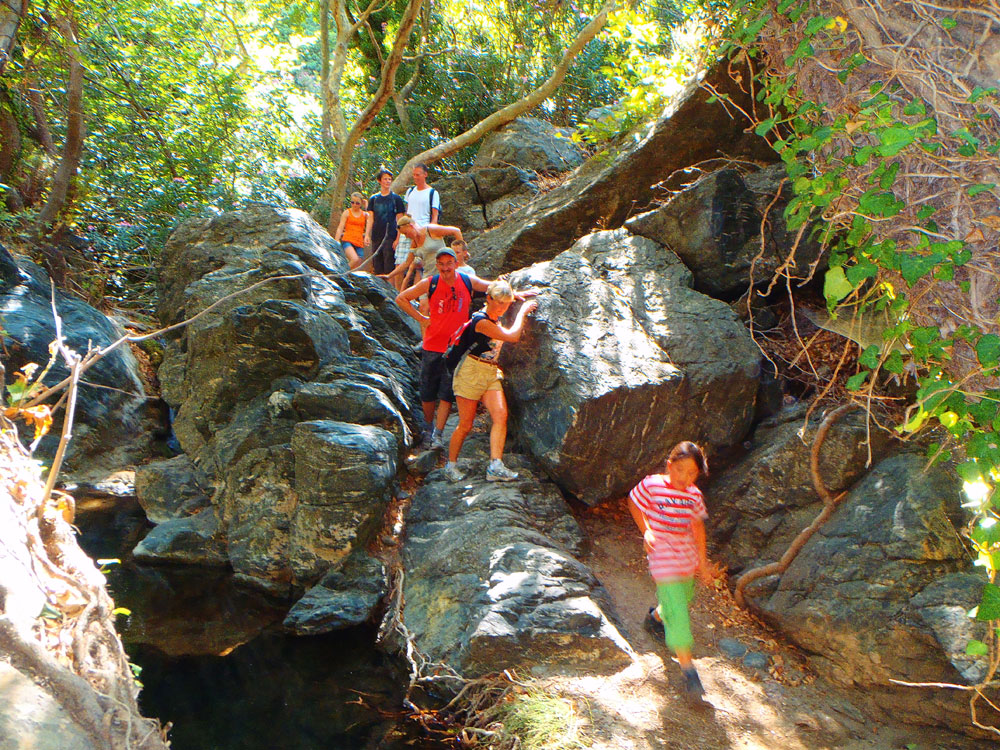 Skalopatia: A walk through the nature area of Skalopatia. We start at a height of 420 metres and walk towards the coast. The start of the walk is in the wine region of Peza. This route is the old Kalderimi, what was once a donkey path that the farmers followed to Heraklion. Along the way you see the old stone windmills that caused for the river area to be dry. The whole route has old footpaths, passing through an overgrown area looking like a "jungle". In the river you might see Caspian turtles that are common here. On a sunny morning you might see the turtles in large numbers enjoying the sun.
In this impressive piece of nature on Crete live also other animals like badgers, foxes, land crabs, snakes, birds of prey (including the white owl), lagos (a Cretan hare), salamanders etc. You will even find here a great variety of flowers, plants and herbs: orchids, of which many kinds grow on Crete, iris, fulgaris, oleanders, olive trees, tamarisk trees, cypresses, European bamboo etc.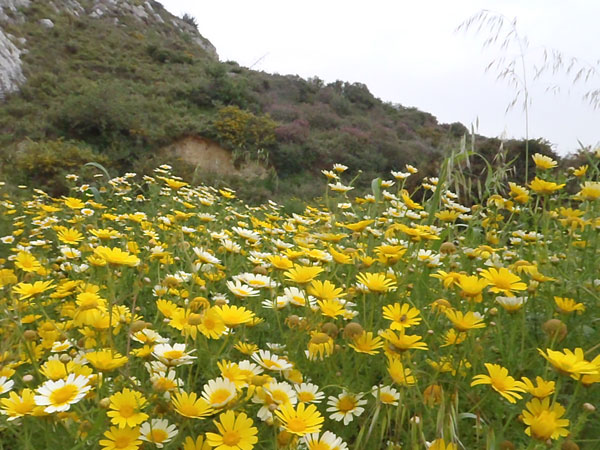 The entire hike is 12 kilometres. This walking tour lasts the whole day, including a picnic at a lovely spot in the mountains.
Kritsa Gorge: A walking area in North and Central East Crete. The hike goes through the beautiful gorge of Kritsa. In spring and autumn you have the chance to get wet feet. In the winter runs a river through the Kritsa gorge. Yet it is often possible to walk here in the winter months.  In the Kritsas gorge you find high rock walls and as we walk down through the gorge you have great views in this haven of peace. The way back goes over an old Roman path. The distance is about 8-12 kilometres.
Patsos Gorge: A spectacular canyon, where you will have to do a lot of climbing and trekking. The Patsos canyon runs in a magnificent walking area on Crete. The trail through the gorge is well indicated. You walk along and through the river. For this hike you need good walking shoes (plus a pair of extra dry socks), a backpack and enough water. The distance is about 7-10 kilometres.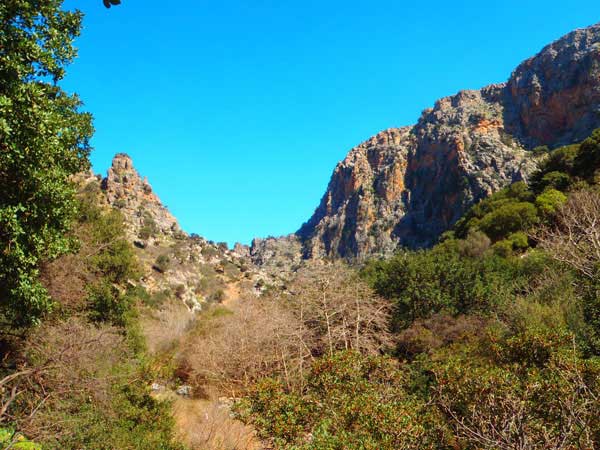 Kalo Chorio – Aposelemis Gorge: This hike starts at the village "Kalo Chorio", what means "Good Village". The walk going down from the village into the gorge is one with breathtaking views. The hiking trail is made by the shepherds. Along the way we often have to open and close the gates of the shepherds. We walk through the green and rough nature, closed in by the mountains. After descending we reach the river area with its beautiful nature. Here you see many species of birds. There are days you can see 15-20 vultures circling simultaneously in the air. Many sheep and goats live here and at the end of the gorge you come across places where the shepherds live. The whole hike is about 12 kilometres.
White owls on Crete: A hike going right through the fields. The walking starts in the middle of the nature, close to the old church of Agios Johannes. This little church was built towards the end of 1100 A.C. The wall paintings are magnificent. There used to be an old monastery around this church. We follow first a path until we get to the rocks. This is the place where the beautiful white owls live, which you can see when you're lucky. Through a small gorge we continue our trail through olive groves, vineyards and at the end we arrive at sandstone rocks. In these rocks you can find many fossils. After that we go crisscross through the fields back to the place we started. Along the way you will see many birds of prey, various flowers, herbs and have breathtaking views towards the sea.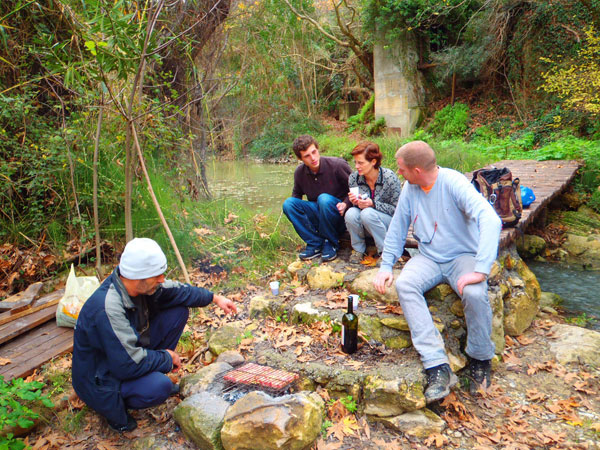 This hike is about 10-12 kilometres and is possible to walk both summer and winter. You will have to do a fair amount of climbing and descending, but this hike is suitable for most of the hikers. Along the way you see a lot of the nature; various plants, flowers and herbs, birds of prey such as falcons, vultures and with some luck the white owls.
Richtis Gorge: This hike can be done both in the summer and in the winter. During this hike it is necessary to do some climbing and trekking at certain parts of the gorge. The total walk is only 6 kilometres, but there are even parts in the gorge where we have to find our own way through the wilderness. The river that flows through this area regularly creates obstacles. We often need to find the way and cross the water to get to the small walking path. At various places we climb over the rocks and walk weighed down under the branches. Halfway this gorge we encounter an impressive waterfall. This hike is about 6 or 8 kilometres and can be done both summer and winter. Difficulty: climbing and descending, but is suitable for most hikers.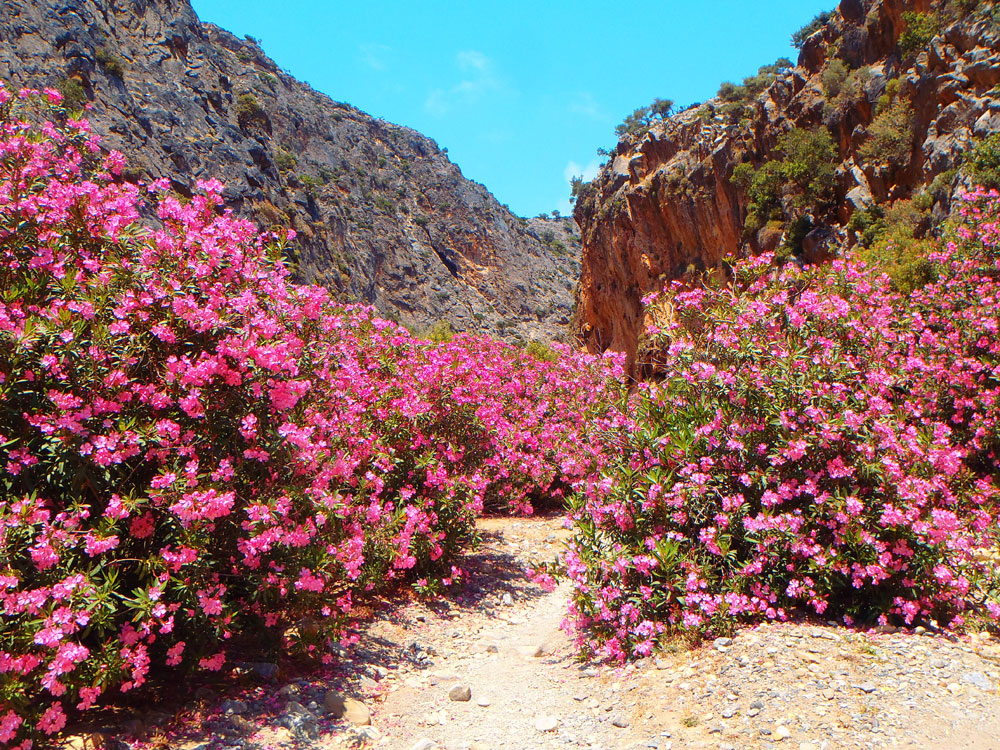 Agiofarango Gorge: This gorge is in South Central Crete. It is a short walk through the gorge. The gorge ends at a lovely beach at the Libyan Sea.  Would you want to walk more, you can go from the beach into all directions. It is also possible to go for a refreshing swim and relaxing sunbathe! It is great here for snorkelling. In the sea are stunning rock formations and tunnels. In this area it is even possible to do mountain climbing and abseiling. The rocks in this gorge are perpendicular, which makes climbing a real challenge. All year round mountaineers camp out in this gorge. This walk is about 6 kilometres, possible in summer and winter. This is not a difficult hike; you walk in between the high rock walls to the beach and back.
Resting day: During your well-deserved day of rest, you can go for relaxing on the beach. But it is also possible to walk through the Samaria Gorge or the Imbros Gorge. Or even do a different kind of excursion.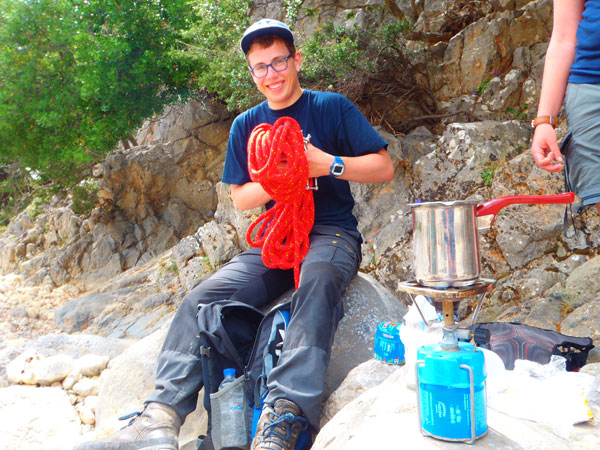 Another tip: From your accommodation it is easy to go by bus and visit the Nature History Museum of Heraklion. Within 25 minutes by bus you are in Heraklion. The centre of Heraklion and Knossos are definitely worth a visit as well!
Walking week in Crete Greece – Multi-day hikes
Two-day hikes on Crete: On this page we offer you the possibility to do multi-day hikes at various areas on Crete, with staying overnight either in a tent or at an accommodation.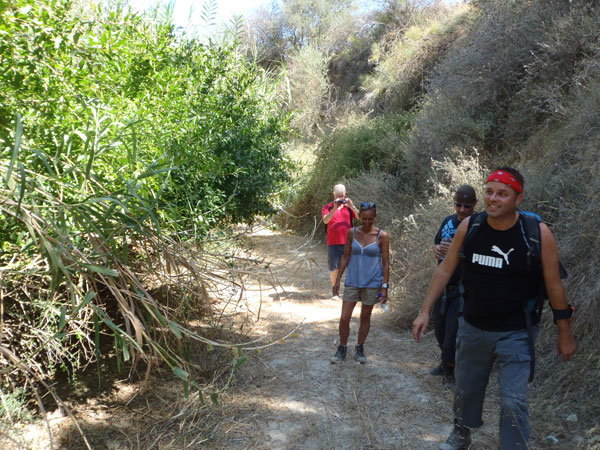 Multi-day hikes in southwest Crete: You can choose to make a hike of 2, 3, 4 and 5 days with staying overnight en route. This can be also with our other hikes. We offer this option in April, May and October.
Information about walking on Crete: Our accommodation is located directly at the seafront and is an ideal starting point for hiking across Crete, both summer and winter.
Holidays on Crete: Apartment rental and accommodation on Crete.
In case you like more information, please send an email to zorbasisland@gmail.com
Walking week in Crete Greece