Apartments rental on Crete Greece 2023: On this page you will find more information about Zorbas Island apartments and various accommodation for rent on Crete. You can enjoy the Greek island Crete most of the year. More information about the prices of the accommodation on Crete and various options to rent apartments on Crete. This page gives you a better explanation about the apartments rental, conditions, prices, activities and sights worth seeing. We organise all of our excursions ourselves and like to give you lots of information about the different ways to discover the real Crete. We organize excursions all over the island.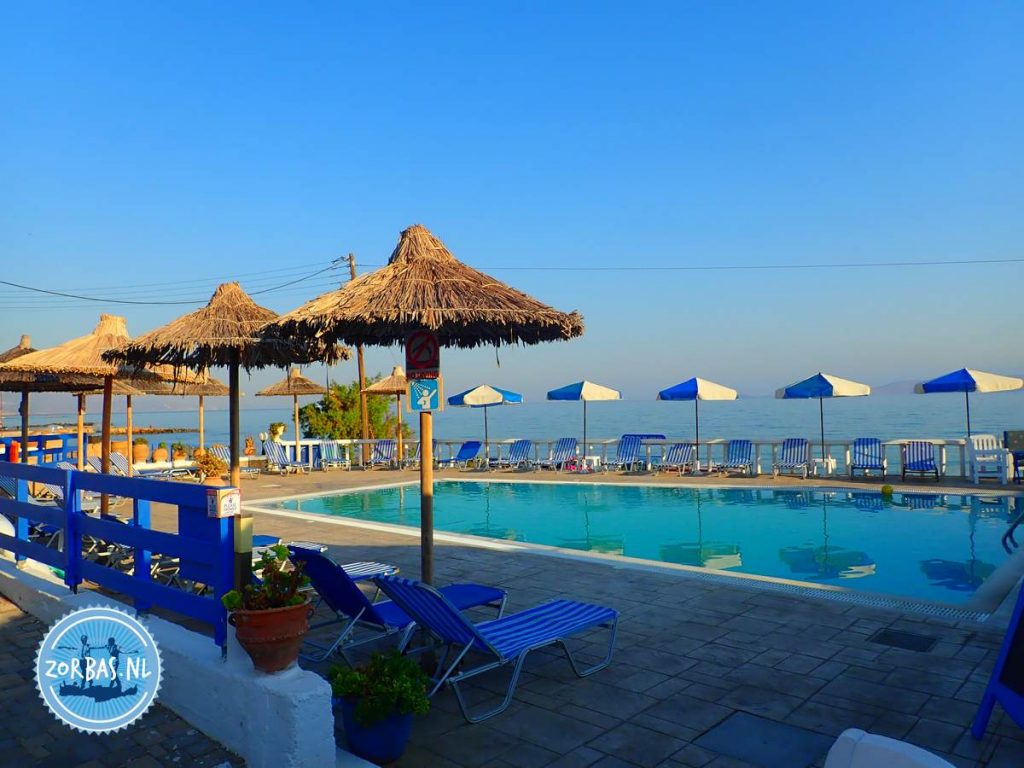 Zorbas Island Crete at its best: You should not explore Crete as a mass tourist, that way one does the island shortage. Our apartments complex in Kokkini Hani has 20 apartments and 2 holiday homes surrounded by beautiful gardens. It is situated directly at the coast of North Crete with a sandy beach right in front of Zorbas Island. Its location is quiet and yet very central: the ideal base for your holidays. From your apartment, our Greek tavern and terrace with swimming pool you have a breathtaking view to the sea and Dia Island. The homely atmosphere, its small scale, but most of all the helpfulness and service of the Zorbas Team will make you feel immediately welcome.
The team of Zorbas Island organizes a great amount of excursions for you to get to know the real Crete. For example we organize making pottery and picking olives, beautiful hikes and boat excursions, outdoor and survival trips, Greek cooking workshops in open air. In short: whether you come alone, with your family or a company, there is always something for everyone. And the best part? You can come to enjoy your holiday from March till November.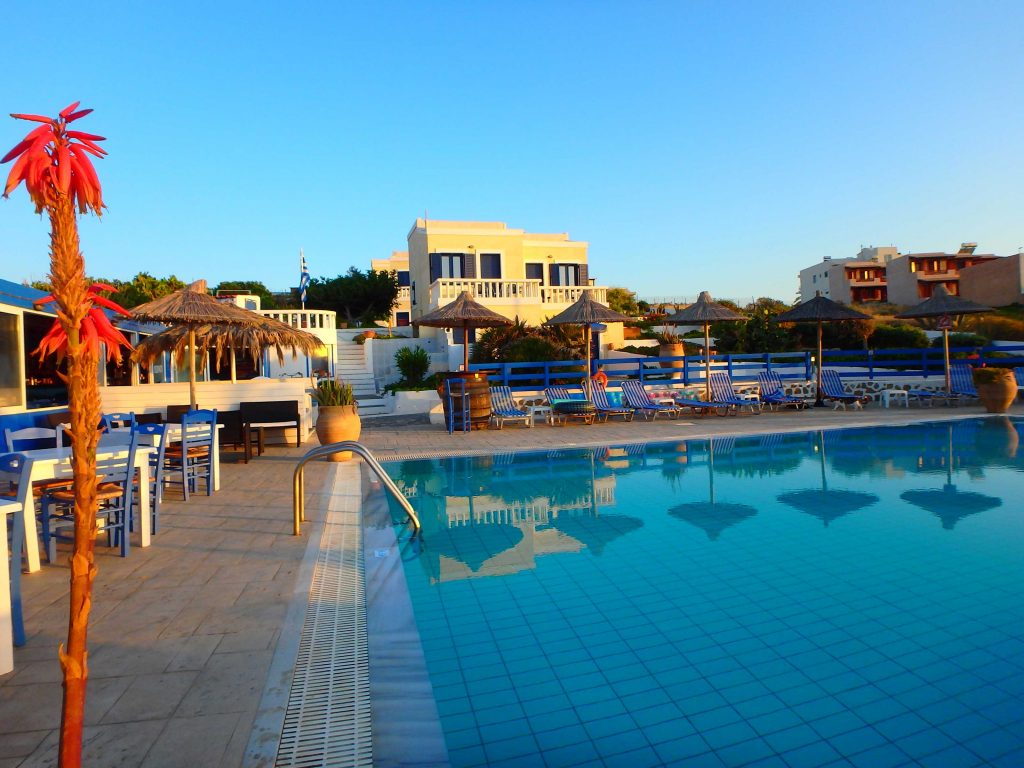 Apartments rental on Crete – Description of the apartments
Description of Zorbas Island apartments: Zorbas Island has 20 apartments and 2 holiday homes. We guarantee a personal approach and a warm atmosphere. Most of the apartments are for 3 to 4 persons, but there are also apartments for 1 and/or 2 persons available. We even have a larger house at the apartments complex, which accommodates up to 6 persons. Each apartment has a balcony or a terrace. The rooms are decorated in a homely Greek style. In the apartments is an open kitchen with refrigerator, twin hob, cooking equipment, glasses, plates, cutlery, kettle, coffee machine, etc. The bathrooms have a shower, toilet and hairdryer. In the bedroom you will find a large cupboard with sufficient space for storing clothes and suitcases.
There is also a safety deposit box in each apartment. Air-conditioning is available in each apartment and can be used upon request. The apartments are suitable for summer and winter; all of the apartments have been insulated. There is WI-FI available all over the accommodation, so you do not need to miss out on anything happening online.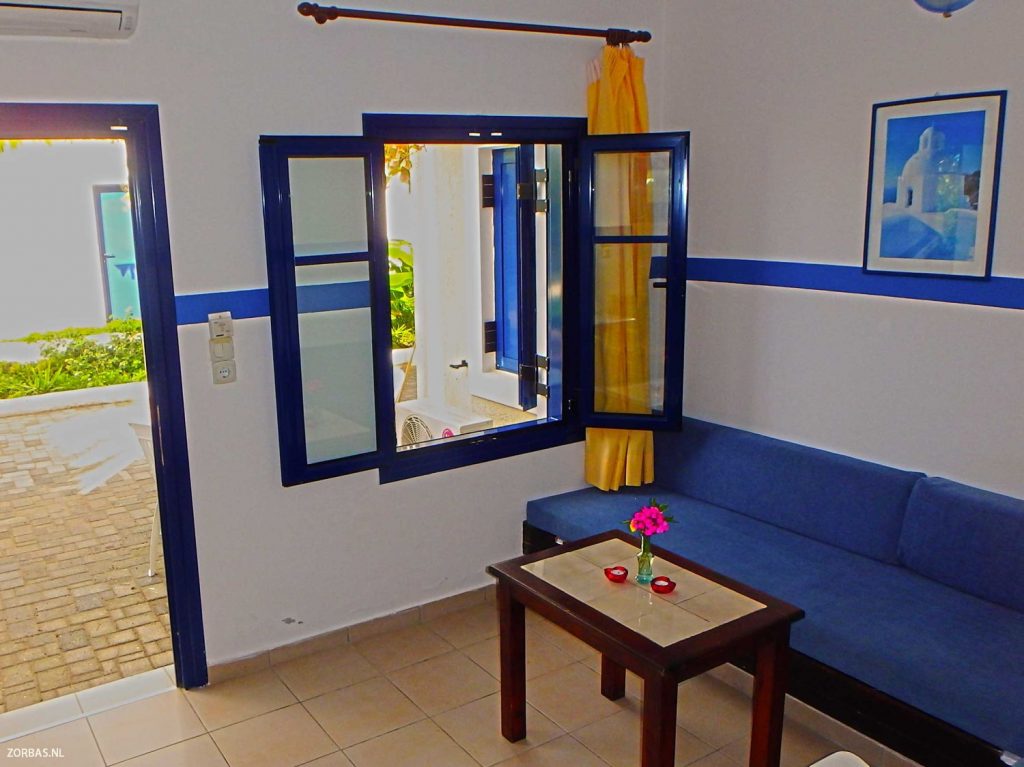 Our apartments are suitable for family vacation on Crete, couples, singles, young and elderly people and groups. For the children we have various board games, darts and a pool table. In and around our apartments is WI-FI available. For whoever wants, we have several books (also about Crete and Greece), magazines and comic books to read. Around Zorbas Island is a beautiful garden, which gets a lot of our attention. We even have an organic vegetable garden with vegetables and herbs that we use for our fresh cooked Greek dishes. You will also find here trees and plants that cannot grow in the nature of Northern Europe: olive trees, palm trees, aloe vera, many South European flowers, succulents and cactus plants.
Beach at Zorbas Island Crete: The accommodation is next to the sea with a sandy beach right at its doorstep. It is a wonderful place to relax on a bed in the sun and to dive into the sea. If you fancy something to eat or drink, we simply bring it to you on the beach. There are sunbeds and umbrellas that our guests can use free of charge. For water sports activities you walk a few minutes further to a larger sandy beach. Here you can do all kinds of water sports such as jet skiing, water skiing, banana boat, etc.
Apartments rental on Crete – Where is Zorbas Island?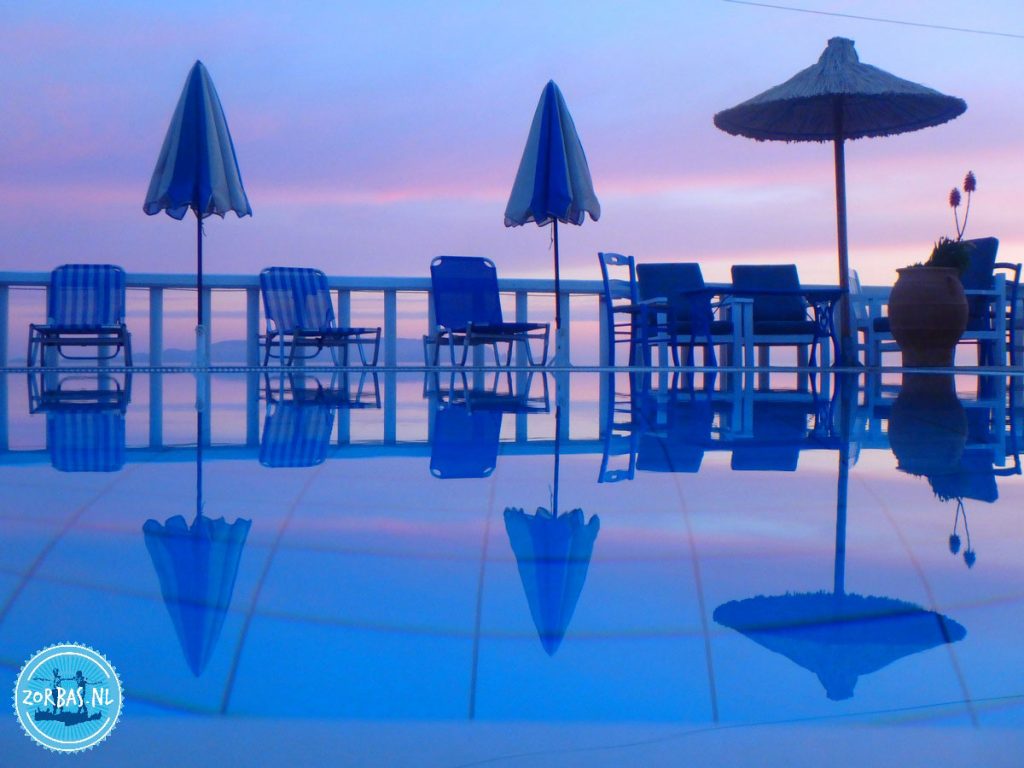 The area around Zorbas Island: Our apartments are located directly at the sandy beach of Kokkini Hani and at the end of a dead end street, so you will not be bothered by passing traffic. In front of our accommodation is a sandy beach with sunbeds and umbrellas. Our guests can use these free of charge. From your accommodation you walk within 5 minutes to the main street of Kokkini Hani. The village Kokkini Hani on Crete is at 12 kilometres distance from the capital Heraklion, 15 kilometres from Hersonissos and 5 kilometres from Gouves. From Kokkini Hani you can travel each half hour by local bus to Heraklion, Hersonissos or Agios Nikolaos.
In Kokkini Hani there are several supermarkets, shops, coffee bars, pharmacies, taverns, laundry service and an ice cream shop. There are also some ATM machines on the main street and at walking distance from your apartment. In Kokkini Hani you can still enjoy the inviting Cretan atmosphere. All the conveniences are close by: beach, sea, in a beautiful area with lots do, Greek taverns where you can try the delicious and affordable Greek cuisine. We offer various possibilities for a holiday on Crete: accommodation and apartment rental on Crete with breakfast and/or half board. Zorbas Island is also ideal for family or group vacations on Crete. We are open all year round. You can create your holidays to your wishes!
Apartments rental: Upon arrival we show you the accommodation and give you more information about the area, our excursions and activities. We find it important that our guests are satisfied. You can always discuss any problems with us. We try to please everybody and to keep our accommodation up to standard. Apartments rental on Crete.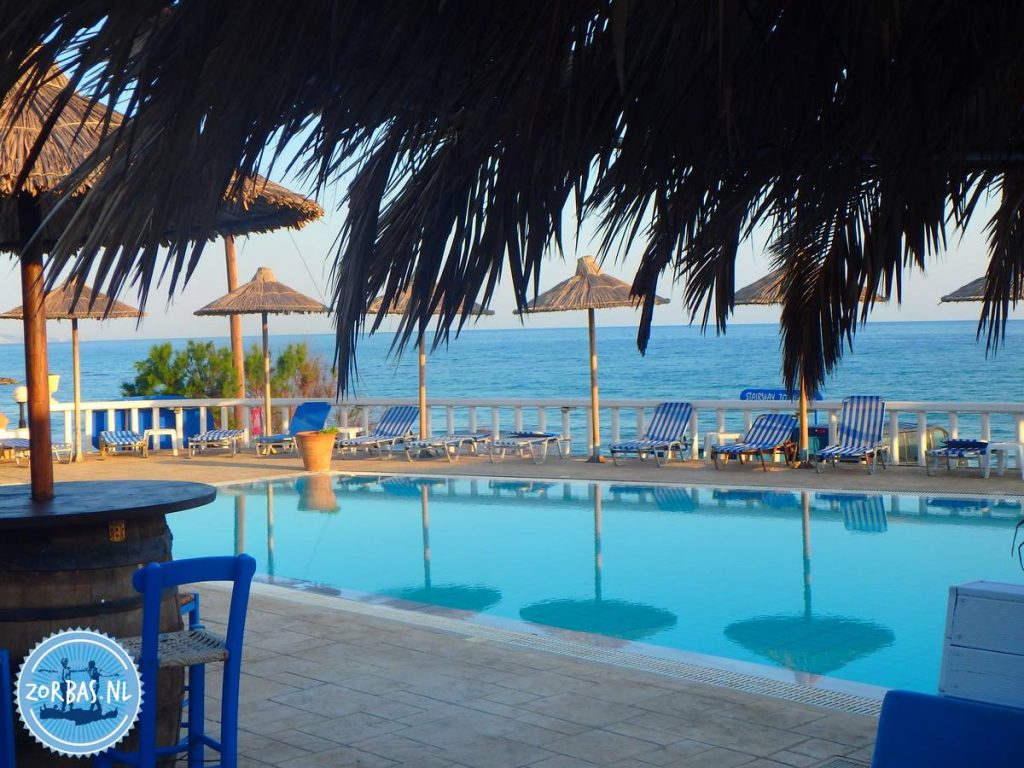 Apartments rental on Crete – Zorbas food & more in the taverna
Half board on Crete: Enjoy your holiday including the delicious Greek cuisine! With us you can book your holiday based on half board. Every day we serve different fresh Greek dishes. Our barbecue evenings are included with a half board booking. We also organize weekly a Greek Meze evening. This is with various delicious dishes from the Greek and Cretan cuisine. And often we prepare "kondosoofli": lovely smoked meat from the spit. Every day we surprise our guests with delicious fresh Greek dishes. If you are following a special diet, are vegetarian or do not eat certain dishes, we will be happy to adjust our menu for you. Please let us know this in advance so that we can take it into account. Our chef will then cook for you adjusted Greek dishes.
Dinner is served around 20.00 hours. Our dinner has great variety for everybody, also the children are taken into account. Our breakfast starts at 08.30 until 10.30hours and consists of coffee, tea, milk, juice and water, fresh white and brown bread, rusk, cornflakes, muesli, chocopops, ham, cheese, jam, chocolate spread, yoghurt, honey, boiled and fried eggs, pancakes and fruit.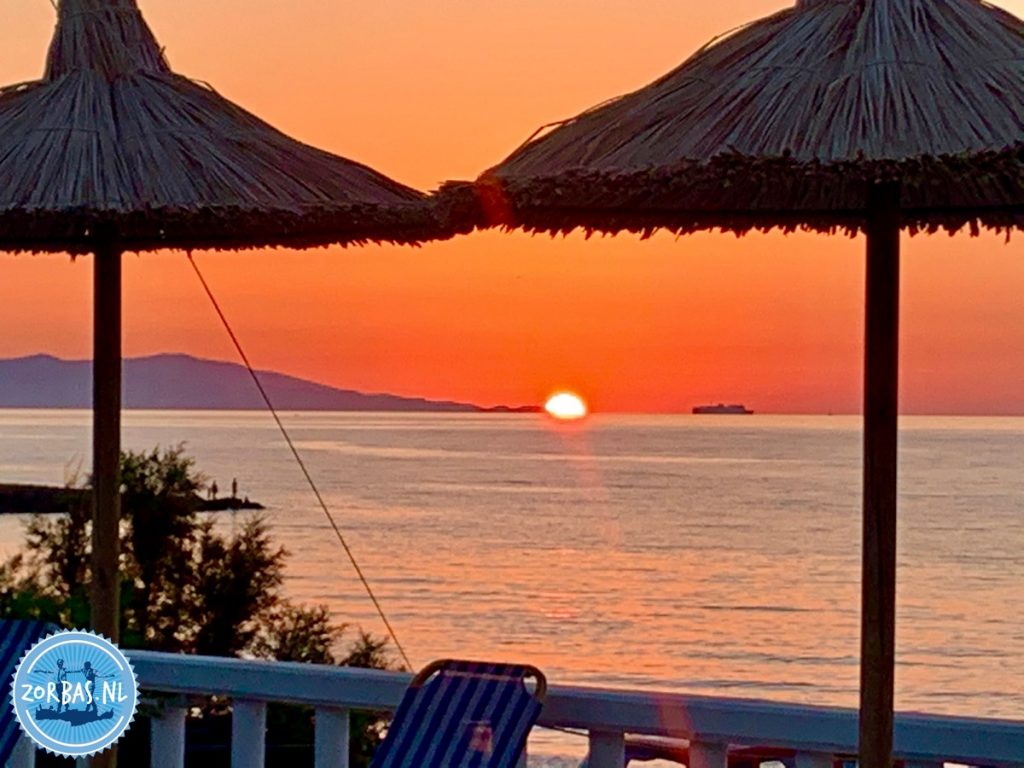 You can organize your holiday with us as you wish. Because of the location of the apartments you can enjoy both quiet and active holidays. If you would like to go out on your own, we can help you on your way. Motor or scooter rental, car hire, bike rental or whole bike tours, we arrange it directly for you, safe and insured. We will inform you personally and at length about the area and about all the different options.
At Zorbas Island there are no fixed arrival or departure days. Only if you want to come in high season, do not book a flight ticket without first consulting with us. We will let you know for which arrival days we still have an apartment available. We can arrange the transfer to and from the airport for you. And if you need help finding the right flights, we will be happy to assist you.
Click here for accommodation pictures: Apartments on Crete photo book.
To give you an impression and to show you what to expect from your holiday at Zorbas Island on Crete, we have made a short "Zorbas Island" movie for you: Zorbas Island Holiday movie.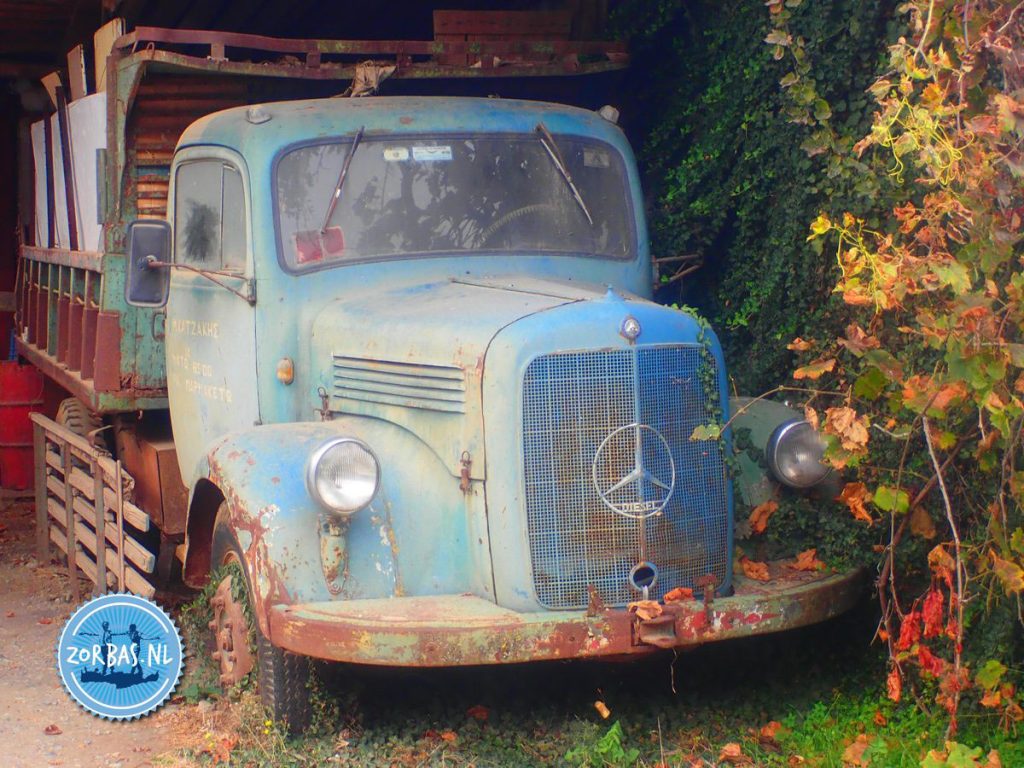 Holidays on Crete Greece: Apartment rental and accommodation on Crete. It is the perfect place for family apartments and holiday homes, all your excursions and cheap flights to Crete. There is a detailed overview of the latest holiday news from Crete with lots of pictures. Crete, Greece is the most Southern holiday island of Europe.
In case you like more information, please send an email to zorbasisland@gmail.com
Apartments rental on Crete