Zorbas Island apartments on Crete Greece: This page gives you more information about Zorbas Island apartment rental on Crete Greece. We like to inform you about all the different options we have for accommodation on Crete and apartment rental on Crete. This page gives you a more detailed explanation about our apartments with its conditions and the activities we organise. We organise our own excursions and we explain about the many options we have for nice trips with pleasure.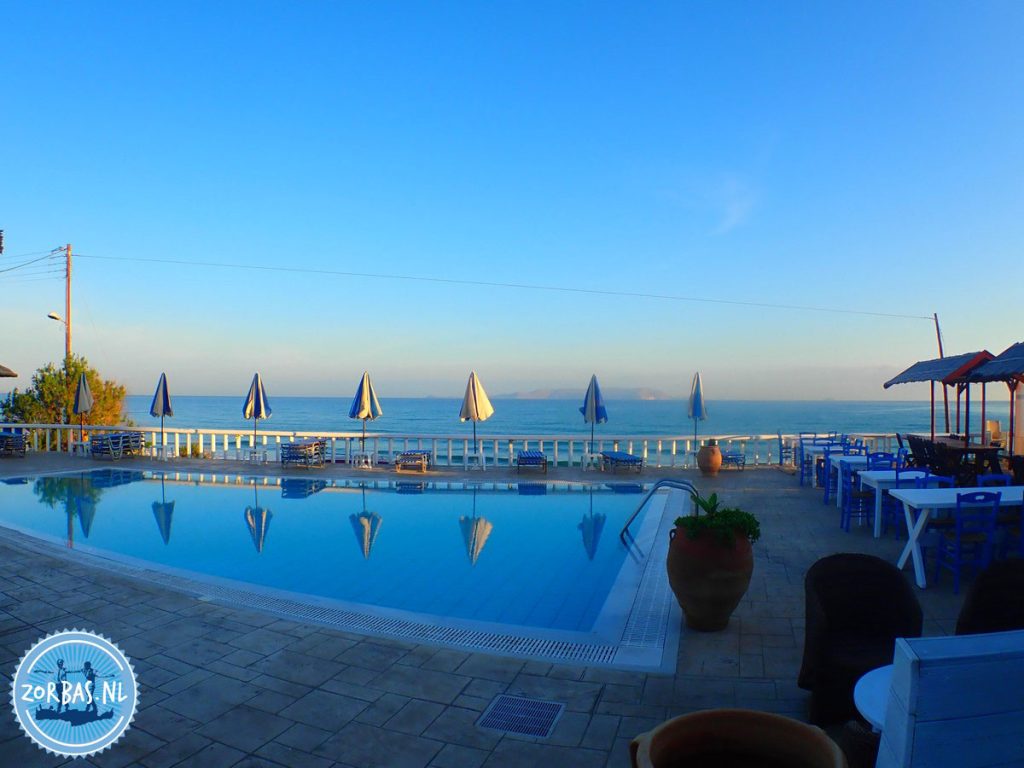 Zorbas Island apartments on Crete Greece: Our complex has 20 apartments and 2 holiday homes surrounded by beautiful gardens and is situated directly at the coast of North Crete. Its location is quiet and very central: the ideal base for an active or relaxing vacation. The highlight of our accommodation is the breathtaking view of the sea to Dia Island from the swimming pool and the Greek tavern. The homely atmosphere, its small scale, but most of all the helpfulness and service of the Zorbas Team make you feel immediately welcome.
We organise many different excursions, so you can get to know the real Crete; beautiful hikes, outdoor and survival trips, boat and snorkelling excursions, Greek cooking workshop in open air or even pottery and picking olives. In other words, whether you come alone, with your family or company, there are always some nice activities for everyone. And the best part? You can come to us for your holiday both in the summer and winter!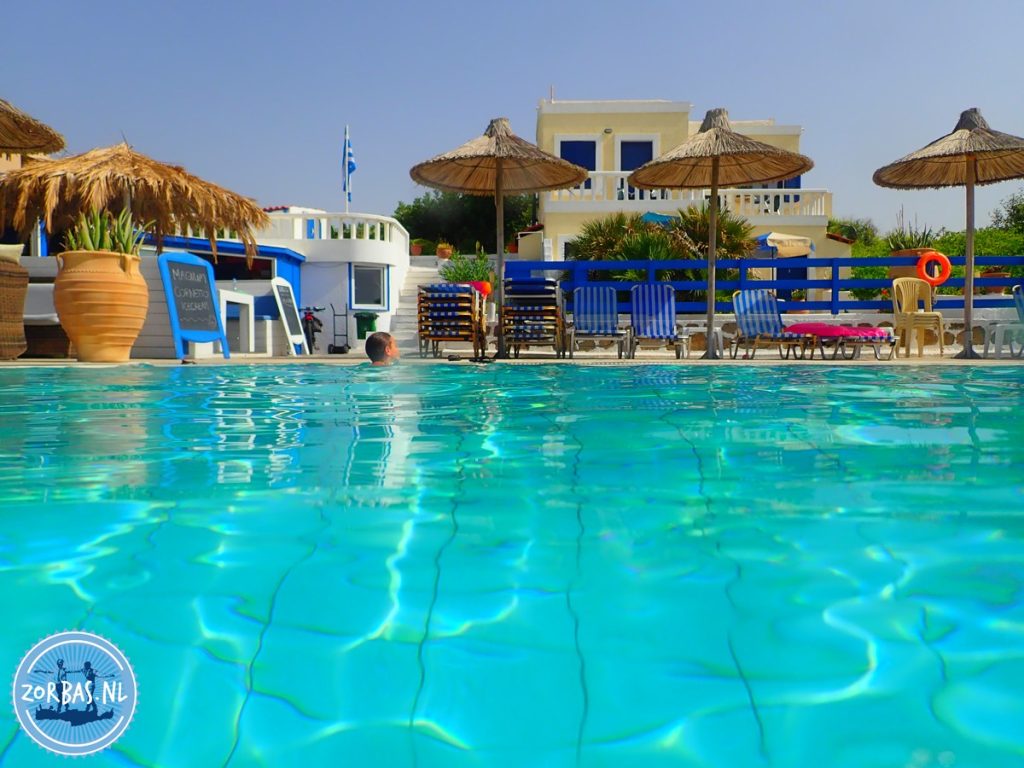 Zorbas Island: winner of several visitor's awards from 2010 till 2022. In 1999, we welcomed our first guests at Zorbas. Whether you are looking for tranquillity or action, beach or mountains; with us you are welcome both summer and (on request) winter for a wonderful holiday.
Zorbas Island apartments on Crete Greece – Surroundings of the apartments
Surroundings of Zorbas Island apartments: You will find Zorbas Island at about 15 minutes distance from Heraklion, the capital of Crete, between the villages Kokkini Hani and Gournes. Kokkini Hani and Gournes are villages directly at the northern coast of Crete with many sandy beaches. In Kokkini Hani you will find several supermarkets, shops, coffee bars, pharmacies, taverns, laundry service and an ice cream shop, all at not even 5 minutes away from our complex. There are ATM machines at walking distance from your apartment. From Kokkini Hani you can travel every half hour by local bus to Heraklion, Hersonissos, Malia or Agios Nikolaos. The location of Zorbas Island is directly at the sea with sandy beaches right in front of the door. At 5 minutes walking distance is a larger sandy beach where you can do all kinds of water sports, such as Jet Ski, banana boat, beach volley etc.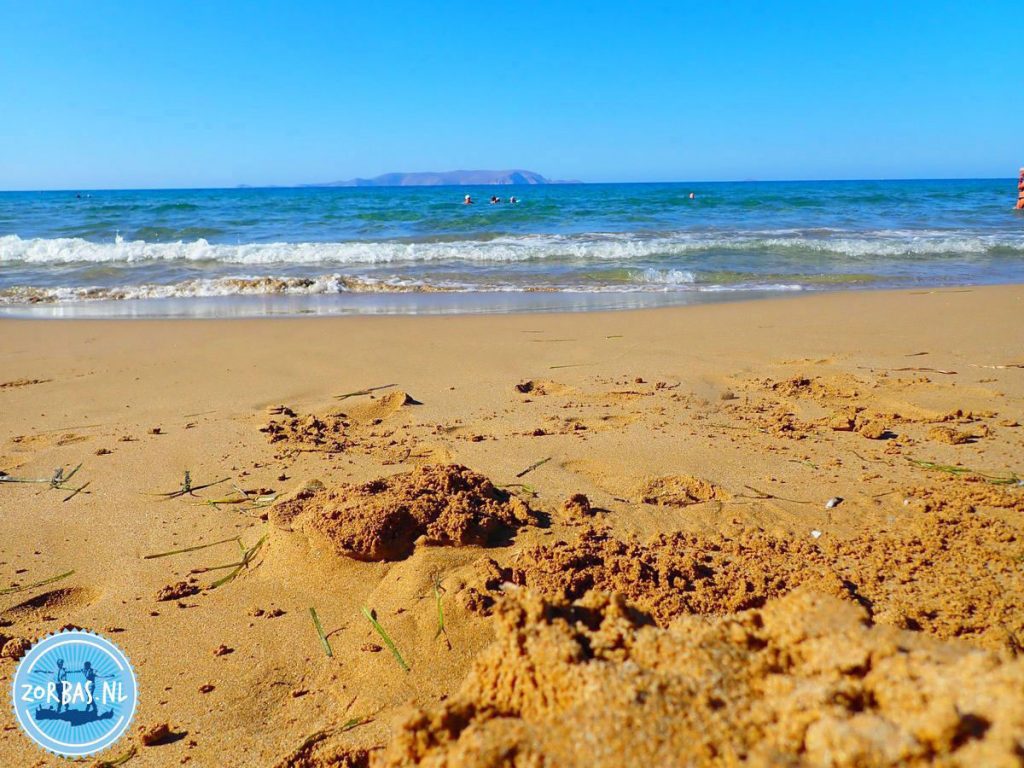 Zorbas Island: In our tavern with a stunning view at the Island of Dia, we serve you your breakfast, lunch and diner. The tavern is next to the swimming pool and the bar. Our pool is well maintained and is very suitable for children. We are always there for you to please you and to ensure that you have everything you need.
The sunset at Zorbas Island is stunning every day again. This sunny picture was taken from the swimming pool area, with your back towards the apartments.
Next to our tavern is a path going towards the apartments. The complex is designed as a small village. It is not affected by a lot of noise, so you can enjoy the peace there is. Around the apartments are our gardens where we grow a part of our own vegetables and herbs. You will find there also banana trees, aloe vera, cactus plants, olive trees and grapes. Most of these plants and flowers cannot grow in the gardens of Northern Europe.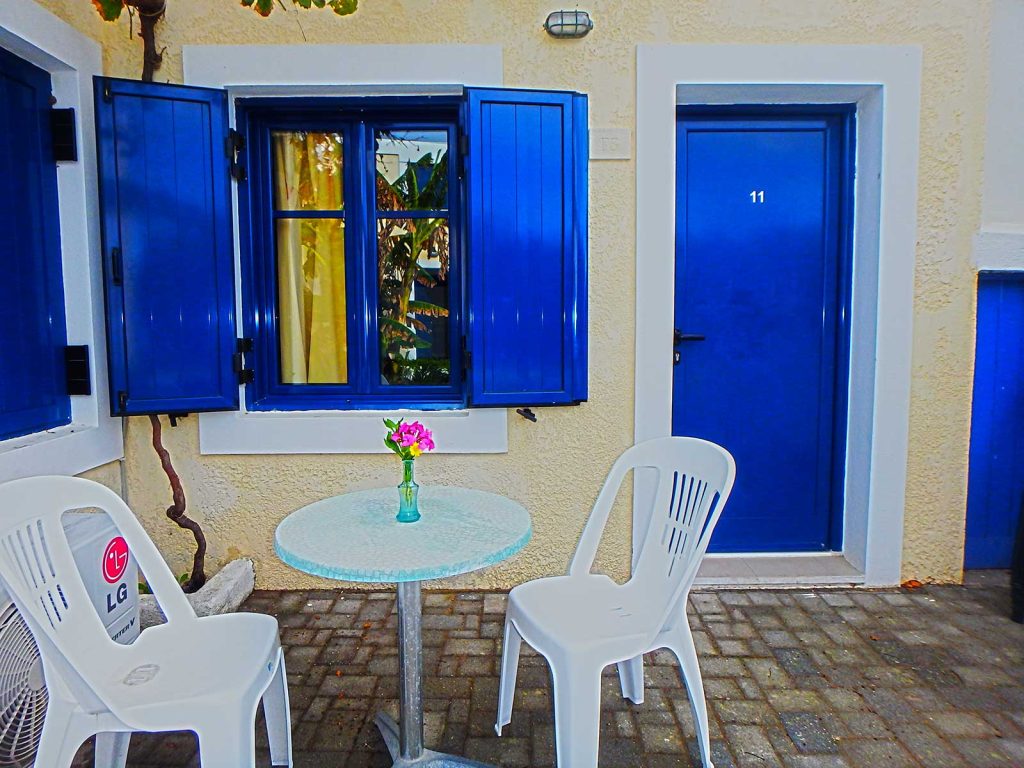 Zorbas Island apartments on Crete Greece – Description of the apartments
All our apartments have a veranda or terrace and almost all of them with sea view. Your apartment has an open kitchen with refrigerator, twin hob, kettle, cooking equipment and tableware. The bathrooms are equipped with a shower, toilet and hairdryer.
Our apartments are suitable for staying in during summer and winter. They are well isolated and have air-conditioning. All over the complex is Wi-Fi available. With pleasure we put a baby cot and a high chair for your children in your apartment. There are also high chairs available in our tavern. Have also a look at the page for childfriendly holidays on Crete for more information.
Our accommodation is ideal for singles, couples as well as for family and group holidays. The way the apartments are positioned, you can stay with your family or group together. There is even a larger holiday home on the complex where up to 6 persons can stay in. At the apartments is enough space for parking. We offer a great amount of excursions and activities, so you will never have a dull moment. We organise our excursions only for our own guests and to show you the real Crete at places where others don't go. Have a look at our excursion page, where you can read about our outdoor activities, from boat trips and snorkelling, our beautiful hiking tours to cooking lessons.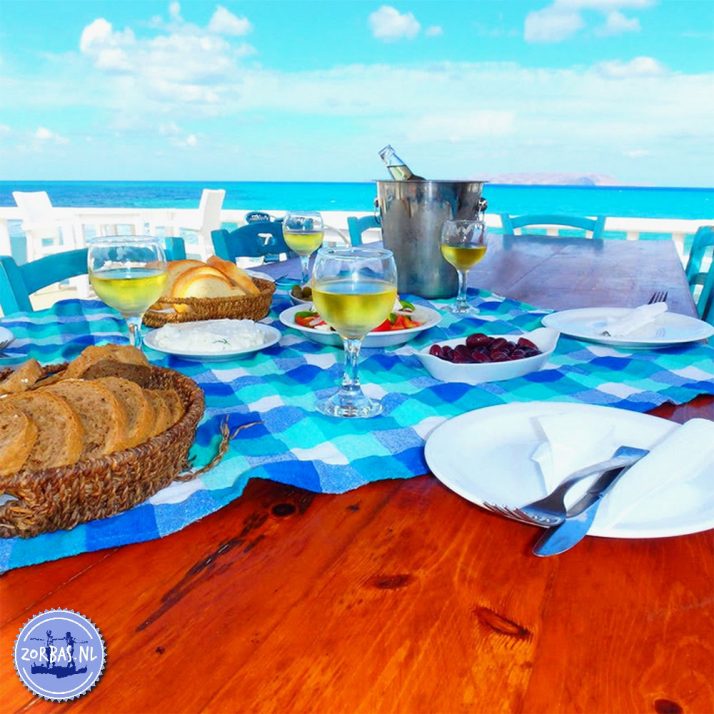 Zorbas Island apartments on Crete Greece – What's on the menu?
We offer all our guests the option for half board. Our Greek tavern guarantees you a very divers menu. We prepare all of our dishes with fresh ingredients and lots of vegetables, fruits and herbs from our garden. Including with a half board reservation are our extensive BBQ and Meze evenings. Mezedes are a variety of small Greek dishes, where you can taste everything. To get an impression of our Greek cuisine and recipes: Dinner at Zorbas Island. If you follow a special diet, are a vegetarian or can not eat certain foods, we adapt with pleasure the menu to your needs. The Greek cuisine is actually very suitable for this and we always cook with fresh ingredients. Our chef will consult with you and makes surprisingly tasty and customized dishes.
Dinner is served around 20.00 hours. Our dinner offers a wide choice for everyone, including children. Our breakfast starts at 08.30 hours till 10.30 hours and consists of coffee, tea, milk, juice and water, fresh brown and white bread, cornflakes, muesli, choco pops, ham, cheese, jam, chocolate spread, eggs, yoghurt, honey, pancakes and fruit.
Zorbas Island apartments on Crete Greece – More useful information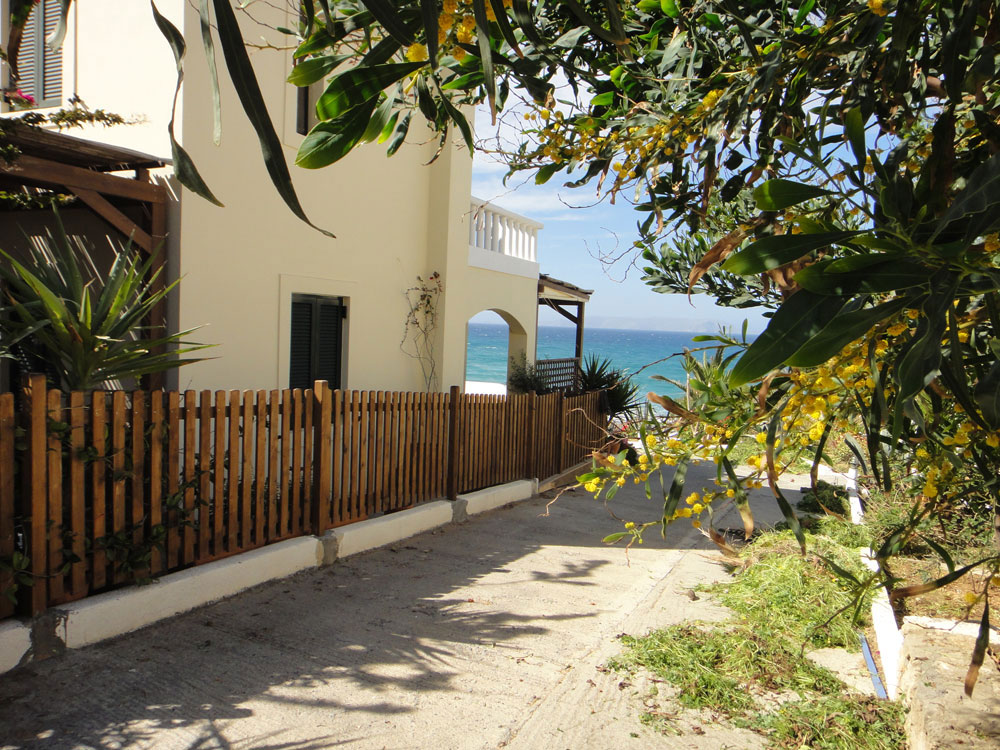 With us you can organise your holiday in whatever way you wish. Because of the location of the apartments, you can enjoy both a relaxing and an active vacation. In case you would like to make a trip on your own, we can also organise this for you. Motorbike or scooter rental, car rental, bicycle rental or bicycle tours, we arrange it directly for you, safe and secure. With pleasure we inform you personally and into detail about the area and the possibilities.
Transfer from and to the airport: At Zorbas Island apartments on Crete Greece there are no fixed arrival or departure days. We can arrange for your transfer from and to the airport. Should you need help in finding the right flights, we will be happy to do so.
At Zorbas Island we are always there for you, since we feel it important that you enjoy a great vacation, no matter if you travel alone or with a group. Do not hesitate to contact us for more information and with any kind of question. We answer your questions directly and personally within 24 hours!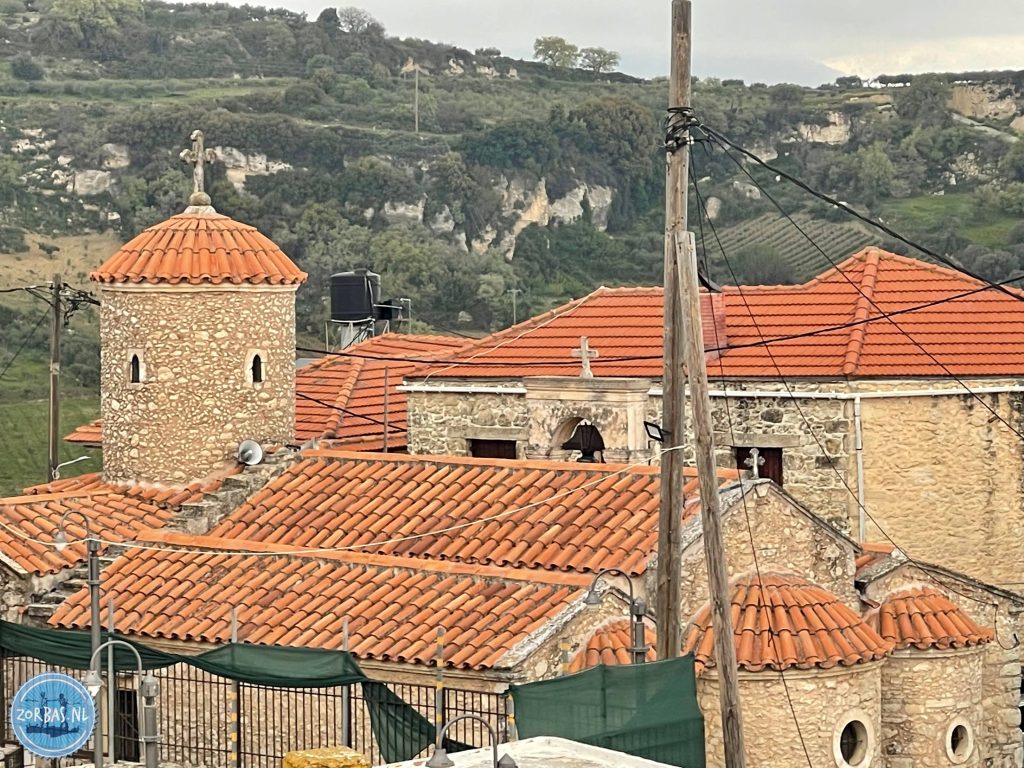 Click here for accommodation pictures: Apartments on Crete photo books
To give you an impression and to show you what to expect from your holiday at Zorbas Island on Crete, we have created a "Zorbas Island" film for you: Zorbas Island Holiday Film.
Greece magazine: Zorbas Island: Crete at its best the whole year around. You don't discover Crete as a mass tourist. The love for this Greek island in the Mediterranean, which is shown at Zorbas Island, is unbeatable and guarantees a vacation to remember. Zorbas Island apartments on Crete Greece.
Holiday information Crete Zorbas Island: For renting apartments and holiday homes, all your excursions and cheap flights to Crete. If you are looking for apartment rental and accommodation on Crete, you have come to the right place. We have a variety of apartments, suitable for families, singles, couples or more people travelling together. We can help you to organize your holiday on Crete Greece to your wishes. An active outdoor vacation, active holidays, a beach holiday, or a combination of both we can all realize for you.
In case you like more information, please send an email to zorbasisland@gmail.com
Zorbas Island apartments on Crete Greece