Cooking holidays on Crete: Cooking course on Crete & cooking workshop Greek cooking and Greek cooking holidays: A complete week cooking holidays on Crete, enjoying the outdoors. Workshop cooking on Crete, cooking with olive oil, cooking lessons on Crete, recognizing dishes, cooking outdoors. On this page we give you an impression of our cooking lesson holidays on Crete.
Culinary Holidays on Crete: Learn Greek cooking in a week, a nice holiday where you learn all the ins and outs of the Greek cuisine, culture and adventure on Crete. Greek cooking holidays is a program of one week.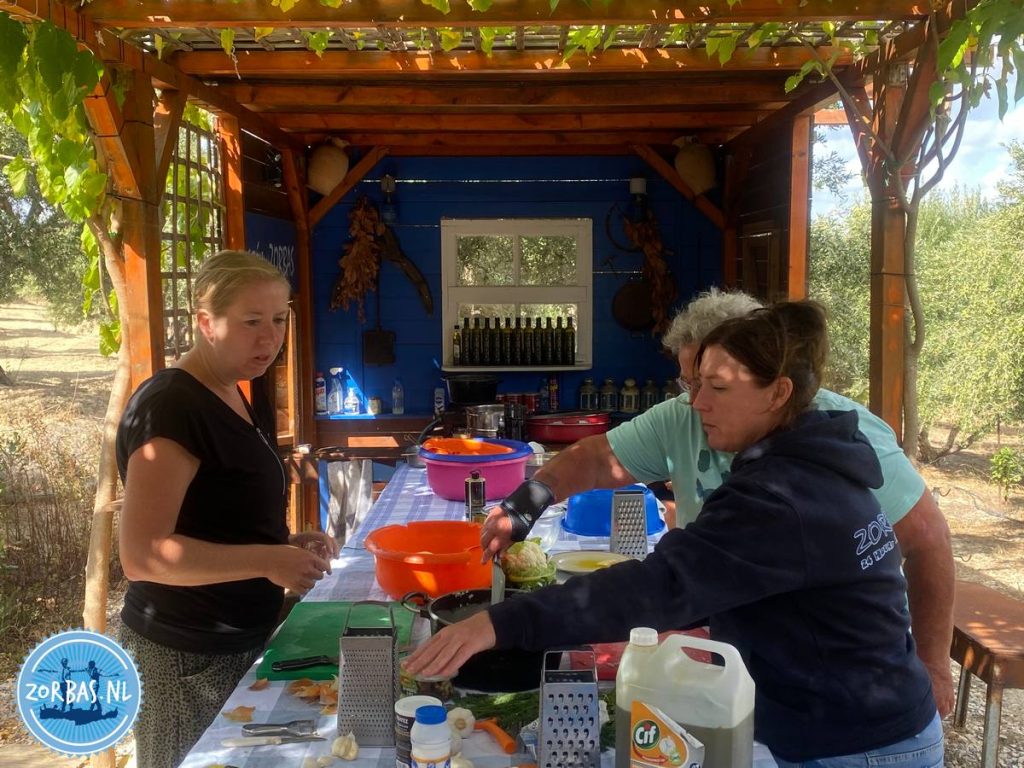 Cooking holidays on Crete – Cooking lessons on Crete
Cooking lesson on Crete: This cooking workshop is a holiday of one week, in which we are 4 days occupied with cooking. The cooking course on Crete Greece contains the following elements: shopping on Crete (twice we visit the market, the other times we shop locally), preparing a meal, cooking and afterwards cleaning up all together. Length of the holiday: 1 week, in which for 4 days we cook and give instructions about Greek dishes. It is the intention you cook everything yourself with our help, advice and instructions. The cooking will be mainly outdoors, unless the weather conditions do not allow us to do so. We organise around 10 to 12 cooking workshops on Crete a year.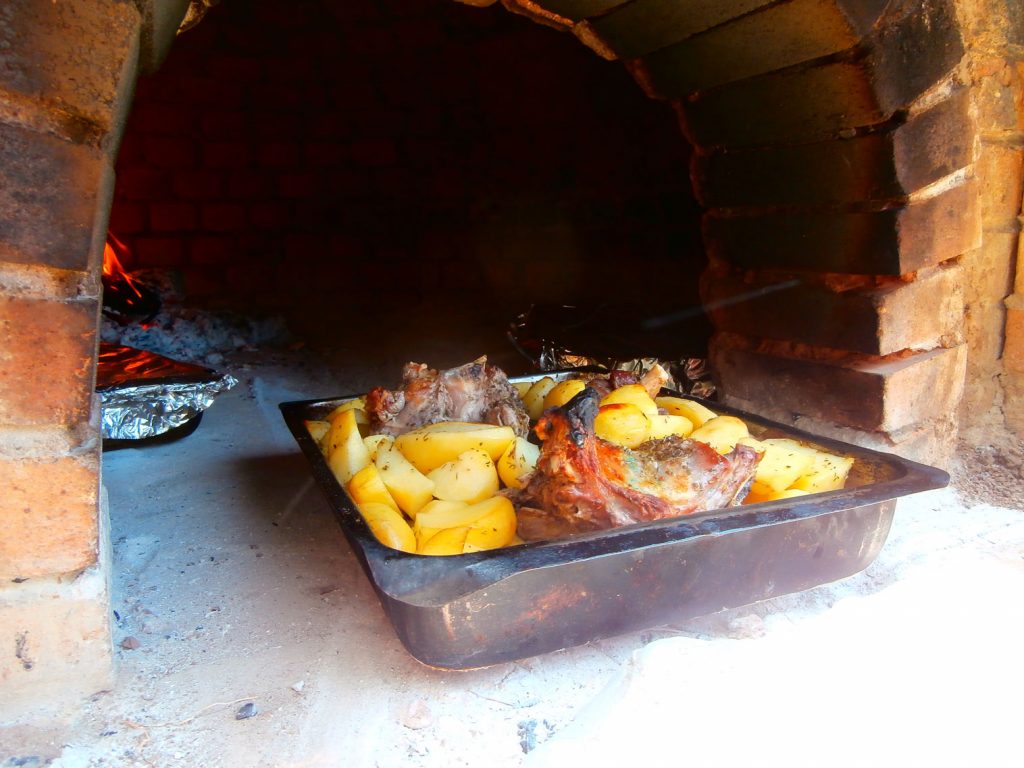 Cooking and accommodation on Crete: The workshop cooking on Crete can be booked including accommodation. Included are accommodation, breakfast, lunch and dinner, transfers. We have options for 1, 2, 3, 4, 5 and 6 persons accommodation. Participation in the workshop cooking on Crete can be booked individually or as a group. It is also possible to book as a group and only 1 persons participates the cooking course. For your travel companions we have other alternatives, like hiking, beach, cycling, jeep safari or diving. The reason the cooking course takes 5 days and not 7 days, is that many of our guest would like to do also other activities besides cooking.
The workshop "cooking on Crete" can be booked both summer and winter. It is also possible to stay for example on Crete for two weeks and combine the cooking course with an extra week at our accommodation. Breakfast is served on a buffet with unlimited coffee, tea, juices, milk, water, cheese, ham, jam, yogurt, honey, cornflakes, boiled eggs, toast, rusk and seasonal fruits. It starts at 08.30 hours. Our workshop cooking on Crete is also suitable for vegetarians; we can adapt our menu. The Greek kitchen has great variety in vegetarian dishes.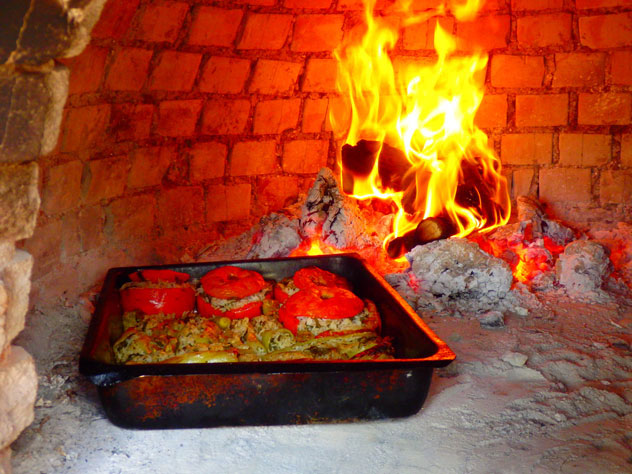 Number of participants in the cooking course on Crete Greece: We always try to keep our groups small and intimate. The maximum amount of persons is between 6 and 12 persons, but in general we count on 8 persons. The cooking course can be given in four languages: Dutch, German, French and English. Please note that we try not to mix too many languages in the workshops. We never book four languages at the same time in a workshop, but maximum two languages per workshop.
Cooking holidays on Crete – Weekly program cooking on Crete
Program cooking on Crete: We describe here the weekly program for the cooking lessons in Crete, dishes and possibilities will be discussed later. When the weather is less nice we sometimes move certain workshops to another day.
First day Greek cooking on Crete, Greece: Arrival, welcome meeting, meet with other guests. It is always depending on the time of arrival of our guests how we plan the first day. Some participants have already arrived or are still on their way. In the event that the group is not complete, we will wait first until everyone is present. After that we will have the first briefing, during dinner at a nice long table while enjoying a glass of wine. On the first day the meal is always a Greek "meze", many small Greek dishes. Also your travel companions who do not participate in the workshop "Cooking on Crete" can participate with this meal. We will give a briefing about the whole week and the cooking program.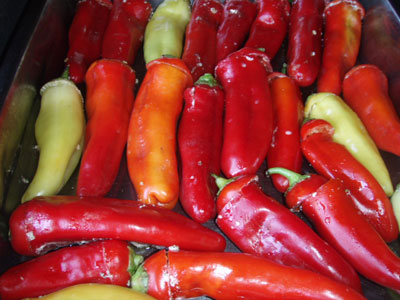 Second day cooking on Crete: Breakfast at 08.30 hours. After breakfast (10.30 hours) we go up into the mountains to cook. We will be cooking at a fabulous location, near a small church in the mountains surrounded by olive trees and beautiful scenery. Here you can pick sage endlessly. Sage is great for red meats, stuffing, sauces, sausages, cheese, tea, juice and large white beans. It is also used as a lotion to get rid of gray hair! You can make a delicious sage tea that has a cleansing function for the liver as well.
This location is a wonderfull start of the cooking course on Crete. There is a large concrete table at the location where we can cut and prepare our ingredients. In this area you can also find many capers, very tasty for pastas and such. Oregano grows here a lot as well, but you can find that anywhere on Crete; it is nice to use for meat and vegetable dishes or as a filling for dough products. We will start cooking around 13:00 hours. Today we will taste our dishes on site and we will have water and fruit juices with us, as well as wine for the wine fan. We will then take all our meals in special boxes to enjoy our delicious dishes at our accommodation in the evening.
After having enjoyed this day of cooking in nature, we will be back around 16.00 hours at our accommodation. We will be at the dinner table at 20.00 pm to enjoy our culinary creations.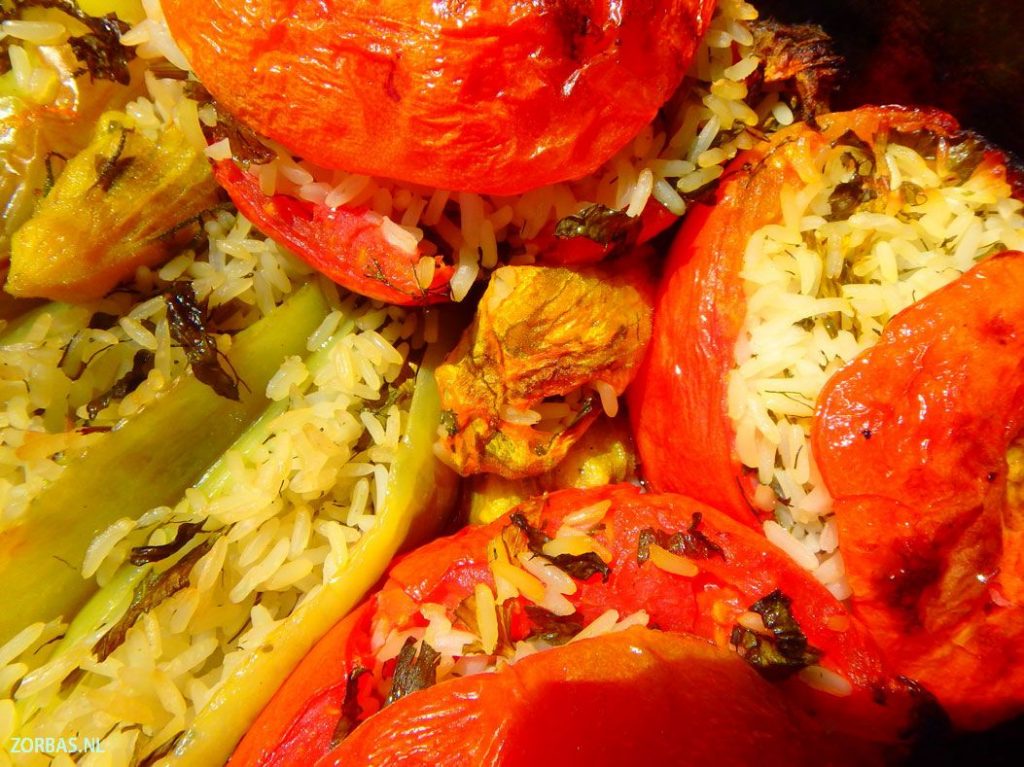 Third day cooking on Crete: Breakfast at 09.00 hours. After breakfast (10.30 hours) we go for shopping at the big market in Heraklion (the capital of Crete). Here you will see many kinds of vegetables and herbs that are for sale at bargain prices. It is an experience on its own to walk here in the middle of the busy gypsy market. After visiting the market we go to the port of Heraklion where we buy fish. Early in the afternoon we return to Kokkini Hani, where we make the preparations of the third day. Today we cook at our accommodation and use the stone oven and the grill. We eat lunch and try out what we prepared, to ensure a good outcome for the evening. During dinner local guests can join us to taste the results of our cooking skills. Dinner starts at 21.00 hours.
Fourth day cooking in Crete (Thursday): Breakfast at 09.00 hours. After breakfast (10.30 hours) we go to the village of Peza, to see which wines are produced on Crete. We can also see a movie about oil extraction and there is a museum about the production of olive oil and wine on Crete. Here you can purchase natural products for your own use at a reasonable price. After having visited Peza, we return to Kokkini Hani. Today during the class we will show you all the things you can do with olive oil. We will prepare olive oil with herbs, garlic, peppers, sage, lemon peel, so we can make dressings for sauces, soups, salads, meat dishes and fish. The thicker sauces are to be used in pasta dishes and on toasted bread, which is what we will have for lunch. In the evening, we will taste our creations with grilled meat and fish. Dinner will be at 20.00 hours.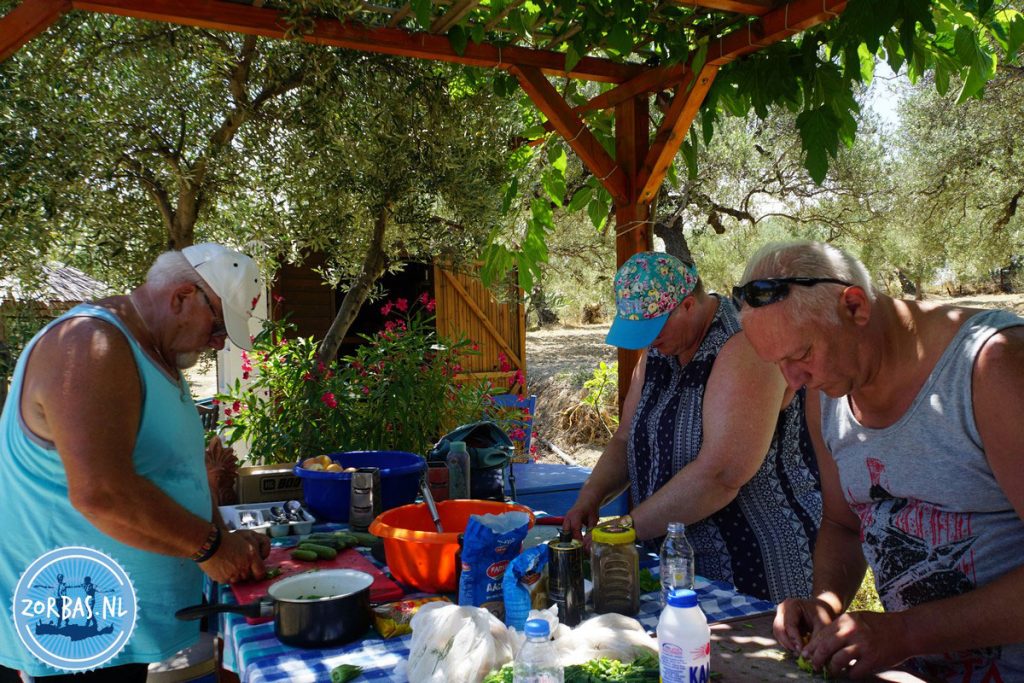 Fifth day of cooking holidays on Crete: You can have breakfast from 08.30 hours. Today it is a day off. You can have dinner at our accommodation, but you could also go in the evening to a Greek meze restaurant or tavern. This visit is at your own cost. Of course for your evening meal you can join us in our tavern from 19.30 hours.
For the daytime there are several activities you can do, like renting a car and go for a drive (there are some nice routes on Crete), or take the bus to visit the ruins of Knossos, followed by a visit to the National Archaeological Museum of Crete, cycling, renting and driving a motorcycle, scooter or quad, a jeep safari (a lot of culture and sights to be seen), a guided hiking tour or just going for a walk in the area by yourself, diving, snorkelling, a visit to a pottery farm, a tour to Lassithi , fishing, playing golf, visiting a water park, or the Crete Aquarium, or just a day at the beach. We can also give you advice on the spot. Some excursions have to be booked in advance.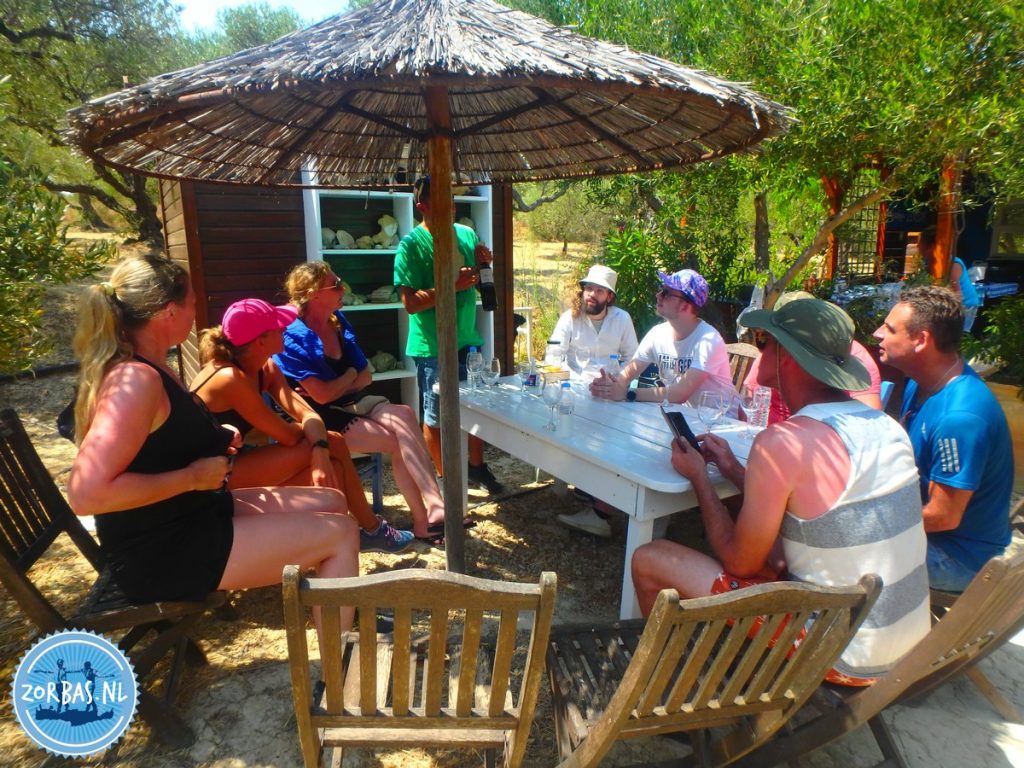 Sixth day of cooking on Crete: Breakfast at 09.00 hours. After breakfast (10.00 hours) we go for shopping at the market. After our visit to the market we drive to an olive grove where we prepare today our lunch and dinner. At this location you can really enjoy the beautiful nature. We will collect herbs that we need for our meal today. We prepare vegetable dishes with olive oil, which you can also make at home, providing you bring enough back home. Dinner at our accommodation is at 20.30 hours. During dinner we organise a Greek wine tasting. This evening you can taste various Greek wines. Wine is always a matter of personal taste; the greatest chef can recommend you a wine, but what if it is not to your liking? You can also order wines to take home.
Seventh day of cooking on Crete: Breakfast at 09.00 hours. After breakfast (10.00 hours) we will go grocery-shopping at the local butcher and fish market. Then we return right away to the accommodation to start cooking. Today we will invite a number of guests for the evening, to enjoy all the dishes we learned to prepare during the week. Our lunch will be our rehearsal for the evening (14:00 hours). Dinner is going to be with a BBQ and we will need again our acquired olive oil specialties. Dinner will start at 21.00 hours. In the afternoon we evaluate the workshop cooking on Crete. You can ask questions and we will make it an enjoyable last day.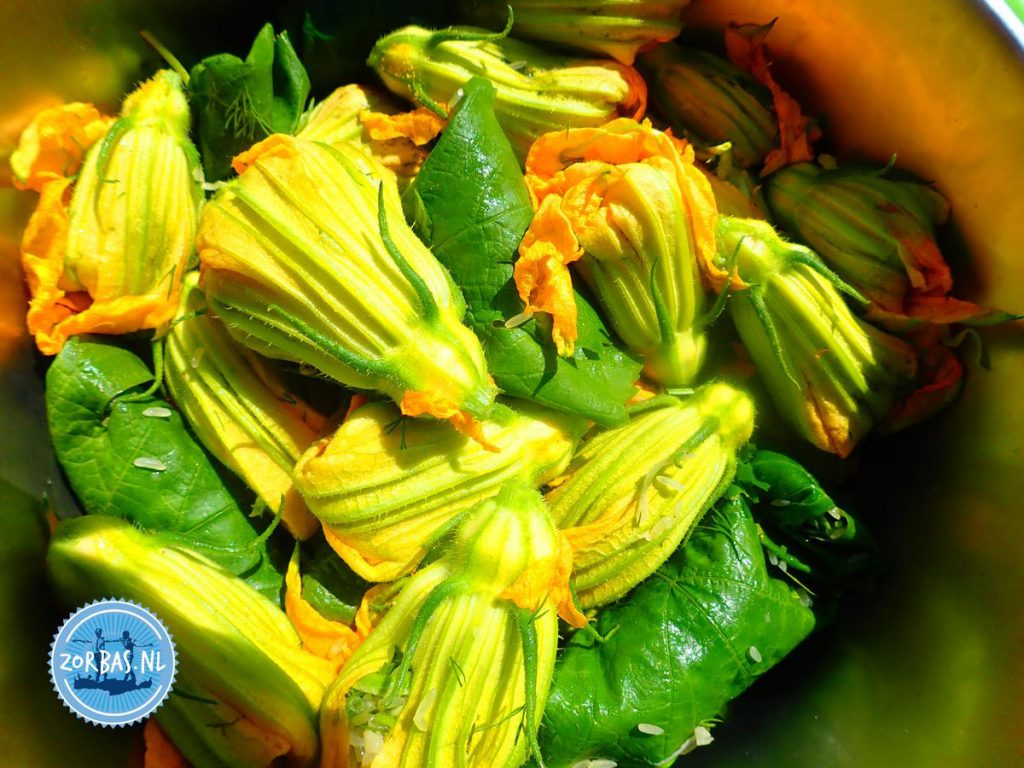 Eighth day of cooking on Crete: Today is the departure day for those who are returning home. For those who did not have enough are welcome to stay another week. There is plenty to do in this area to enjoy another week's holidays. We bring our departing guests to the airport of Heraklion.
Greek fruit: During our travels through the beautiful scenery of Crete, we can see many kinds of fruit that grow everywhere on the island, and which we will use during the cooking course in Crete. Each season brings other fruits. You will learn about using fruit for preparing meals.
Fish and meat dishes from Crete, Greece: Preparation, herbs and spices, grilling, oven baked, market visits, butcher and fish market visits.
Vegetables from Crete, Greece: Buying vegetables for meals, cleaning and processing of vegetables, recognizing of certain vegetables.
Cooking holidays on Crete – Dishes we prepare during the cooking lessons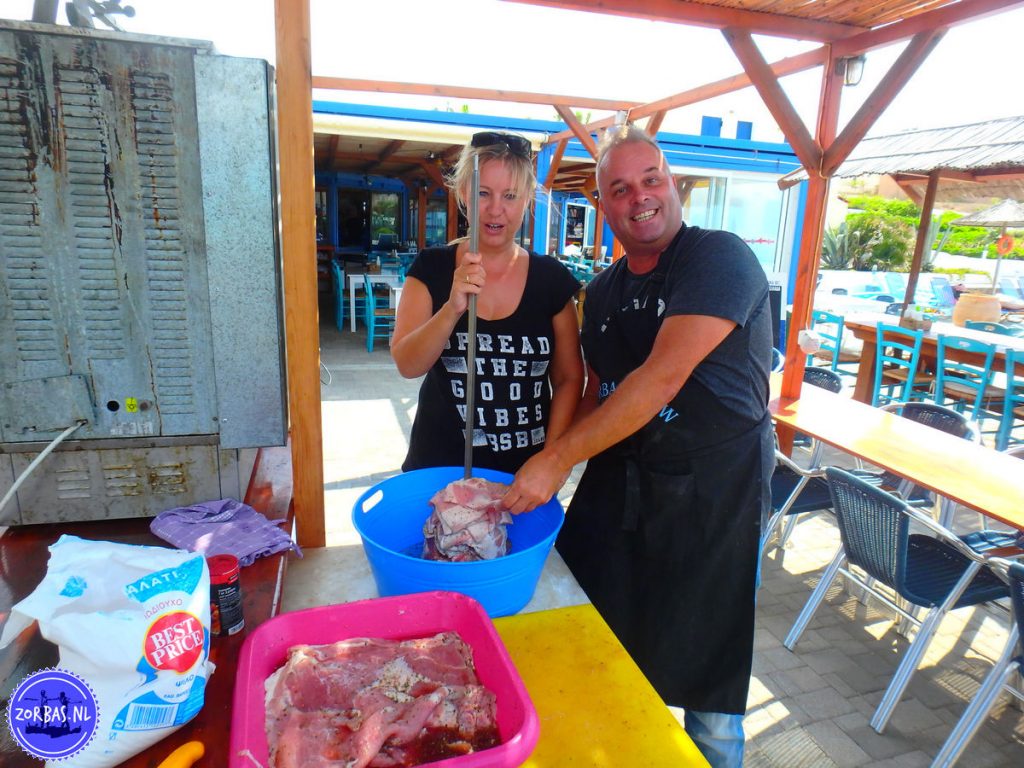 Below are written some dishes we often prepare with our guests. Unfortunately, some dishes are seasonal and we cannot prepare them all year round. We will make sure that you will always return home with some new recipes and ideas.
Dishes from Crete, Greece: Preparing a Greek salad, baking eggplant and zucchini cookies (Kolokithakia). Making cheese pies (Tiropitakia, with feta and mezidra cheese), large white beans (Gigantes), Tzatziki, eggplant salad, Skordalia, stuffed wine leaves (Dolmadakia), spinach and feta pies (Spanakotiropita), Gorta (wild mountain vegetables), pickled fish sauce, Greek shrimp sauce, meat, adding spices to souvlaki and grilling it, preparing souvlaki with pita, lamb meat from the oven with lemon, artichokes with olive oil sauce, kritharaki from the oven with pork meat, meatballs (Keftedes), Moussaka, Soutzoukakia (minced meat in tomato sauce), stuffed zucchini, stuffed eggplant, stuffed tomatoes, fish dishes, octopus dishes, okra with olive oil (Bamies), Greek Easter Soup, Greek snail stew, pork meat in wine, olive oil sauces with garlic, lemon, Santo, peppers, sage, chives, mint, rosemary and basil. Greek pasta dishes, anchovy puree, Greek pesto sauce, tapenade, spicy olives, tomato soup, coriander, potato soup with garlic, lentil soup, stifado and Greek stews.
We wish you a good appetite and fun with cooking on Crete, Greece.
Olives curing and fermentation: Give the olive a small cut up to the pit. Put the olives in water with a lot of salt and refresh the water every 3 days. After the second week you repeat this once a week. Every time you see a white layer on top of the water, you have to remove this. After 6 weeks, the olives can be put in a closed jar with salted water and a little bit of olive oil. This way you can keep them for 2 years.
The Greek cook book of Zorbas Island: Here you find every week new recipes from the Greek kitchen of Zorbas Island. All these different and healthy dishes you can now also prepare at home. Of course you can taste all the dishes during your holidays at Zorbas Island. We always use fresh (organic) local products for our Greek dishes. During the Greek cooking workshop we explain you more about the ingredients and the cooking of the Greek cuisine. On Crete we have particular dishes and we would like to share our secrets with you. Have fun cooking and kali oreksi.
Photo book cooking lessons on Crete: Pictures about workshop Greek cooking on Crete. We organise already 15 years a Greek cooking course on Crete. Cooking holidays on Crete Greece.
Olive oil from Crete: Are you looking for good quality olive oil from Crete? Then you've come to the right (web) address. The extra virgin Zorbas olive oil from Crete can now be ordered here!
On Crete, the farmers still harvest their olives manually by using traditional methods. The pressing of the olives is done according to strict rules to ensure that the final product, the olive oil, is of impeccable quality. On this website you can read more about the olive oil from Crete.
Excursions on Crete: Excursion information for Crete, active group excursions, outdoor holidays, hiking and cycling routes, hiking with accommodation, multi-day hikes, car rental, scooter rental, diving, diving with accommodation, cycling, bicycle rental, cycling and accommodation. Cooking holidays on Crete, Greece.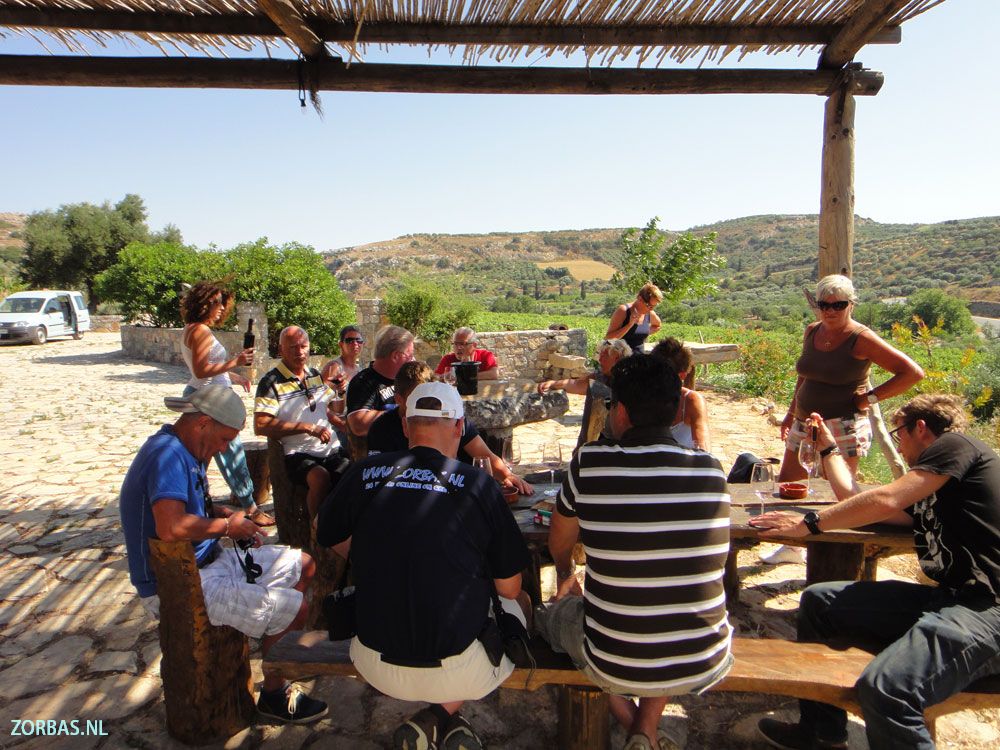 Holidays on Crete: Apartment rental and accommodation on Crete. This is the right address for family apartments and holiday homes, excursions and cheap flights to Crete. There is a detailed overview of the latest holiday news from Crete including many pictures. Crete is the most southern holiday island of Europe.
In case you like more information, please send an email to zorbasisland@gmail.com
Cooking holidays on Crete