Individual hiking on Crete Greece: A combination of accommodation and hiking that you can do individually and at your own pace. We provide you with beautiful routes where you will not meet other tourists.
Accommodation for hikers on Crete: We offer a wide range of holidays for hikers in combination with accommodation and transfers. The accommodations will please those looking for peace and quiet as well as for those who wish to enjoy a drink at night. Breakfast will always be earlier for guests that need to leave early. Our apartments are suited for singles, couples, families and groups who wish to go on individual hikes. If you wish, you can enjoy a Greek dinner every night from 20:30. The apartments are directly at the seafront. From our tavern and swimming pool, you have an amazing view of the island Dia. There is a beautiful panorama especially at sunrise and sunset. You have no obligations and that is exactly what holidays are about.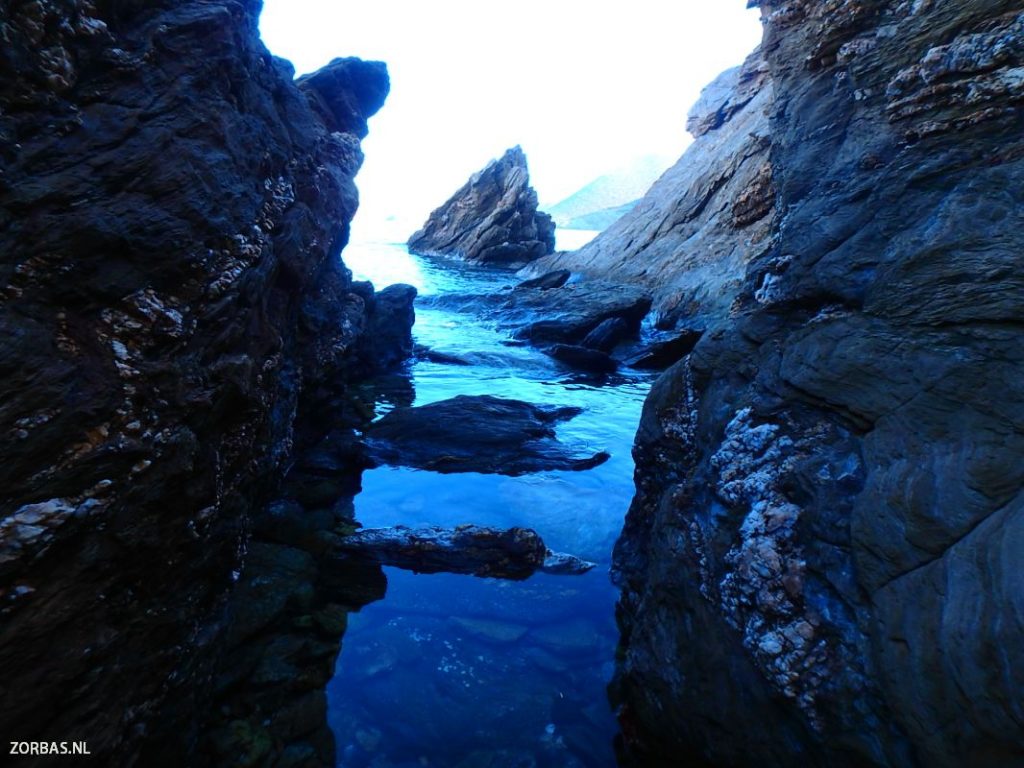 Individual hiking on Crete Greece – Hiking routes through the nature of Crete
Hiking through Cretan nature: The hiking routes in our area can all be undertaken individually. Not only are we surrounded by hills, there is a great variety of gorges to walk through as well. Usually we try to walk towards the sea to ensure the most beautiful views. Starting from our accommodation, you can choose from a wide range of different hikes in the varying landscape of Crete.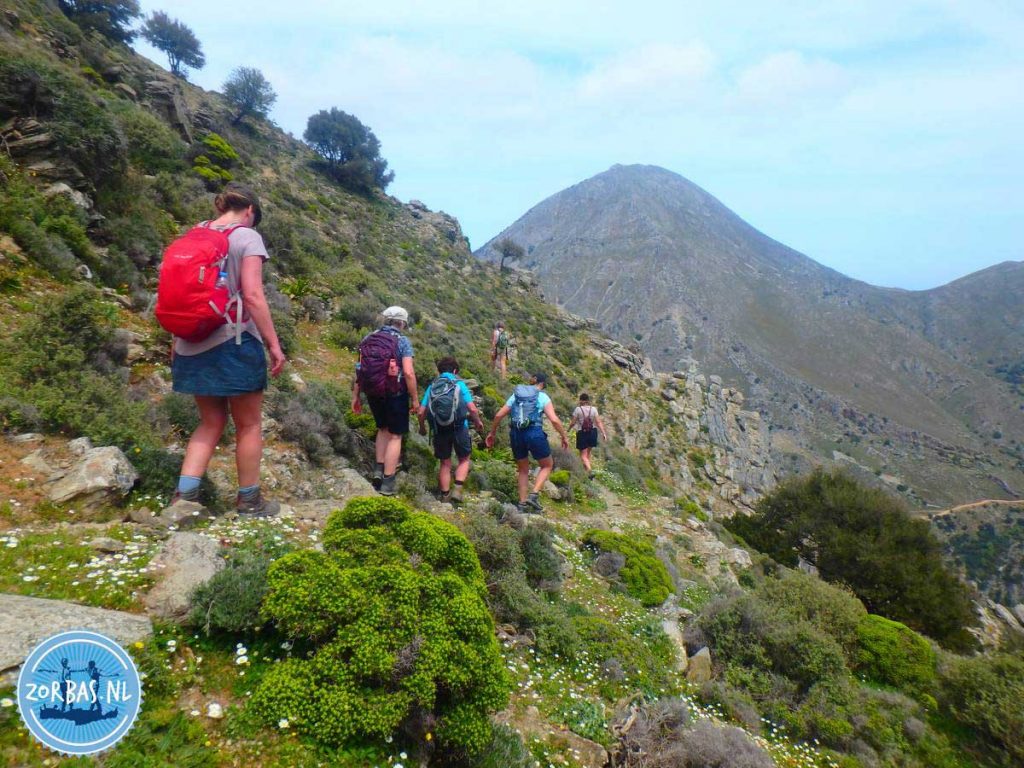 Routes for individual hikes on Crete: We have charted many different hikes from our accommodation that can all be done individually. Amongst our routes are village walks with churches and monasteries, nature walks, wild orchid walks, owl and bird spotting or an adventurous gorge hike through one of the many gorges on Crete. We love to visit the countryside of Crete, because here one can still enjoy typical Greek culture. With our route maps and GPS routes we can offer you over 15 different hikes. These walks are suitable for everybody, whether you are a 65+ walker or an active athlete. We will take you to the starting point of the hike from where you can walk back to the accommodation.
Individual hiking on Crete Greece: Hiking can be done all year round on Crete although July and August may be a bit challenging due to the heat. For those months we have charted some beautiful routes through forests and areas where nature provides shadow. Smell spring on Crete, enjoy the green winter and the lovely late summer sun.
Crete is real paradise for hikers! All our hikes and walks are through areas where you will not meet up with other tourists. You can really see the unique spots and impressive nature of Crete. We have hikes all over Crete with various distances. From a "kalderimi" walk to climbing in the mountains, everything is possible! Our accommodation is centrally located on Crete, which is a great advantage.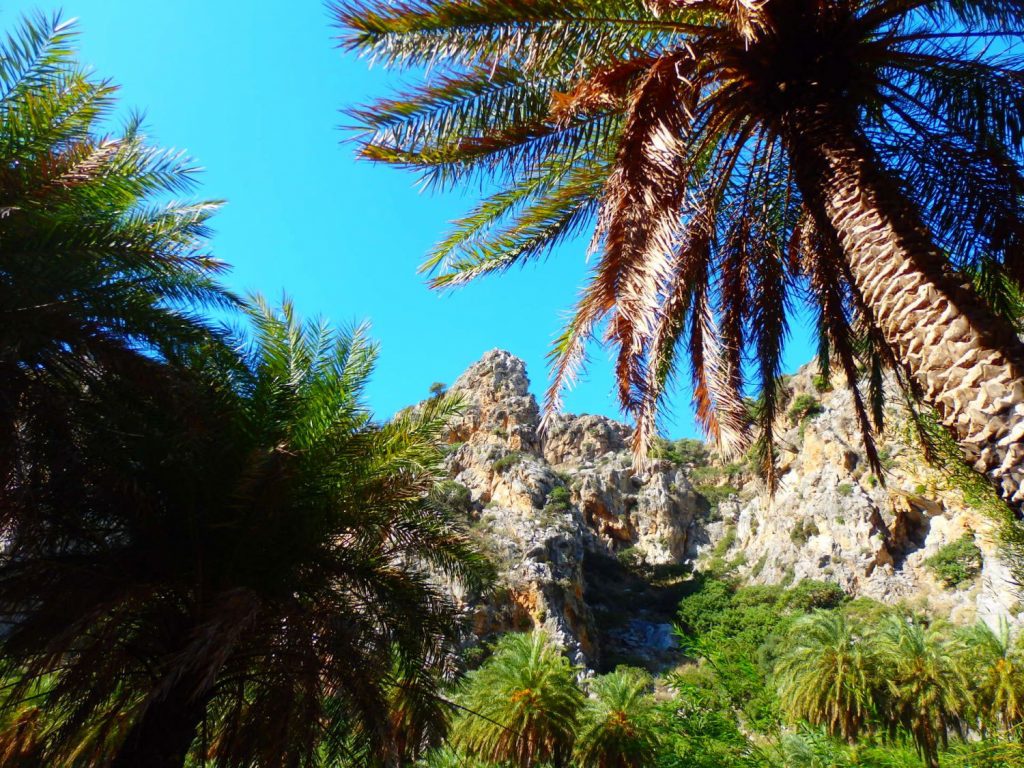 Individual hiking on Crete Greece – Walking with a guide or GPS
Walking with a guide: All our walks and hikes can be accompanied by a guide. Some individual hiking guests prefer to walk their first day with a guide. This way you get a good impression of what kind of hiking options there are. On the way we explain you about Cretan nature, flora & fauna, geology and Cretan history.
GPS hiking on Crete: Hiking trails and paths on Crete Greece are often poorly marked or even not at all. Our routes have been created and charted by us. We have chosen not to mark these with coloured paint on rocks but to chart these on electronic systems. For the GPS we have Garmin systems on SD cards, for your I-phone we use the Motion-X program. You do not need to start following painted dots on your way. Because these routes and trails are made and charted by us, you cannot find them in any of the hiking guides for sale. This way you will enjoy the real Crete. We ask our guests to bring their own GPS system; should you not own one then please let us know upfront, so we can arrange one for you. We always also give you walking maps, in case your GPS stops functioning.
Hiking maps of Crete: Next to the GPS routes we offer our guests printed walking maps with descriptions in several languages. These maps have been tested by many of our guests and contain a map of the terrain with a clear route description from left to right.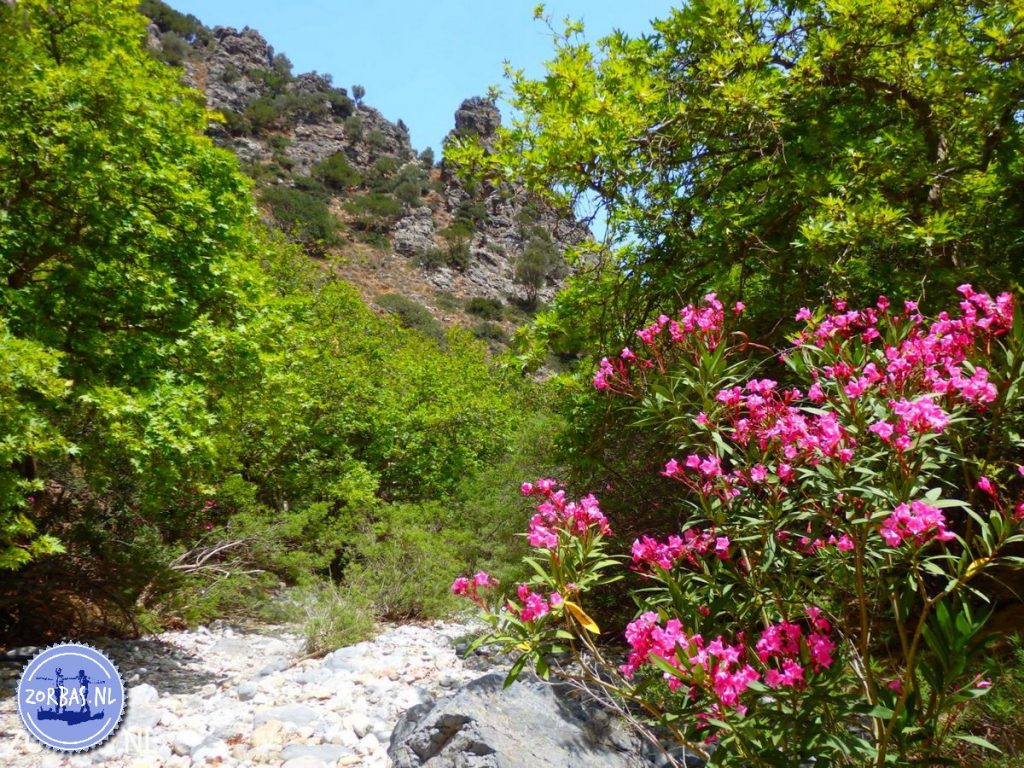 Individual hiking on Crete Greece – Every year new routes
Over 25.000 hiking kilometres on Crete: For over 15 years we have been walking and hiking on Crete and have enjoyed every single kilometer. Every year we go out searching for new spots and trails where we try to combine all the elements a good hike needs. We look for culture, villages, nature, flora, fauna, geology and history. After our first discovery adventure, we go out and walk the new route several times. The next step is a visit to one of the local kafeneions (traditional coffee house) to talk to the elderly of the villages. This is where we get the best stories and information.
Once we are happy with our new trail, we take some of our guests and show them the new route. And finally we have to chart our new walk and put it in the GPS. It does take a lot of time, but it is always worth the while and has shown us after so many years that there is no end to the beauty of Crete.
Kalderimis on Crete: A Kalderimi is an old connection path between the villages. Before asphalt came in to the Cretan infrastructure, this was the only way to get from one village to the next. Kalderimi's are old donkey trails of only 80 centimetres wide; just wide enough for a donkey. Some of these paths have been there for thousands of years. In the old days a Cretan farmer would have to go to Heraklion via these trails on foot with his heavily laden donkey. Usually they would be able to walk about 30 kilometres a day together. Going from central Crete to the capital could almost be compared to a trip around the world. Now these unknown paths ensure us of peace, quiet and beauty during our hikes.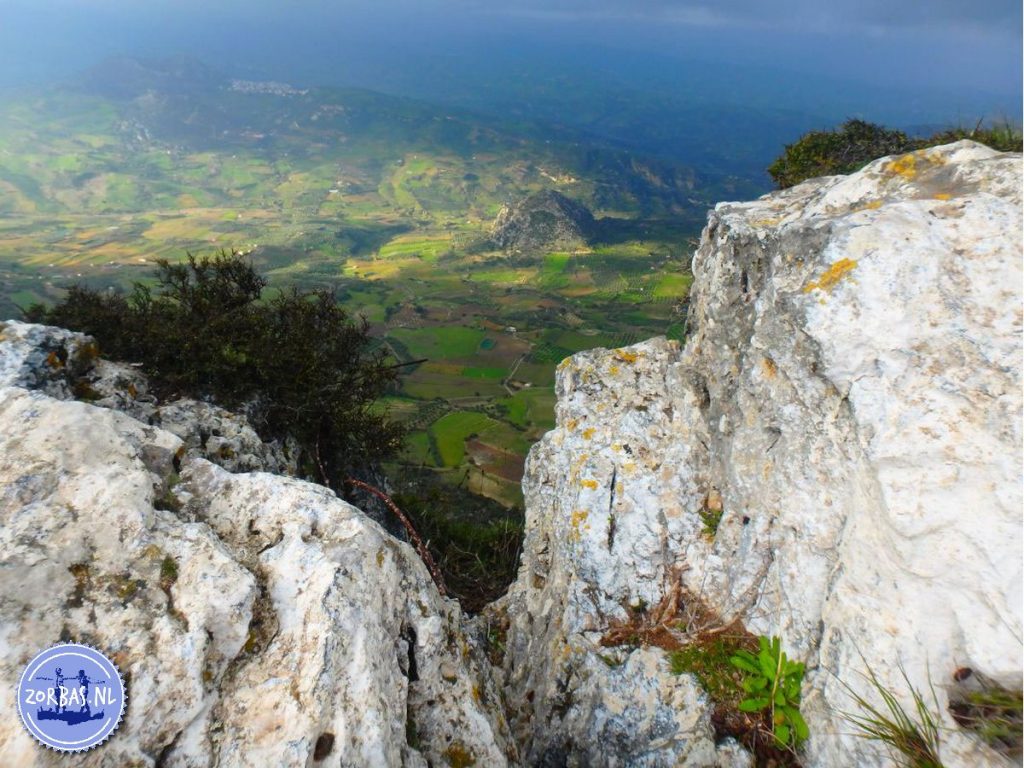 Arrival day on Crete: The day you arrive we will always give you a short briefing on all the walking and hiking possibilities we offer.
First hiking day on Crete: On your first day we provide you with water, a lunch package if requested, gas burners for coffee and soup, your hiking maps and the GPS information. Upon your return we will sit down together again, so you can tell us about your day.
Necessities for individual hiking on Crete Greece: sturdy hiking shoes, hiking clothes, hiking socks, mobile phone (always fully charged) first aid kit (even if it's a small one), backpack, GPS, raincoat/clothing, a jacket for the mountains (it can get chilly).
Individual hiking on Crete Greece – Combine hiking with other activities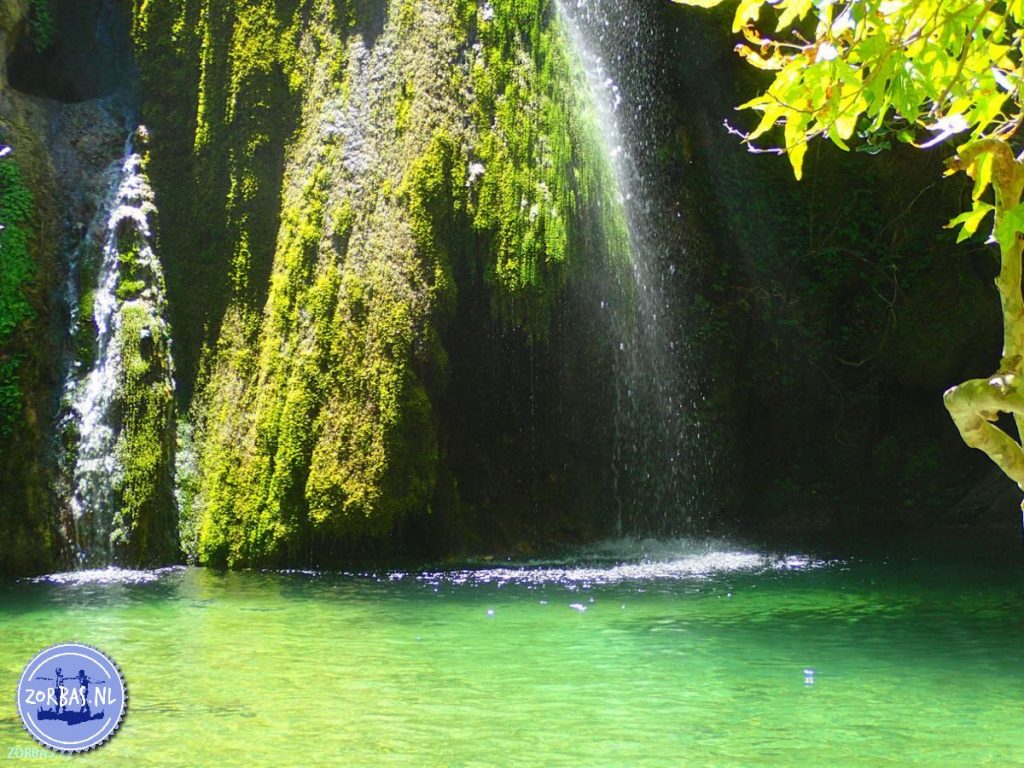 Hiking and fly-drive on Crete: You will be staying in 2 or 3 different locations on Crete. We organise the car rental for you, so you can drive to the different accommodations. We provide you with all the necessary maps, both the hiking routes as well as the road maps. Every accommodation is hand picked by us. At every location you will be able to choose from several hikes or walking routes. If the mapped out route does not end at the starting point, the transfers will be arranged locally. Please note that in winter time there are some restrictions because of weather conditions.
Flowers on Crete: Spring on Crete is a sea of flowers all over, orchids being one of the most exotic species. These orchids are best watched at the end of winter or the beginning of spring. There are 69 different kinds of orchids on Crete. Of course we organise walks to the unique spots where they bloom, either with or without a guide. In winter you can spot a lot of Irises as we. Every season on Crete has its charm.
Individual cycling on Crete: Please check out our cycling page on this website to get an impression of all the cycling options we offer on Crete. Again, we offer unique routes with maps or via GPS and we will be happy to arrange transfers to the starting point of the different excursions. You could even think of a holiday combination of hiking and cycling on Crete.
Active combination holidays on Crete: Whether individually or as a group, you can always join our excursions. This enables you to create your own active holiday including stay, breakfast, dinner, transfers, hiking and any of the other adventurous excursions we offer. Please check out our excursions page for more information. We offer active holidays on Crete.
Greek cuisine and hiking: A very popular combination is hiking and cooking on Crete. For example, you take 2 days with hiking trips and after you a day of cooking in the mountains or at the accommodation, with a visit to the Greek gypsy market. Our chef will teach you the secrets of Greek cooking and the Mediterranean diet. How is that for a culinary active combination holiday!
Multiple day hikes on Crete: For the hiking fanatic we organise hikes on the south coast of Crete in winter. These walks will take 4 to 5 days with overnight stays at different locations en route. If you are interested in multiple day hikes, please e-mail us for more information.
Questions: Should you have any questions about accommodation, transfers, hiking, cycling and active combination holidays, please e-mail us.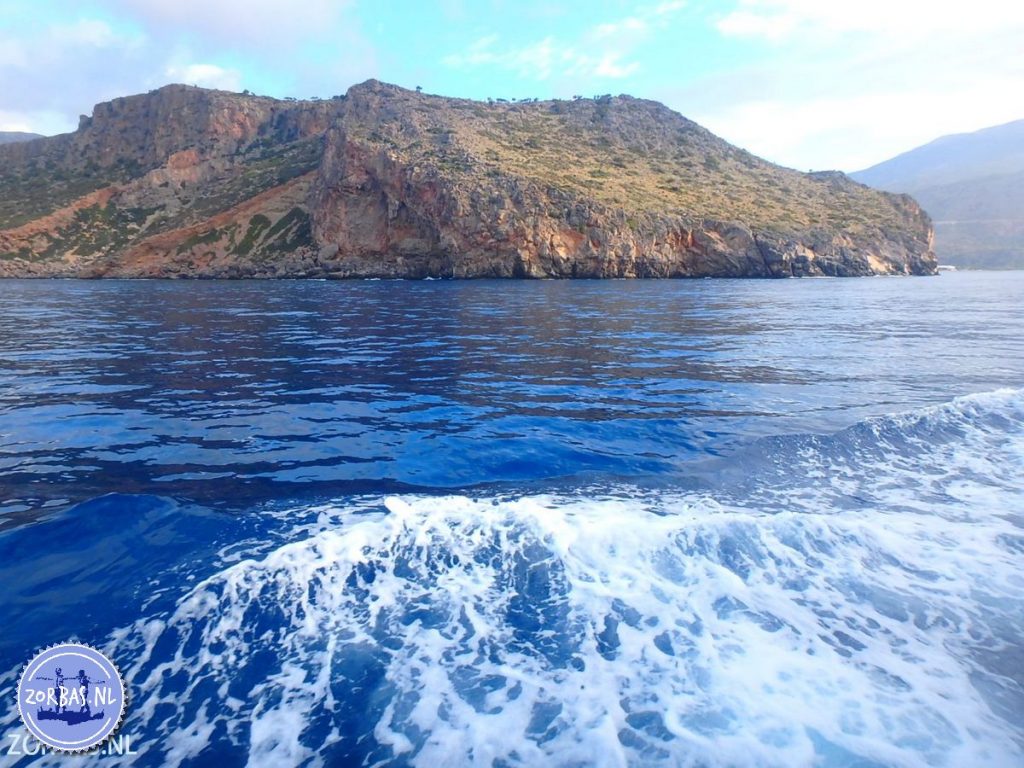 News and photo page: On Crete today you find the latest pictures, so you are always informed about our activities. You will also find an extensive collection of photo albums and photo books of our excursions, both in summer and winter.
Accommodation on Crete for hikers: This page gives you an impression where you will be staying during your holidays on Crete combined with hiking. Even your breakfast can be adjusted to the departure time of your hike. Individual hiking on Crete Greece
Holidays on Crete: Apartment rental and accommodation on Crete. This is the right address for family apartments and holiday homes, excursions and cheap flights to Crete. There is a detailed overview of the latest holiday news from Crete including many pictures. Crete is the most southern holiday island of Europe.
In case you like more information, please send an email to zorbasisland@gmail.com
Individual hiking on Crete Greece