Easter in Crete Greece 2023: Description of Easter holidays in Crete with activities. During the Easter days we cook at Zorbas Island together with our guests. You are welcome to celebrate Greek Easter in Crete. Greek Easter in 2023: Sunday the 16th of april.
Easter in Crete Greece – Program for the days before Easter
Program for Greek Easter on Crete: Thursday before Easter: A visit to an ancient craft market. We show you old Cretan crafts: pottery, wood carving, distillation of Raki and a wine tasting. Here you can learn more about the traditional Greek cuisine; you can see a loft with Cretan herbs, candles factory, beekeeper and honey. You can also visit a Cretan farm with various animals and drink coffee on a little Greek square. Along the way we will visit several mountain villages to show you how people on the island prepare for Easter in Crete Greece.
Friday before Easter in Crete Greece: Good Friday on Crete is the so-called "Big Friday". On "The Big Friday" everybody is busy with the final preparations for the Greek Easter celebration. On this day we organise a rivers tour, which is a hike of 10-12 km. This hike is suitable for everyone. During this river tour we hike through beautiful nature and we will show you a part of unknown Crete. This walk is in nature, with culture and learning a lot about Crete. Registration is required.
Easter in Crete Greece – Easter program and the days after
Saturday before Easter in Crete Greece: Greek Cooking class and preparation of Greek Easter dishes. Start at 13.00 hours. At 23.15 hours we walk from the apartments to the big church in Kokkini Hani for the Easter celebration. At midnight a Judas doll will be burned at this church. There are a lot of fireworks and the whole village goes out to start all together the Easter festivities.
Sunday, Easter Sunday on Crete: Greek Easter, starting 13.00 hours. We will have a traditional lamb barbecue and enjoy a great Easter lunch & dinner in the sun. A day with a lot of Greek (live) music and culture. On this day you will celebrate the traditional Greek Easter.
Monday, Easter Monday: An Easter hike of 10-12 kilometres on Crete. This is an adventurous tour through a beautiful area with lots of flowers and wildlife. We will depart from the accommodation at 11.00 hours and we will be back around 17.30 hours.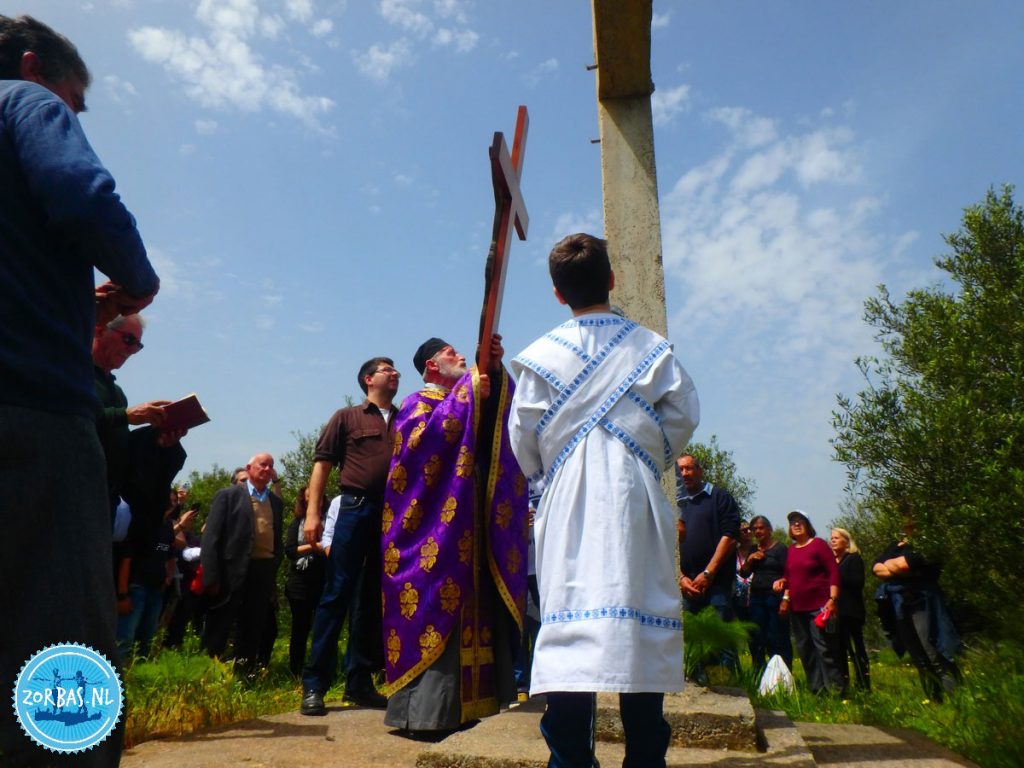 Tuesday after Easter: Cooking class in the mountains; a cooking afternoon on location. In the morning we will visit the big gypsy market in Alikarnassos. We leave at 10.00 hours and we will be back at the accommodation at 12.30 hours. Then we leave to go cooking in the mountains at around 13.00 hours. During the cooking class you learn about various methods of Greek cooking, we pick fresh herbs and make herb tea from the mountains. We are back at the accommodation at 17.00-17.30 hours.
Easter in Crete Greece – Information about Greek Easter
Greek Easter: Many people are not really familiar with the celebration of Easter in Crete Greece. We will explain you something more about it: nowhere in the world is the Easter week experienced as intense as in Greece. Nature is at her best during this period. From the Monday before Easter, the Greek call the days every day "big": "Big Monday", etc. On all these "big" days it is fun to have a look in the villages at the preparations for the Easter festivities. There is a lot of activity.
Almost all villages make an Easter bonfire, which is lit on Big Saturday. The young people are busy all week to collect wood. In one village the pile of wood is even higher than in the other. Often there is a sort of rivalry between the villages; which village will have the largest fire. During this week you already her the first fireworks during the collection of the wood.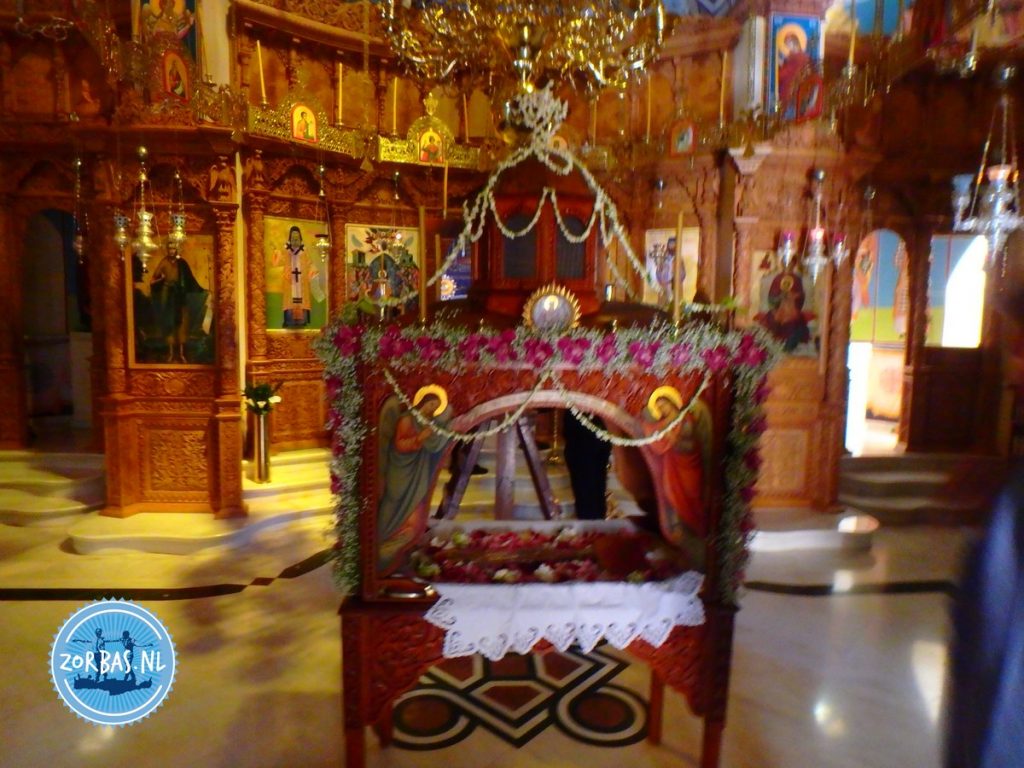 During the preparations of Easter, it is worth it to just go and sit at a market square. Old Greek women will walk by with bread that they prepare at home. They go and bake their own Easter bread in the oven of the local bakery. Everybody will paint their eggs red. When the old fashioned way is used, the inside of the eggs will be just as red as the outside! On Good Friday, "Big" Friday, everyone goes to church in the evening. Leaving the church, the priest will walk in front and behind him young men carry a symbolic tomb of Christ.
The boys who carry this ornate symbolic tomb are almost always the guys who will leave for military service the following year; this is basically an unwritten village rule. The boys go with the tomb past all the chapels and churches of the village. Old women pass crouching underneath the symbolic tomb, hoping for miracles. When the procession returns to the church where they began, everyone goes home. At home people often eat soup and salad for dinner. On "Big" Saturday Easter actually begins. After 40 days of fasting (usually only the older generation adheres to this tradition) everybody can get back to meat and milk.
On Saturday evening (Easter), the priest proclaims at midnight that Christ has risen. To be honest, nobody really hears the priest, because as soon as he comes out of the church the fireworks start exploding! The sky is red and there is a lot of explosive popping noise. In the earlier years on Crete people were shooting with guns in the air.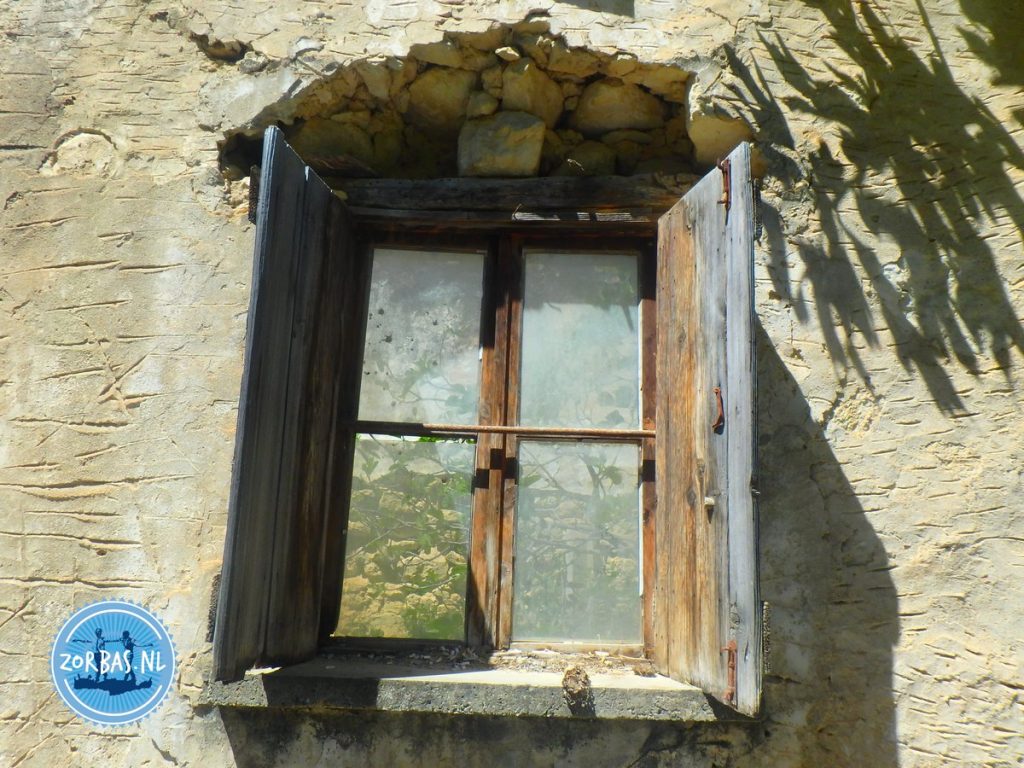 Everyone now goes with a candle to get the "sacred" fire from the candle of the priest. This is fire from Jerusalem. Then everyone goes home with a burning candle. What you see is really great: people are driving by car from the church to their house trying to make sure that the candle does not extinguish! Actually, the tradition is to walk home with a burning candle in your hand. At home people burn with the candle a black cross on the wall above the door for good year wishes.
Just watch when you are in Greece; you will frequently encounter a black cross over a door. It is also tradition to brake the eggs against each other. People eat until late at night.
Easter Sunday in Crete: The tradition of Easter Sunday is really nice. Early in the morning we tie the lamb on the spit and use wood from grapes and olives to start the fire. It is a real chore to get the lamb on the spit in the correct way. The lamb needs to turn on the spit for at least 6 hours. The Easter lamb starts to be roasted over the fire already around 8 am. It is very normal to consume the first wine already in the morning. At about 2 in the afternoon the family sits around the table and everywhere you hear the pleasant sounds of real Cretan music. Most people repeat the same story on Monday.
If you are interested in Easter holidays on Crete, please send us an e-mail. We offer you options in combination with accommodation in Crete, Greece. Check out our accommodation page: holidays apartment rental Crete.
Excursions on Crete: Excursion information about Crete, active group excursions, outdoor holiday, walking and cycling routes, walking with accommodation, multi-day hikes, car rental, scooter rental, diving, diving with accommodation, cycling, bicycle rental, cycling and accommodation, golf holiday, horseback riding, Crete travel information, local transport, jeep safari, multi-day jeep safari, quad rental, cooking lesson and cooking holiday, climbing, culture and nature, boat rental, boat excursions, sailing to Greek islands, snorkelling, all ingredients for a great active holiday on Crete.
Every day news from Crete: Every 24 hours uploads on this page. News and links for holidays on Crete. From this page you can also click on to our photo books. Easter in Crete Greece.
Holidays on Crete: Apartment rental and accommodation on Crete. This is the right address for family apartments and holiday homes, excursions and cheap flights to Crete. There is a detailed overview of the latest holiday news from Crete including many pictures. Crete is the most southern holiday island of Europe.
In case you like more information, please send an email to zorbasisland@gmail.com
Easter in Crete Greece