Multi-day hikes on Crete Greece: We organise hiking holidays on Crete from 2 to 5 days, including accommodation, guided hikes, lunch and transfer.
Hiking in different areas of Crete: A week hiking through Crete and stay at various accommodations and locations.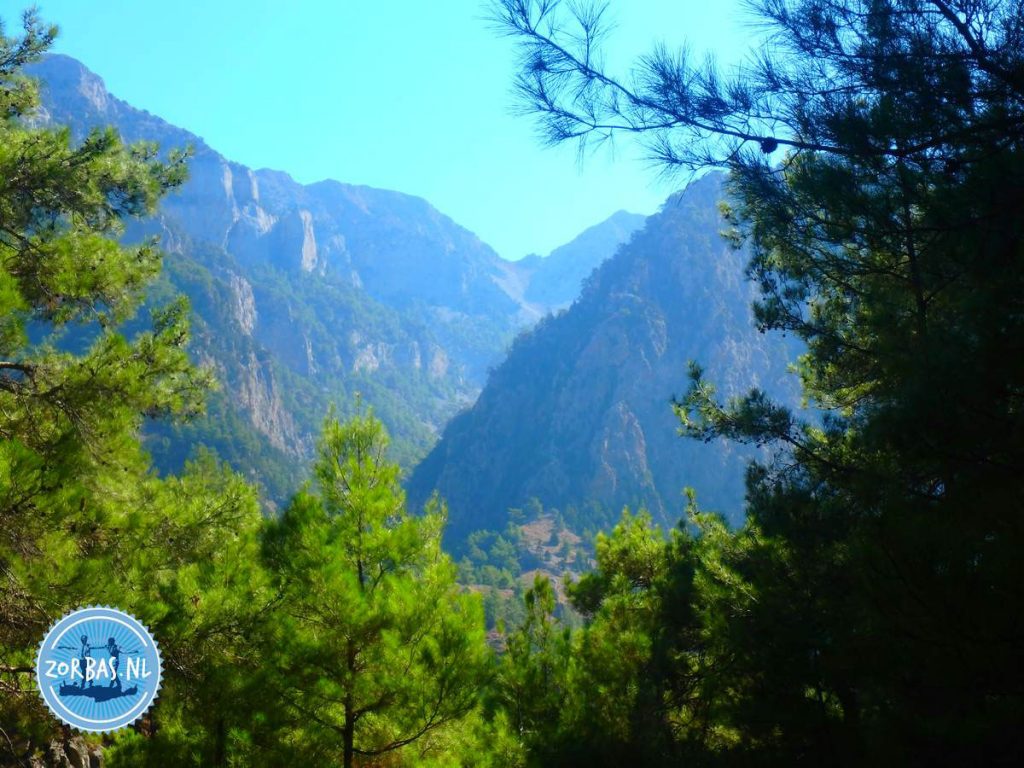 Multi-day hikes on Crete Greece – Three days walk
Three days hiking on Crete: In the area of Lassithi it is great for multi-day hikes. You start on the Plateau of Lassithi. This walk goes from village to village at the green Lassithi Plateau with agriculture and beautiful nature. You walk through areas where you will not meet many other tourists, with the exception of the Plateau itself, depending on the time of the year. After a long walking roundtrip through this agricultural area of Crete we go to the Havgas gorge (canyon Lassithi). After the hike through the Havgas gorge, we stay overnight at the Lassithi plateau.
The second hiking day we go from the hillside around Lassithi to Kera, with on the way visits to caves and monasteries. From Kera we hike through the Rozas gorge to Gonies. Via dirt roads and unpaved tracks we go from the cave of Agia Fotini to Avdou. We stay overnight in Avdou.
The third day we follow the path to the dam reservoir of Avdou. Then along the rivers we walk toward the coast. After some nice Greek villages we end up in the Aposelemis canyon. Through this beautiful gorge, where the vultures live, we come to the bird reserve of Analipsi and Gouves. Following the beach road, we walk back to the accommodation. In total we walk about 25 kilometres per day. Within three days we hike through three different gorges.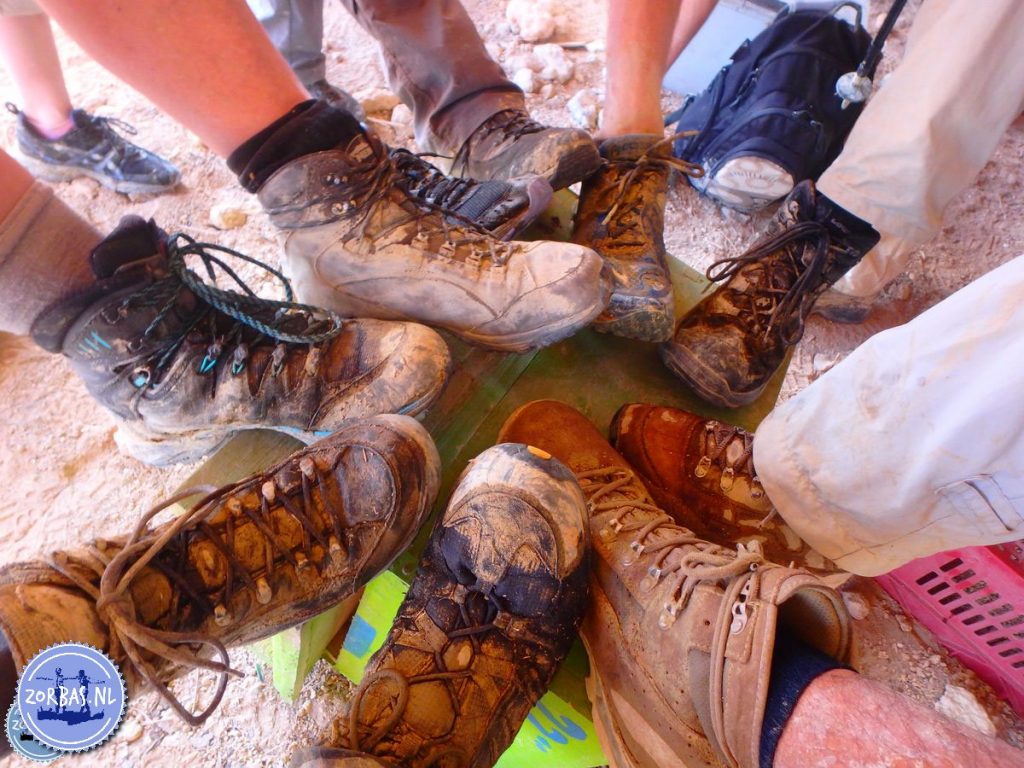 Multi-day hikes on Crete Greece – Two days walk close to Mirtos
Two-day hiking Mirtos, Selakano, Sarakina to Mirtos: This hike is 36 kilometres, devided into two days. It is a beautiful hiking trail through a varying nature. We start all the way up in the area of Selakano. Our route will go from Selakano, Males, Christos, Metaxohori, Sarakina, Mithi, Riza, Tertsa back to Mirtos.
Two-day hiking excursion Mirtos South Crete: Early morning we leave from your accommodation. We drive through the beautiful mountains to the Sarakina Gorge, an impressive canyon close to the village of Mirtos. Walking through this gorge is a real challenge. You can walk in the gorge a short and a long distance. The gorge is really great, with sometimes quite a bit of water inside. In spring and autumn you also walk parts through the river or streams and sometimes you even have to swim! We will walk the slightly longer version of about 12 kilometres through the nature. We stay overnight at Mirtos in an apartment or hotel. At the end of the afternoon you can go and relax on the beach of Mirtos and in the evening you can enjoy the Greek taverns at the seafront.
The next day we go via a mountain route to Kalami, an abandoned village. We show you this abandoned village and explain you more about the history of Kalami. It is a village, which gives a strange impression and feel to it. Once it used to be a whealthy village. There is no infrastructure for cars, but you can see there used to be donkey paths. From a walk around the village, you can understand there used to be a lot of activity. After the walk we return to North Crete.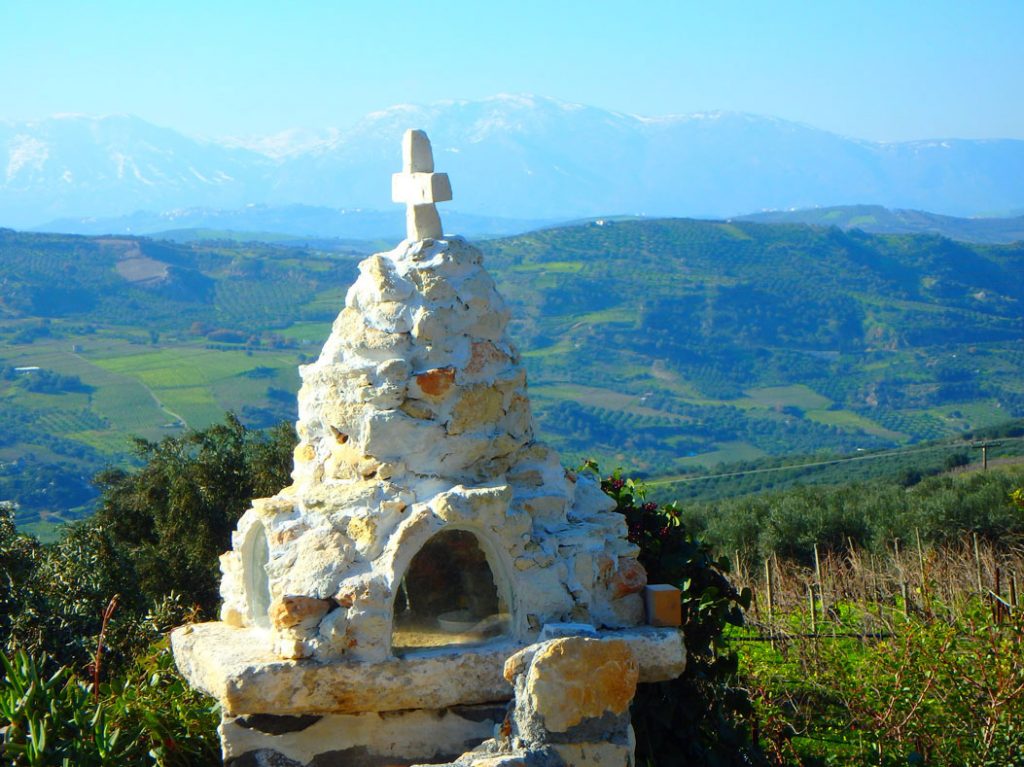 These days of hiking can be extended with more walks in South Crete. We also offer 3 and 4 days hiking with overnight stays.
Evening excursion Mirtos: At a location on the South coast of Crete we shall visit an observatory, where you can see the stars and planets. There is a space telescope to admire the universe. If it is not too warm at night you can really see many galaxies and planets!
Chrissi Island: We go by boat to one Europe's most southern islands. Departing from the coastal town of Ierapetra you can enjoy the one hour sea-trip to Chrissi Island (the word Chrissi means gold, in Greek). The sandy beaches on Chrissi Island are breathtaking. A lagoon surrounded by sparkling white sands, enclosing a sea in 3 shades of blue. For those who do not wish to walk, a sun bed awaits you on the other side of the island, where you can relax, swim or snorkel. Walking on Chrissi Island is easy on this fantastic sand-plateau. The entire hike is around 10 kilometres, over sand-paths, enjoying the fantastic views of Crete and the beautiful surrounding blue sea. The day ends with a return boat trip to Ierapetra on Crete.
In the area of Mirtos we have several hiking options: with a local guide there are more hikes available in the mountains and gorges.
Walking in Mirtos area: Village walk Kalami South Crete: Hiking in South Crete: Each type of hiker can do this walk. With this walk we can choose either the easy or the harder route. This village walk goes to the abandoned Cretan village of Kalami. In Kalami you can see how a village in Greece used to look like in the 50s. The nature around the village is really beautiful and all year round accessible. Around the village are high cliffs and fields with olive trees, flowers and small streams. Until spring there is water running through these little streams. There are also a lot of fruit trees you can see as we walk through an abandoned agricultural area. We can make the walk as long as you like, from 5 to 12 kilometres.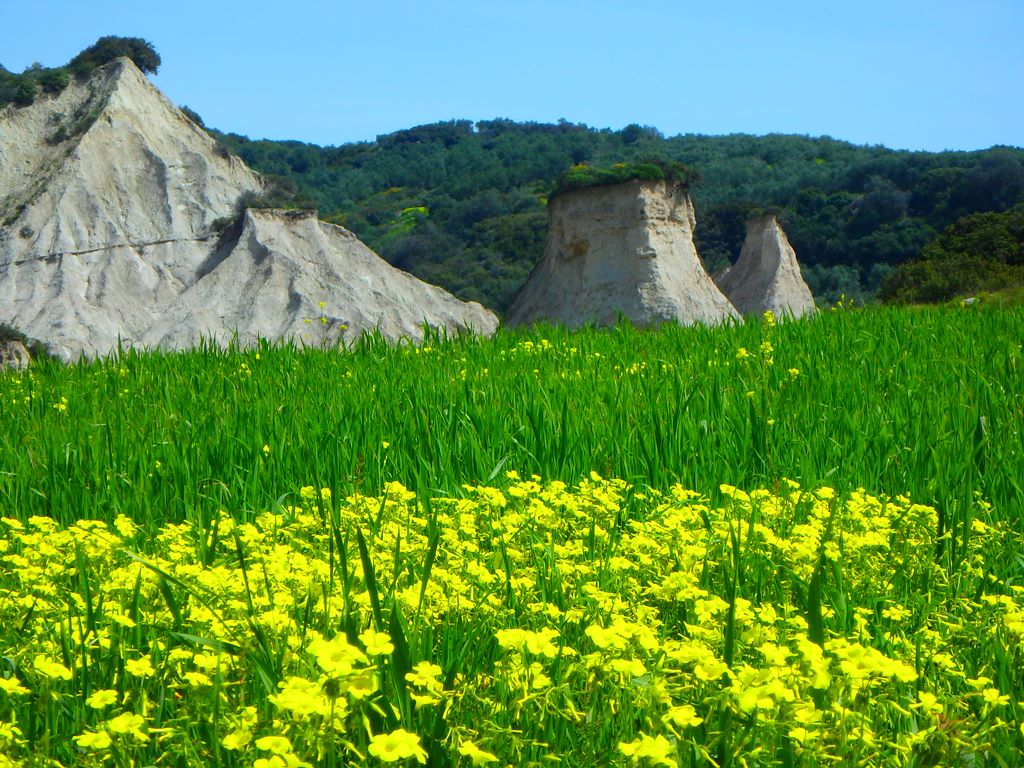 Kalami village: The village Kalami is abandoned, just a single house is still inhabited, but you will hardly meet any people here. The little streets in the village are made for pedestrians and donkeys, a car can actually not pass. However, the village gives a strange impression, the school next to the church, the little river that runs besides the village, the old windmill and a watering system from a bygone era. When you love to photograph the old Greek doors: there are plenty of them in these nice narrow streets of Kalami.
When you look into an old little house, you can see what is left behind; pans, olive oil jars, old pictures, books, etc. Do not just go into the houses, there are some houses ready to collapse, so be careful! Even in the old school are still some old desks and various other things from the 50s. Most of the people, who lived here, have moved to the surrounding villages, but still it remains somehow a little mysterious here.
From the village there is a connection road to Southwest Crete, with one of most beautiful sandy beaches. This lovely beach is at least 10 kilometres away. From the village you look into a stunning canyon. There is no road going there.
Multi-day hikes on Crete Greece – Two days walk at Milos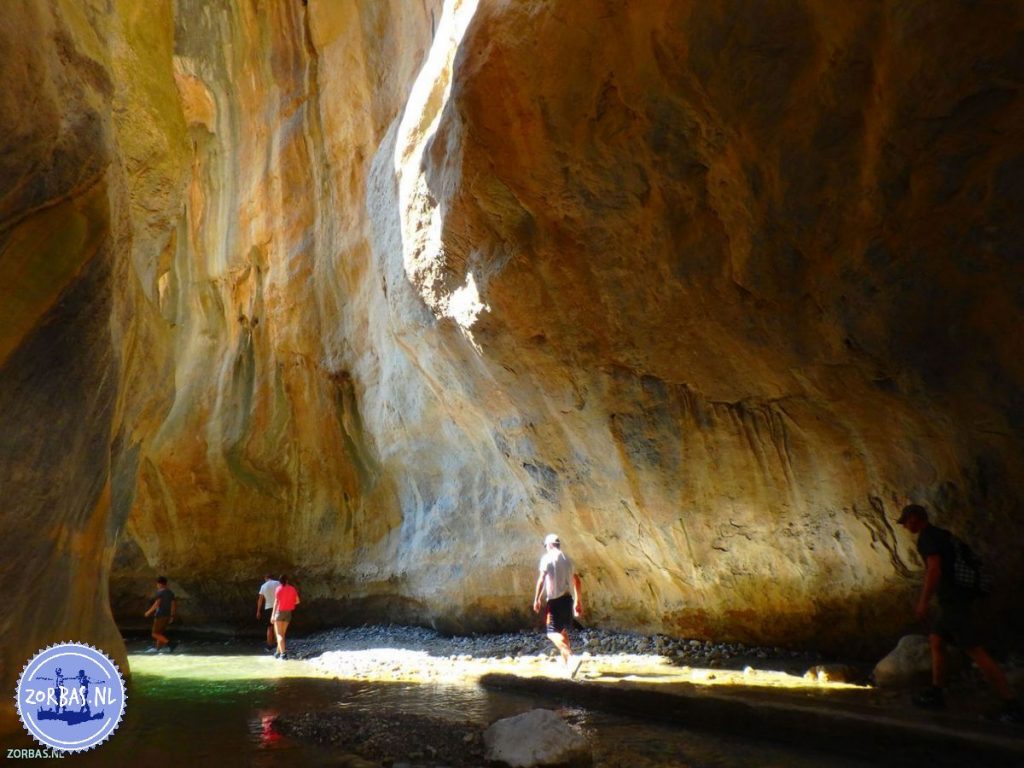 Two-day hiking tour on Crete (Milos walking tour): We walk in two days 32 kilometres through the mountains. This hiking excursion is an adventurous trip right through the unspoiled nature of Crete. It is an area in Central Crete, with forests, mountains, little lakes and streams. We follow the old kalderimi (donkey path), which is the former connection road between the old Cretan villages. Along the way you can see often remains of ancient Greece. A stack of stones is often an old shepherd's hut. There are also some old windmills and abandoned villages where nobody goes anymore. We will pass a few ancient Byzantine churches, deserted, but in beautiful condition.
We walk through gorgeous nature and see many turtles that mainly live in the little streams. Also you can see some crabs and water snakes and at night you hear the owls. This trip is for the more adventurous lovers of Crete. We offer you this unique option in both summer and winter.
Three to five days hiking on Crete: We have a hiking tour on Crete that goes from South Crete to North Crete. We sleep a few times overnight in the nature, but also in old guest houses. Walking from Tsoutouros & Keratokambos to Kokkini Hani.
Hiking tour Milos: We leave after drinking a coffee at the local kafenion towards Skalopatia. Through an area with vines and olive trees we walk to a beautiful ancient Venetian arch bridge. After the bridge we descend gradually 500 metres with views of the gorge. Once we are down, we see on the left a little freshwater lake. This lake lies in the shadow of many oak and plane trees. At the opposite side you already see the first turtles. We continue on the kalderimi along the trees and a stream, where many water plants grow.
After a few kilometres we come to the first spot where in the summer months hundreds of turtles live. We always approach quietly in order to see as many turtles as possible. The path continues to an old water lock, where in the old days water was collected (at this spot in the winter you have to take off your shoes). After the water lock, which is constructed of sandstone, we descend to the stream. This path has been built between wonderful cliffs. And a few kilometres on the way we reach a real Cretan forest with lots of vegetation and native plants. There are still many native plants on Crete.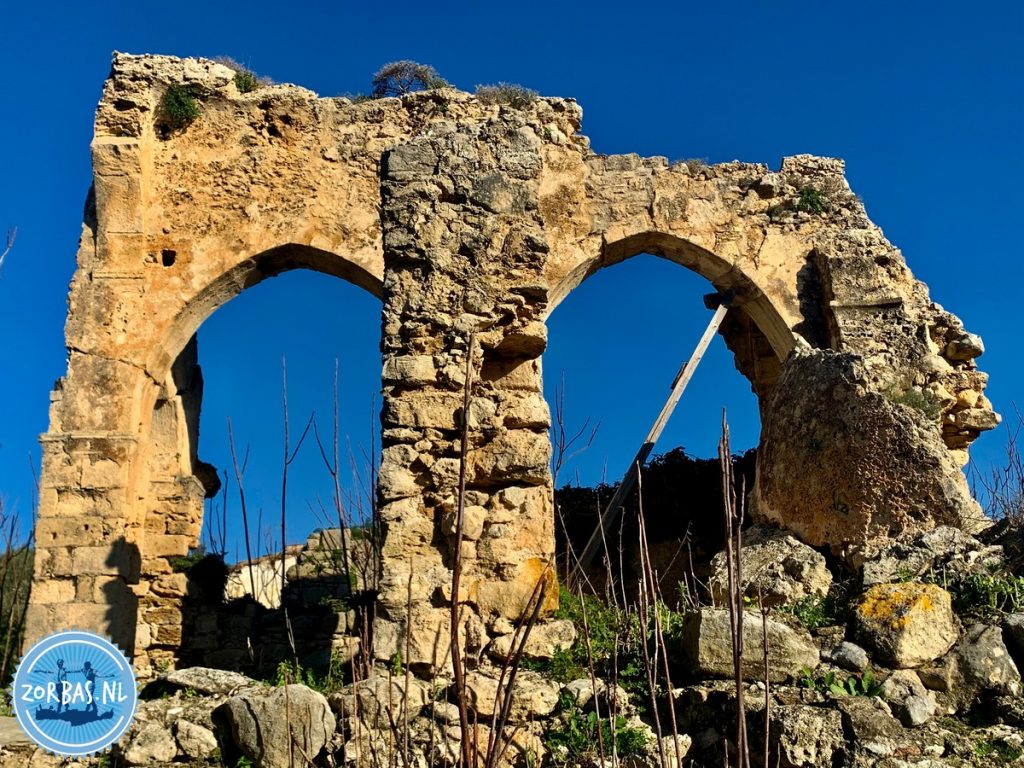 After some kilometres walking through the forest, we reach some kind of a jungle. Here you walk in between bamboo and oleander bushes. And not long after we walk even through an orange tree grove. This part of the trip goes along stunning rock formations. At the end of these rock formations we reach the lowest part of the gorge. Now the path runs up and along a ravine. Here we have great views of the stream and all the trees and plants that grow here. Halfway we arrive at the spot where we organise our lunch.
Down besides the stream is an ancient fortress with little sandstone houses. It is a kind of deserted village. In the sandstone you find many fossils. After lunch we walk further up along the stream. Continuing through the gorgeous nature we arrive at an abandoned church. Just after the church we are again descending to the level of the stream and we encounter the turtles once more. Now the trail goes along fences that are there for the sheep and goats. Here we need to open and close often the fences to pass, so the sheep and goats remain in their areas. You will see here many sheep herds and along the sometimes perpendicular rock formations the mountain goats.
At the end of the gorge we arrive at some kind of a gathering place for cattle. And yet again you see an abandoned church with some shepherd's huts around. Here we will be picked up. With the heavier hikes we continue walking on to sea level.
Multi-day hikes on Crete Greece – E4 walking
Hiking weeks on Crete in April, May and October: Who feels like joining us? We will walk a large part of the E4 hiking trail on Crete. This hike is in total about 50-75-90 kilometres. At night we stay at various locations. This hike is the E4 hiking trail from Paleochora to Sfakia. Along the way we also visit some gorges. Who wants to join us, should register on time. We will be hiking for 2-5 days. Hiking in West Crete, the E4 walking path: Paleochora – Cape Plakes – Cape Flomos – Soughia, (Sougia) – Agia Irini gorge– Triptis gorge– Agia Roumeli – Samaria gorge– Agios Pavlos – Cape Plaka – Aradhena gorge– Likos – Finikas – Loutra – Chora Sfakion (Sfakia).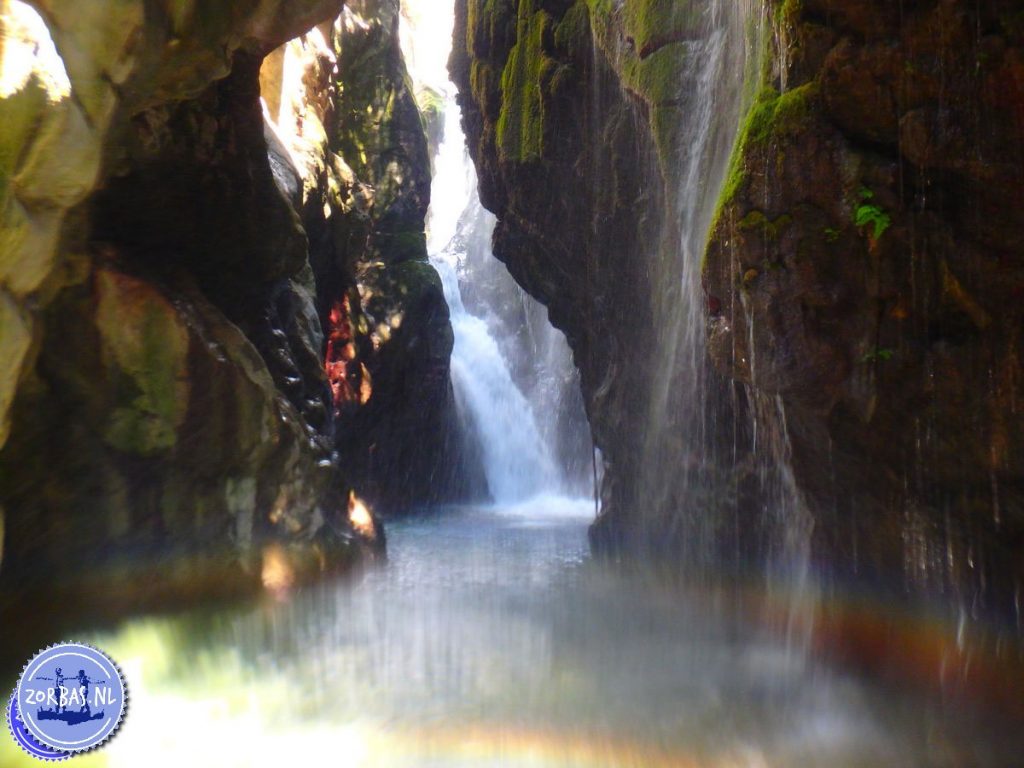 Accommodation on Crete for hikers: A page with various alternatives for hikers to stay and accommodation on Crete.
Information about walking on Crete: Our accommodation is located directly at the seafront and is an ideal starting point for hiking across Crete.
Holidays on Crete: Apartment rental and accommodation on Crete. It is the perfect place for family apartments and holiday homes, all your excursions and cheap flights to Crete.
In case you like more information, please send an email to zorbasisland@gmail.com
Multi-day hikes on Crete Greece