Snorkelling at various locations on Crete Greece: Information about a snorkelling holiday in Greece, including some nice tips for snorkelling on Crete.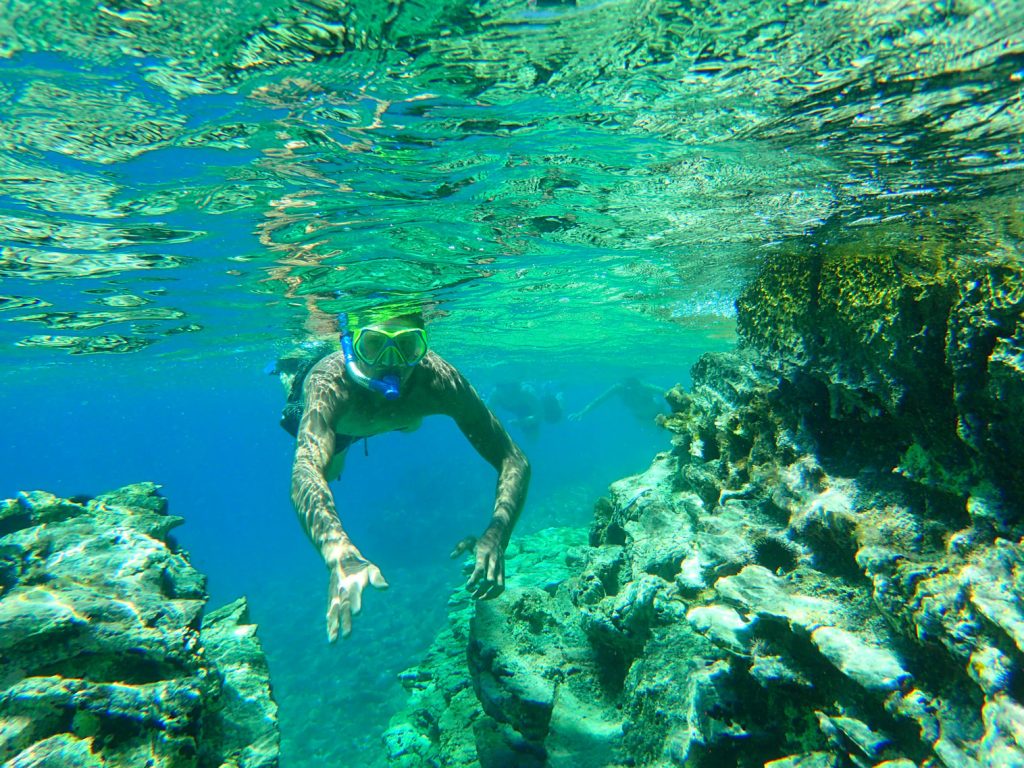 Snorkelling at various locations on Crete Greece – Elounda
Snorkelling in Elounda: We will go snorkelling in the gorgeous bay at the peninsula of Elounda. Here snorkelling is always possible, since the bay is closed off from open sea and therefore there are no currents or waves. The bay consists of two parts, on the left side is a stone reef with several plates between which you will see many species of fish. Between submerged rocks under water arise small gorges. Regularly we can see at the end of these rocks big sea turtles.
These big sea turtles are called Caretta Caretta and some of them grow to a size of 80 to 100 centimeters. People believe that these sea turtles are slow, but in reality they swim really fast. On the right side of this reef is a large part with sea grass. When you snorkel above it, you will see many species of fish that live in between the sea grass. On the right side of the bay it is wonderful and relaxing to snorkel along the lava formations. Between the cracks of the rocks you often see octopuses, always hiding themselves in little caves. Along the rock formation you see many smaller fishes in beautiful colours.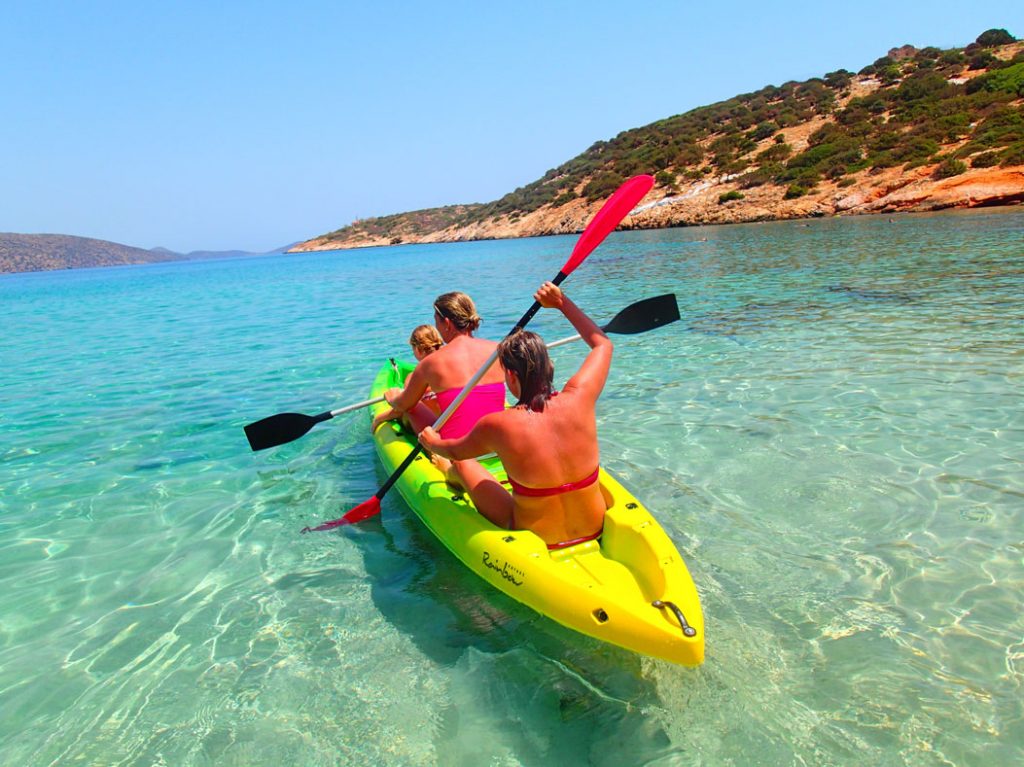 Beach & snorkelling in Elounda: Our snorkel location starts at the beach. It is not a sandy beach, but that is not the reason we are there. It is all about the snorkelling, but in case you do not wish to join the snorkelling, you can enjoy sunbathing on rocky plateaus. You have an easy excess to go into the sea for swimming. We do suggest though, that you bring water shoes in order to avoid any problems in case you step into sea urchins.
What else is there to do besides snorkelling? We are at a secluded peninsula, which is also a beautiful walking area. We do have maps and GPS tracks available for walks of 3-10 kilometres on the peninsula.
Fishing at the peninsula: You can also go for fishing at the peninsula. We recommend you to go for fishing at some distance of the snorkelling area. There are beautiful spots on the island for fishing.
Dinghies and canoes: We will take dinghies and canoes with for sailing and rowing. We can also bring some body boards along.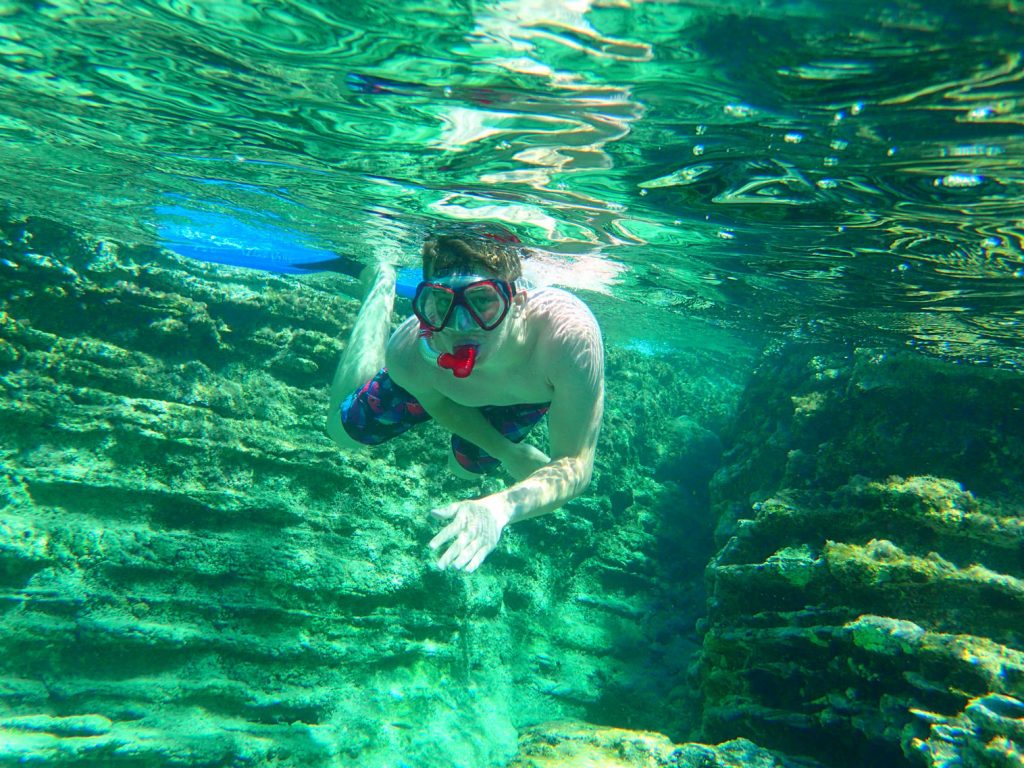 Snorkelling, swimming, sun bathing, walking and fishing: Actually there is something for everyone to do, also for those who do not enjoy snorkelling. We prepare coffee and lunch at the snorkelling location. It tastes nowhere as good as at the sea! At the end of the day we drive back through real Cretan countryside and old villages. We drive along the Mirabello bay with its unforgettable views.
Snorkelling at various locations on Crete Greece – Various locations in one day
Snorkelling day Crete at 2 locations: This day is really suitable for fanatic snorkelers. We have selected two snorkelling locations, where you can enjoy snorkelling. The first location is a large reef with a natural pool in the middle. These are rock and lava formations. Just outside the middle part you have to be careful of the waves, when you are swimming close to the reef. During autumn and winter you will find here schools of tuna fish. At this location you see many colourful fishes and plants in the water.
Snorkelling around the large reef is beautiful. Everywhere you see bubbles coming out of the ground, with a cold jet of fresh water, floating into the sea. Along the reef there are many little tunnels, where you can look at the beauty of large lava formations. There is a sandy beach at this snorkelling location, where you can go for sunbathing and swimming. There are also beautiful spots for fishing.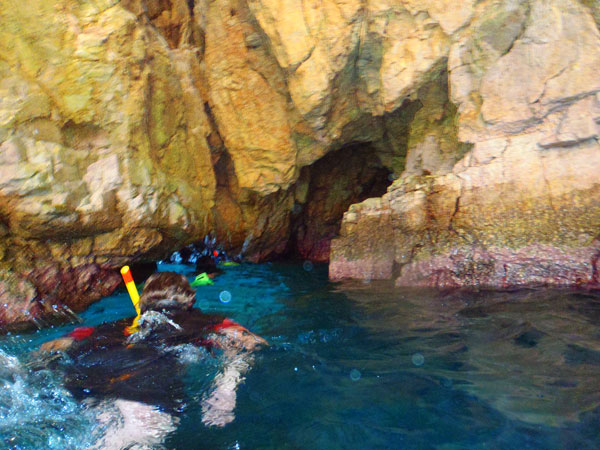 The 2nd snorkelling location that same day: At this second bay, you will not be disturbed by any waves, snorkelling is always possible. This is a bay with beautiful sandstone formations. It requires some clambering before we get down (25 meters), but then we arrive at a gorgeous sandy beach. From the sandy beach we will start snorkelling. Along the sandstone rocks we snorkel to a cave. You can easily swim into this cave. From the cave you can make great photos, we always bring our underwater cameras with.
In the cave there is a lovely swell of the sea, you can sit down on the bottom. After the cave we swim further along the rocks to a little island. At the island is a gorge under water where we will be snorkelling through. You see many beautiful colours on the cliffs. After snorkelling around the island, we take a break here. After that we snorkel back along the other side of this little island. This snorkelling day is suitable for everybody, even for the less experienced snorkelers among us. During this day you can also enjoy sunbathing, swimming of fishing. We prepare coffee and lunch at the beach.
Snorkelling at various locations on Crete Greece – Some extra information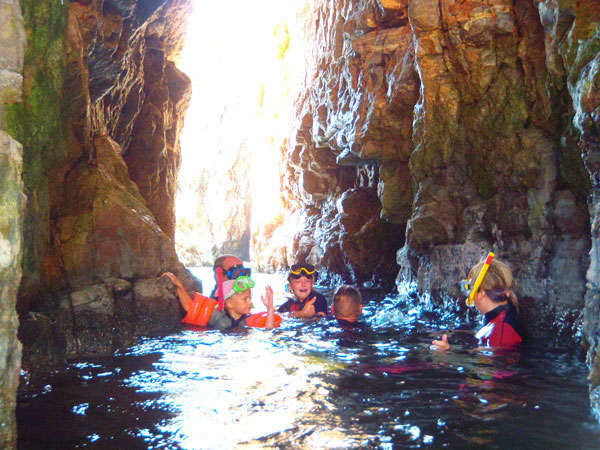 Underwater cameras: We always bring our underwater cameras with. You can get the photos of your snorkelling excursion from us from the cloud or on USB. All photos on these pages are made by us.
Snorkelling tips Crete: Snorkelling is a relaxing way to discover the underwater world. Most people snorkel too fast, but to discover a lot underwater, it is best you snorkel in a relaxed pace. You see most underwater when you snorkel relaxed along the reefs.
Snorkelling on Crete: We offer several possibilities for snorkelling on Crete: You could go snorkelling by yourself; there are many possibilities in the area. We offer snorkel lessons through a certified diving school.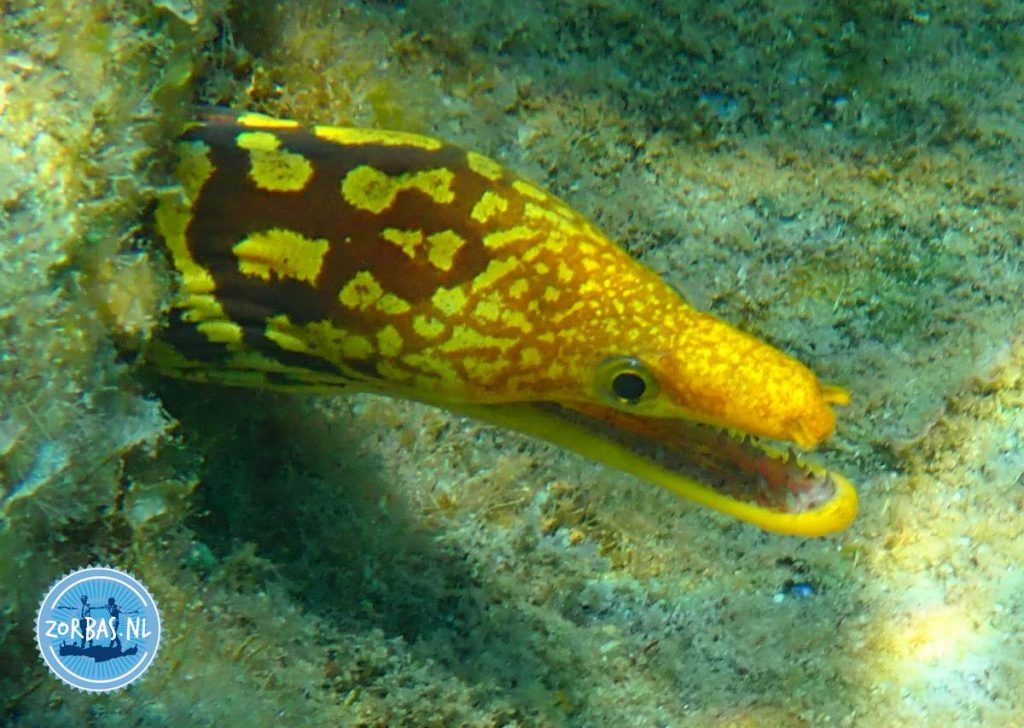 Photo album snorkelling on Crete: This picture albums are composed of photographs which we made ourselves and photographs which have been sent to us by our guests.
Diving information about Crete: The underwater world of Crete is full of cliffs, caves and rock formations, and offers a wide variety of spectacular dive sites for underwater divers of all levels.
Holidays on Crete: Apartment rental and accommodation on Crete. This is the right address for family apartments and holiday homes, excursions and cheap flights to Crete. There is a detailed overview of the latest holiday news from Crete including many pictures. Crete is the most southern holiday island of Europe.
In case you like more information, please send an email to zorbasisland@gmail.com
Snorkelling at various locations on Crete Greece