Quad safari on Crete: Scootopia Crete, buggy safari Crete: We depart at 09.00 hours straight after breakfast. We visit today central Crete with some quads or buggy's. Almost the entire day we drive off-road. Around 10.30-11.00 hours it is time for a coffee break in an old Greek kafenion (Greek coffee house). After the break we continue to explore Crete off-road. This day you can expect a lot of nature, culture and adventure. We pass many beautiful little villages up in the mountains. Around 13.00 hours we eat lunch in the lovely village Kastraki. After lunch we continue our route through the mountains and somewhere around 17.00 hours we are back at our accommodation. Now it is time for a refreshing drink and a dip into the swimming pool. The best thing after a long day driving the quad is to relax, eat and drink something and rinse off the dust.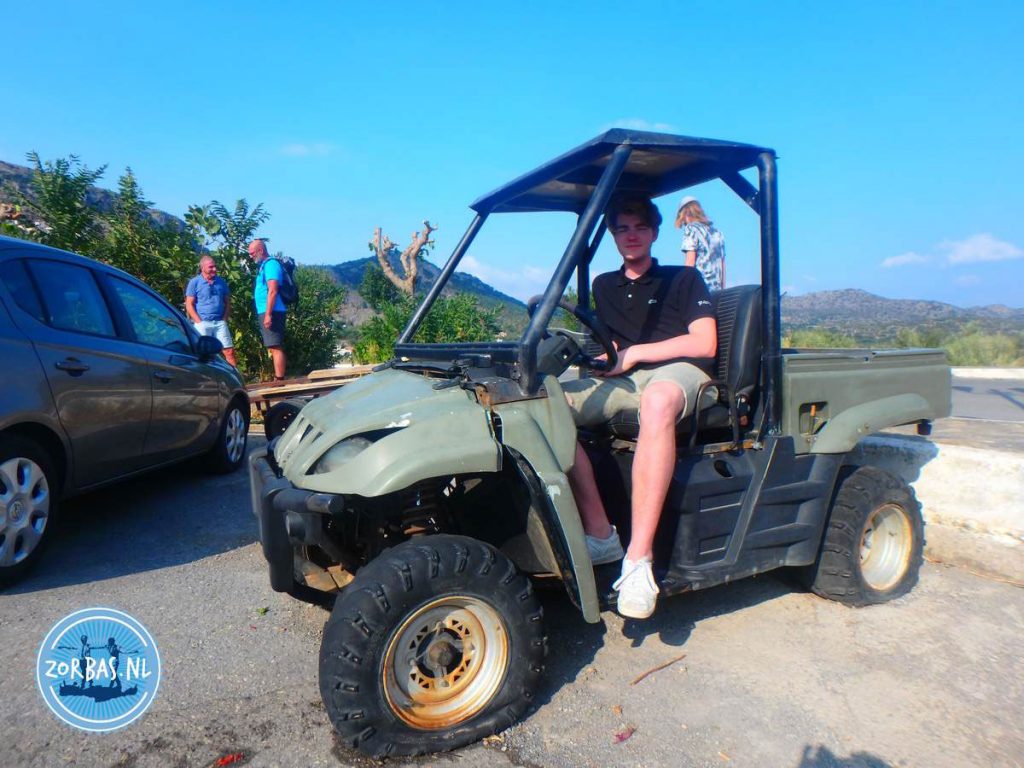 Quad safari on Crete Greece: With our quad safari we guarantee you have a great time; enjoy Crete in a different way. You drive the quad both off-road and asphalt. We have created 8 different tours, so you have many chances to learn to ride a quad. It is no race, but really a great tour. You come in places you would never find on your own.
With the quad safari you have to drive calm and controlled. Safety is very important to us. The second person on the quad will be more comfortable sitting on a large towel. In between yourselves you can switch if more persons want to ride the quad. To be together on the quad and to switch with riding is a lot more fun, since riding a quad can be quiet exhausting. Have fun with our Quad Safari on Crete!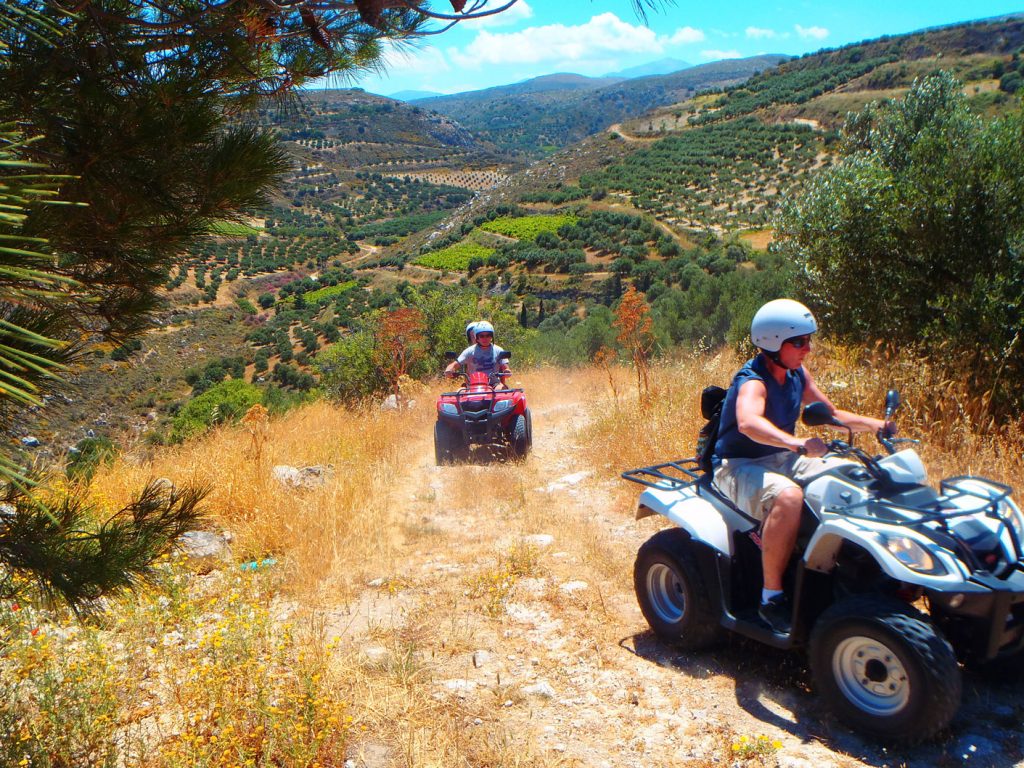 Quad safari on Crete – What to expect from the quad tour
What to expect with a quad safari: Maximum 2 persons can be on a quad. You are more comfortable to be alone on the quad, but then you cannot switch with riding. We take care you get your lunch in the day. Our quad safaris are always with a small group of people: a nice way to go into the mountains and see Crete from a different point of view. Every winter we create new tours, so even our regular guests from Zorbas Island have the chance to see something new. The most important from the quad safari on Crete is to discover the real create with its beautiful nature, mountains and little villages. We will make a DVD from our adventures during the quad safari.
At the moment we have 8 different quad tours on Crete. Every summer we start with a new tour through Crete that has all the ingredients we want: fun, adventure, culture and beautiful landscapes. Often it happens that our guests want to do a second quad safari during their holidays on Crete. This is never a problem, we just do another one. We have enough variation in our tours that we can surprise everyone with a different quad safari on Crete. Nobody should ever get bored on our beautiful island. We also organise Crete off-road in 7 days; for more information just contact us.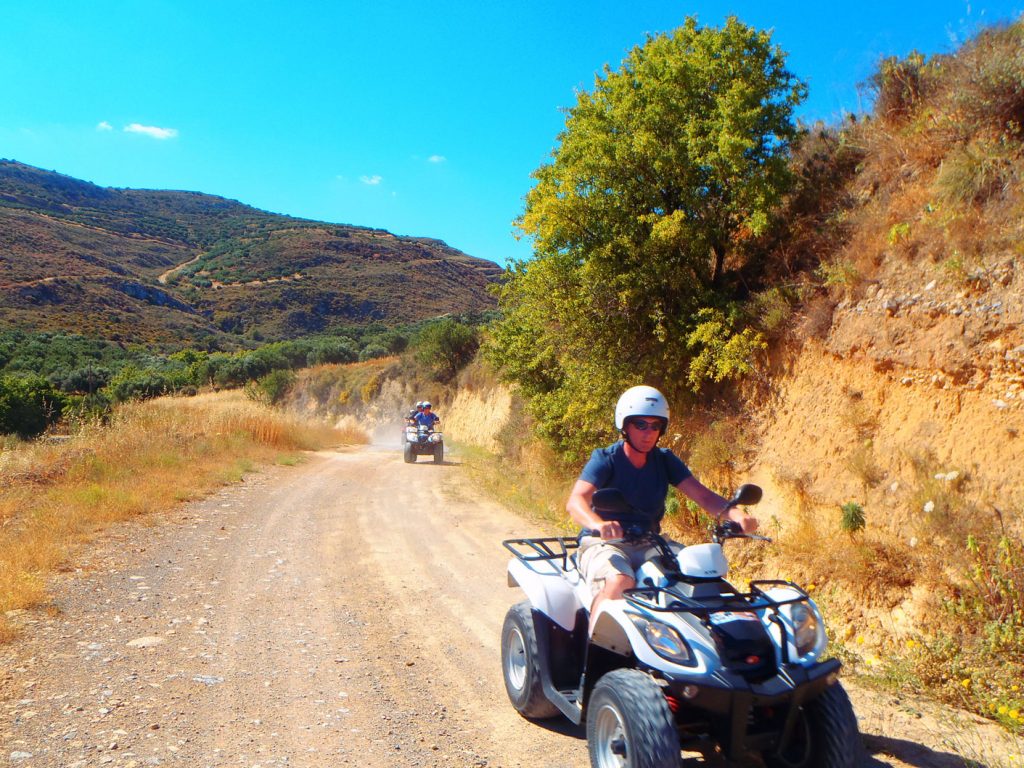 Quad safari on Crete – Off road on Crete by buggy
Scootopia and Buggy rally Crete: We start this day with an introduction of the scootopia vehicles and a test drive. Around 10.30 hours we start the first part of the scootopia tour: 10 km on the asphalt road towards the village Kalo Horio and along the little village Skotino to the cave of Agia Paraskevi. Here you have the opportunity to visit the cave and have a short break. Then we continue off road and asphalted road to Smari, where it is time for our famous barbecue. Around 14.00 hours we continue again driving for about one hour on both asphalt and off road to the beach Gournes. There it really is time for a refreshing dip in the sea. Around 16.30 hours we drive back to Zorbas Island. Requirements: sun hat or cap – bathing suit and towel, half litre of water. All participants must follow the instructions of the tour leaders.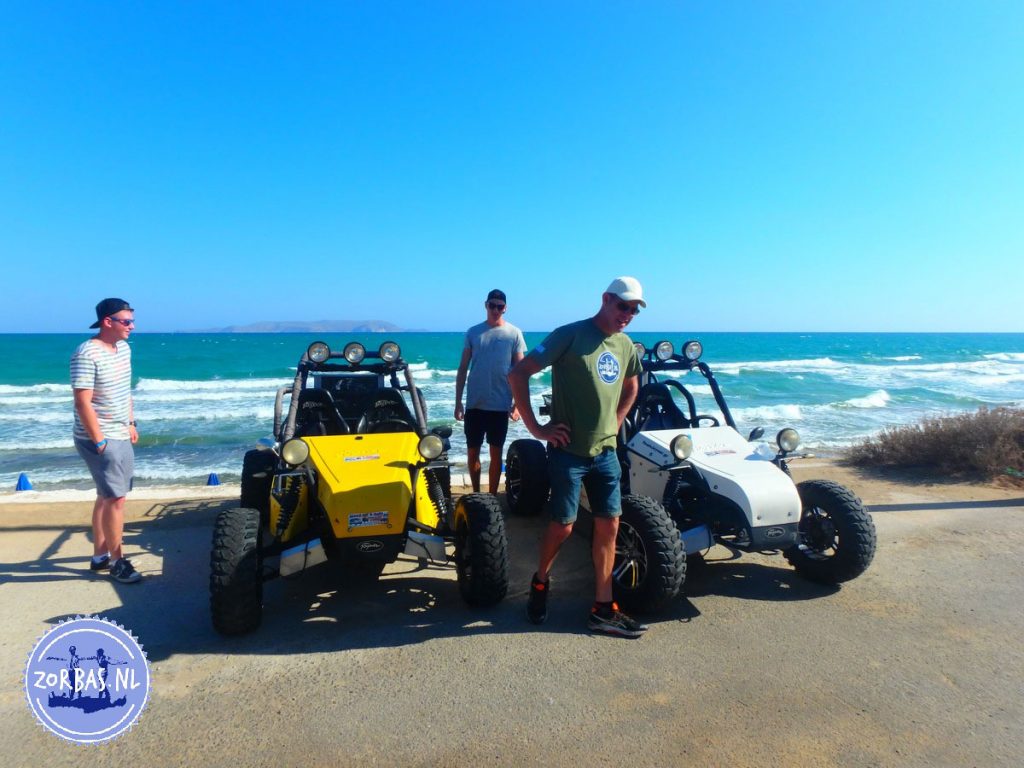 To give you an impression and to show you what to expect from your holiday at Zorbas Island on Crete, we have made a short "Zorbas Island" film for you: Zorbas Island Holiday Film.
Holidays on Crete Greece: Apartment rental and accommodation on Crete. It is the perfect place for family apartments and holiday homes, all your excursions and cheap flights to Crete. There is a detailed overview of the latest holiday news from Crete with lots of pictures. Crete, Greece is the most Southern holiday island of Europe.
In case you like more information, please send an email to zorbasisland@gmail.com
Quad safari on Crete