Holiday home for rent on Crete Greece 2023: Did you always want to stay in a private holiday home in the middle of an olive field? This is your chance! We offer a private holiday home in a quiet olive field surrounded by a beautiful garden with covered verandas. This holiday home is centrally located on Crete in a quiet area, but close to everything (10 minutes by car to the beach and 20 minutes to the airport). This holiday home is suitable for two to four persons and is fully equipped. You can enjoy the unique outside living on Crete day and night: in the beautiful garden with orange trees, banana trees, cactuses and bougainville or on the south facing verandas. In the lovely garden are several spots where you can put your chair to enjoy the sun or the shade. From the garden you have a beautiful view on century old olive trees, the mountains and a village.
There are luxurious loungers on the veranda on which you can lay down to read, to rest and enjoy the sounds of nature around you.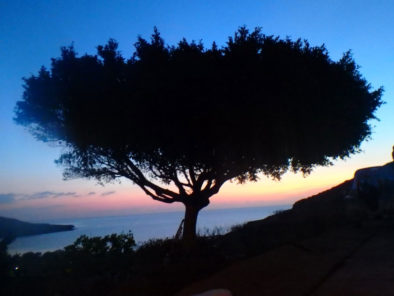 Information holiday home on Crete: this holiday home has a living with sliding doors facing south, running out on a veranda of 30 sq m. The comfortably furnished living room has air conditioning and a wood stove (winter). You can sit outside summer and winter on the covered veranda. There is a large vide with a bedroom for two persons with a view over the valley and Dikti Mountain. On the ground floor is a lockable bedroom for two persons, a complete open kitchen, shower, toilet and washing machine. This holiday home has a large garden of 600 sq m, in the middle of an olive field. Outside there is a BBQ. Here you can really enjoy the rest.
Holiday home for rent on Crete – Relax in a nice house
In case you want to be active, there are two electric mountain bikes (Sduro Haibike) for rent with which you can explore the beautiful surroundings. You can make your trip as easy or as hard as you want. The mountains in the area are easy to do with the electrical assistance.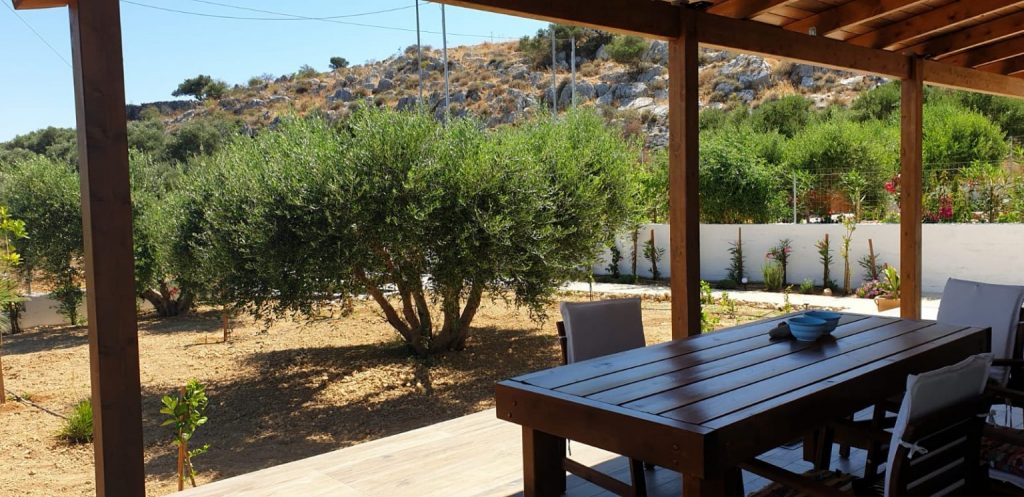 Of course you can cook yourself or BBQ in the garden, but in the area are several tavernas and food can also be delivered at your holiday home in the olive field.
If you want, we can make sure that the fridge is full upon your arrival or that other desired shopping are ready for you. Email us for more information!
Remote holiday home on Crete: in the "Lagos" (the local name for the olive field) are mainly olive trees with some houses, but not close to each other. Here you can enjoy the rest, but everything you need is close by. This quiet holiday home on Crete is 500m away from a traditional village. This beautiful Greek village has a kafenion (coffee house), a small supermarket, churches, an impressive monastery, a pottery, a bronze caster, cheese maker, three sheep shepherds and hospitable inhabitants! There are 12 little villages in the area, all unique.
You can rent this holiday home in the nature of Crete all year round!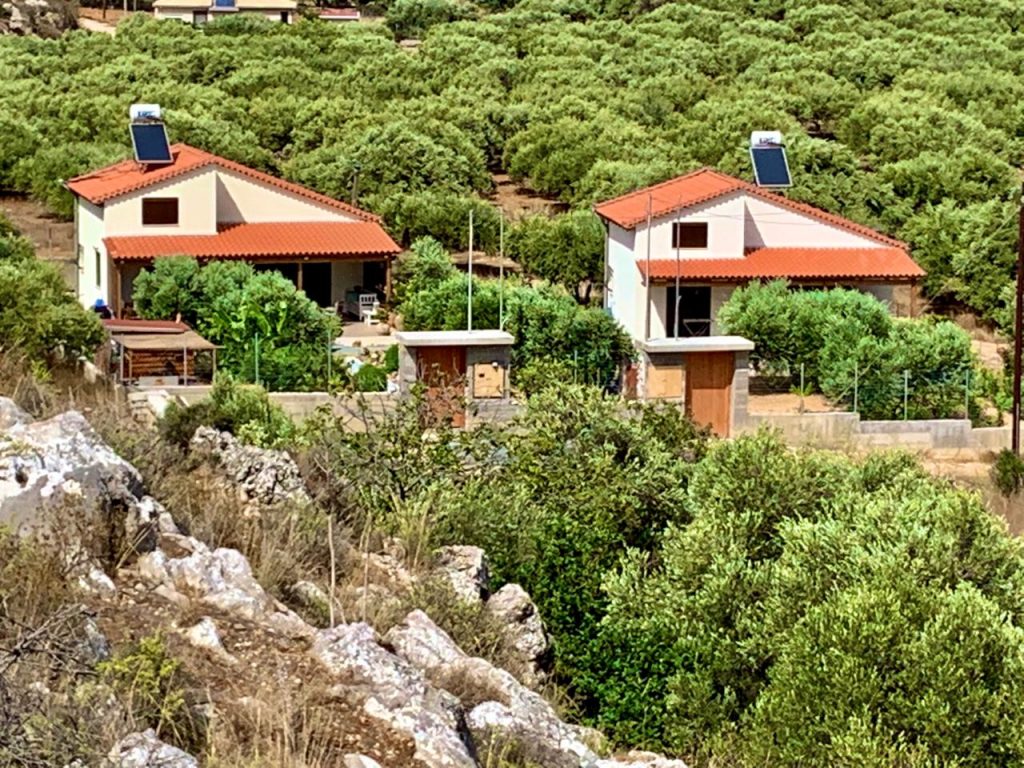 Walking in the nature – Nice walks around the house
Walks in the surroundigs of your private home on Crete: the area is particularly suitable for walks and hikes. We have many routes available for unique walks. You can walk from your holiday home individually with a map, directions and GPS-routes. There are short walks (5-8km), but also challenging hikes (15-20 km) through impressive nature, but also through traditional Cretan villages.
Holiday home for rent on Crete – Electric cycling
Cycling, MTB, electric cycling, Fat bike or Cube bikes on Crete: There are two electric Sduro Haibikes available for rent at the house. In case you want a different bike or extra bikes, we can deliver different kind of bikes at your home during your holiday. You can also join us to choose a suitable (electric) bike. From your holiday home on Crete we have all different kinds of routes that you can cycle individually with map or GPS routes, also suitable for off road mountain biking. The cycle routes, varying from 20 to 80 km, are carefully developed. We have multiple cycling routes, so also guests that stay on Crete for a longer period, don't have to be bored! If you have cycling shoes, you better bring your own pedals to make sure everything fits.
Car routes – With a rental car
Car routes from your holiday home on Crete: Crete is a beautiful versatile island, ideal to discover by car in summer and winter. We are happy to arrange a rental car for you on Crete and offer you (for free) several interesting car routes. If you rent a car yourself from the airport, you can of course use our car routes as well. The car routes are carefully developed so you can see the real Crete. The holiday home is so centrally located, you can see a lot from Crete. There are enough car routes, also for a longer period, so please ask for a price offer for a rental car.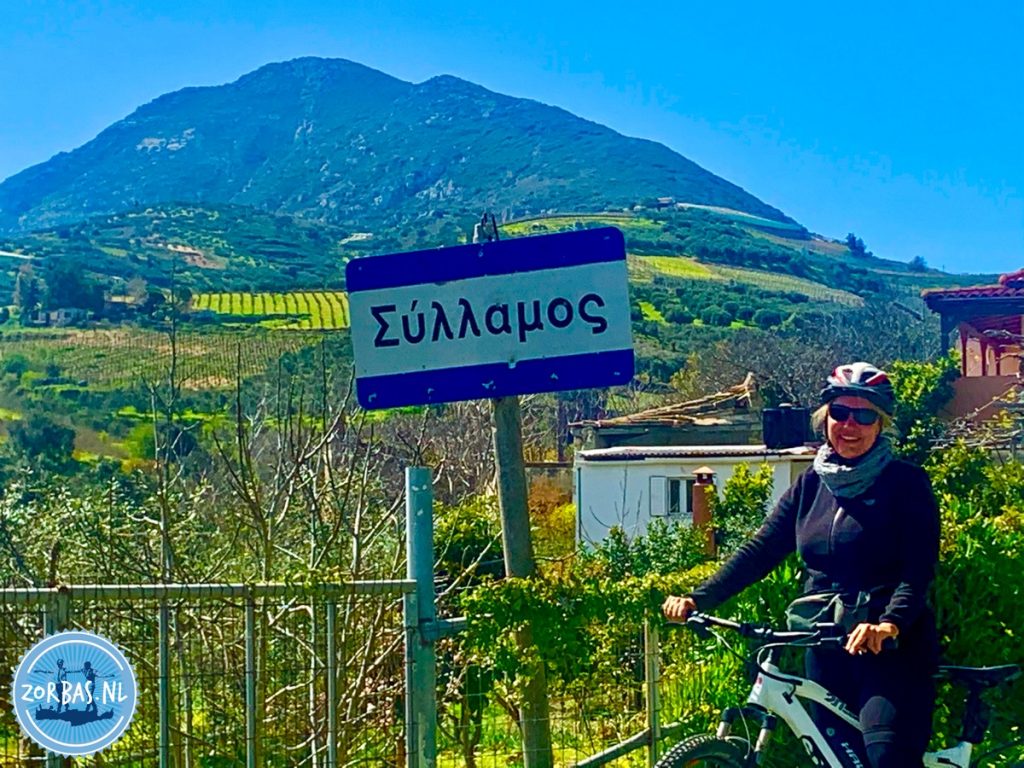 Olive oil form Crete – See the webshop
Pressing olives: in the winter months, the olive farmers are busy with the olive harvest. These olives will be pressed into olive oil in special olive factories. Also in the near surroundings of the holiday home are the olive factories open, in winter. We can show you the process of making biological olive oil: from the harvest to the result: extra virgin olive oil from Crete! You can visit our own webshop
Pottery: a bit outside the village you can visit a pottery where the potter shows you how he makes several items by hand. You can also create something yourself with the help of the potter.
Bronze caster: around the corner from the pottery is the workshop of a bronze caster. This is the last bronze caster on Crete that casts the bronze in the same way as the ancient Greeks. It is possible to do a casting workshop to create something yourself or just to walk around and have a look. The caster is happy to explain the process to you and show you his creations.
Several accommodations on Crete Greece 2023: (combination holidays at several locations on Crete): To really discover Crete, you can stay during your holidays on Crete at several different locations: from North to South or from East to West.
Holiday on Crete Greece 2023: For renting apartments and holiday homes, all your excursions and cheap flights to Crete you can come to us all year round. If you are looking for apartment rental and accommodation on Crete, you have come to the right place. If you're interested or like to receive more information, please contact us on:  zorbasisland@gmail.com