Snorkelling in Crete Greece: We offer a number of options for snorkelling on Crete: You could go by yourself for snorkelling, there are enough possibilities in the area. We offer snorkelling lessons through a diving school, snorkelling with a speedboat to deserted beaches or snorkelling with a boat to Dia Island. Going to the South of Crete is also an option within our snorkelling excursion.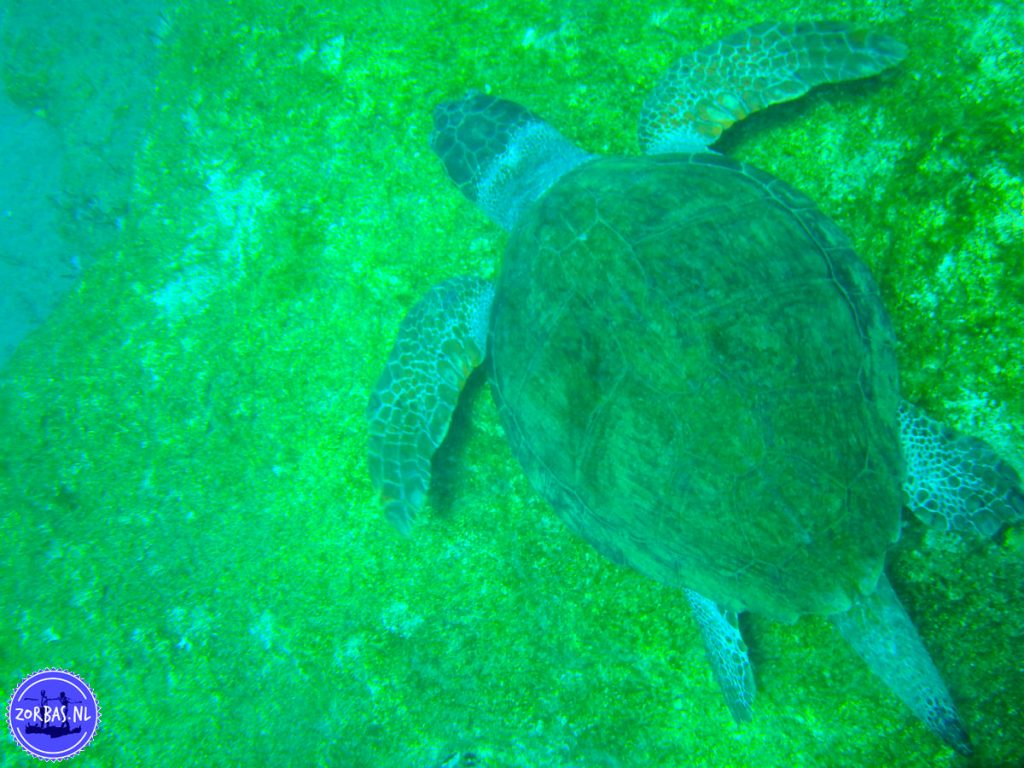 Snorkelling in Crete Greece: Every summer we organise snorkelling excursions with a snorkelling lesson. For snorkelling holidays on Crete we have numerous of options throughout the whole year. You can join us for snorkelling at different locations on Crete.
Snorkelling in Crete Greece – Just for one day or even for a full week
Snorkelling week on Crete: We offer options to go for snorkelling a whole week on Crete at different locations. In 8 days you can go for snorkelling in Crete at various locations: Agiofarango in the South of Crete, Chrissi Island with the boat, the beach of Kokkini, Dia Island, Sissi by boat, speedboat snorkelling with snorkelling lessons at a diving school. There is a snorkelling adventure with the diving school to deserted beaches only accessible by boat. If you wish to have more information about our snorkelling holiday, snorkelling week on Crete: mail us for more information.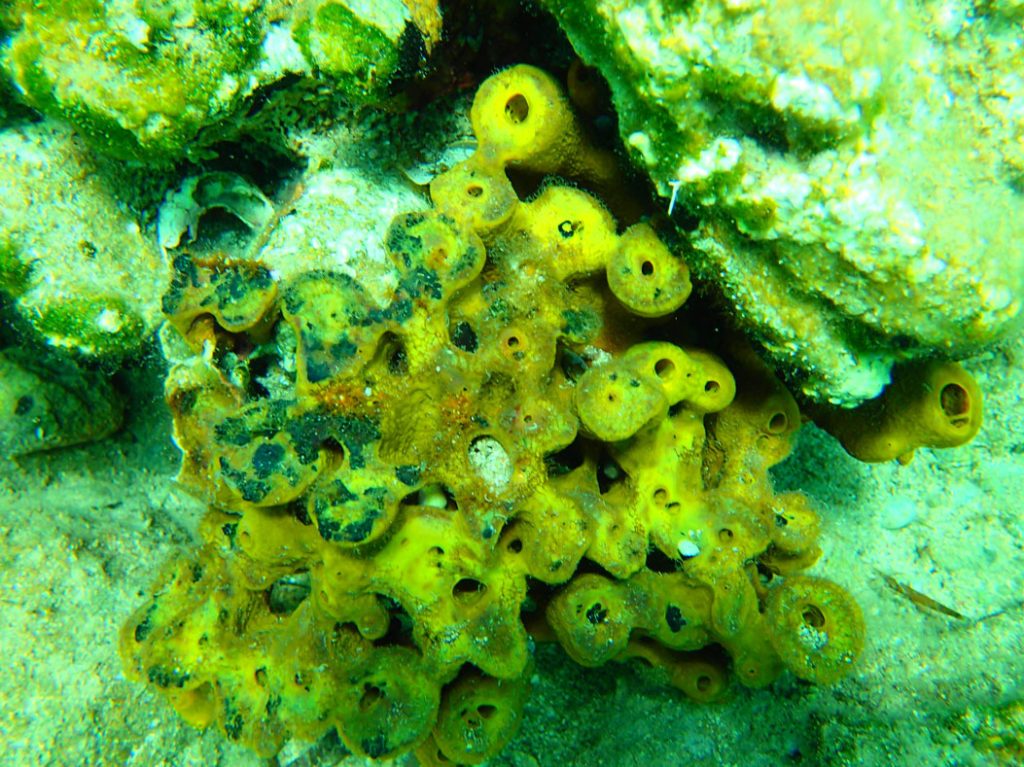 It is surprisingly beautiful to go for snorkelling: Crete offers beautiful underwater scenery with lots of different fish. We offer every week a snorkelling day. We have our own snorkelling and diving equipment: masks, flippers, snorkels, diving shoes, cameras, weight belts, etc. We organise this snorkelling excursion once a week at a beautiful reef at the beach of Kokkini Hani. This nice excursion is suitable for both adults and children. We do have diving shoes in children's size. Every week there is a free diving lesson in the swimming pool, where also snorkelling in Crete can be practiced.
Snorkelling in Crete – In the area of Zorbas Island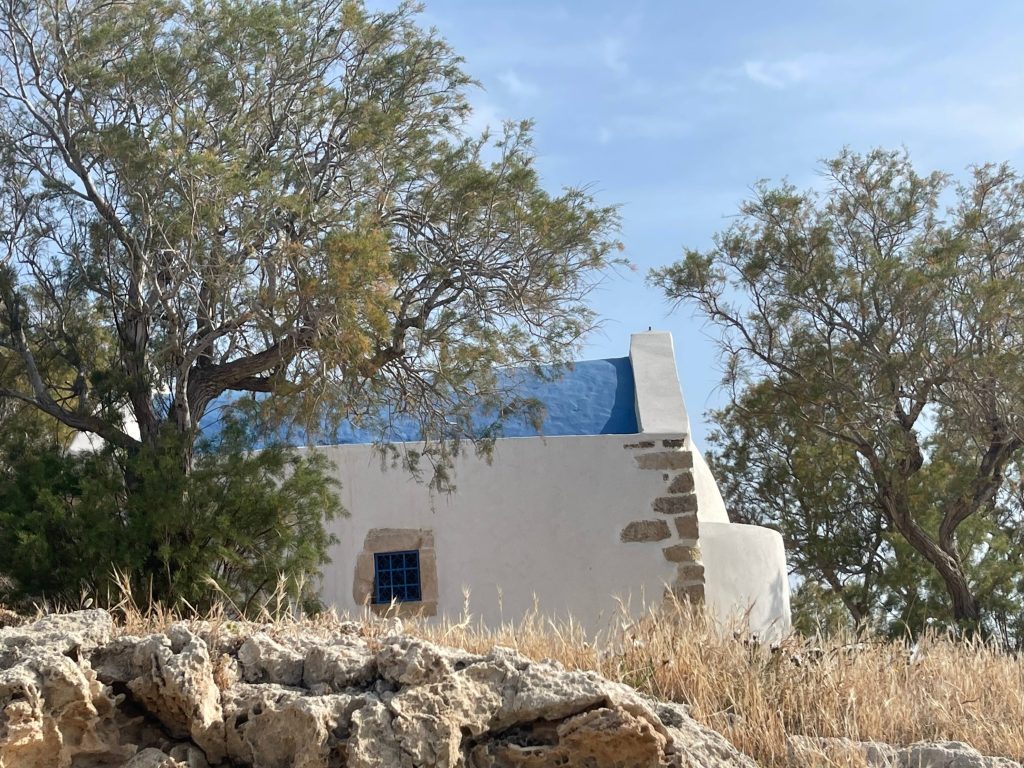 Snorkelling in the area of your stay on Crete: In front of our accommodation lies a beautiful little reef in shallow water, where you can go for snorkelling. There are also stone piers in the water, where you can see crabs, seahorses (you have to look for them) and schooling fish. Snorkelling there is far from ideal when there are waves. Then just wait a day or go a few beaches further on, behind the stone pier. Snorkelling is a wonderful cheap sport, you can do by yourself.
Underwater scientist for 1 day: In cooperation with a biologist, we do a free research, the comber hcmr project. We give you a chart, with many fish on it that live in the Mediterranean. During snorkelling you can tick on this chart which fish you see and afterwards you will get access to their website to register the fish you saw. This chart you can use for all of your snorkelling adventures. With this you can help registering the amount and kinds of fish. This project is for both adults and children. Mail us for more information.
Snorkelling in Crete Greece – Various snorkel excursions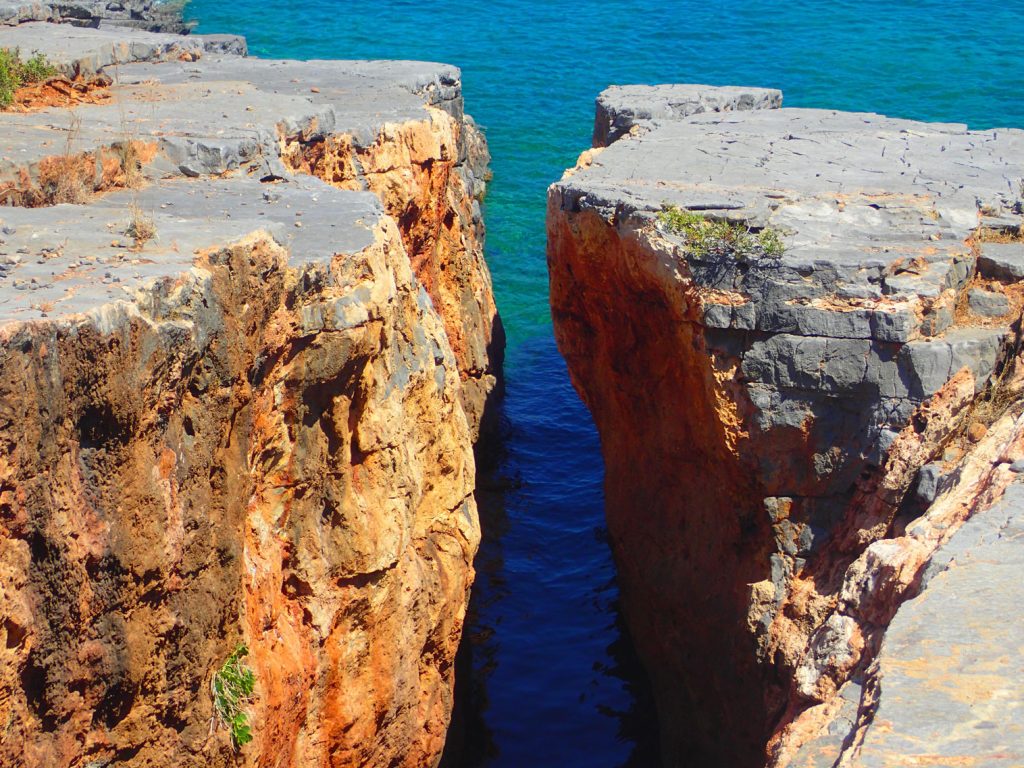 Snorkelling on Crete by speedboat: This is a whole day excursion. It gives you the opportunity to discover the Mediterranean. Also children really enjoy discovering the underwater world of Crete. You will be given a detailed explanation of the equipment and the required techniques for snorkelling on Crete. You will also get an explanation about the underwater flora and fauna of Crete. We offer 2 guided snorkelling trips, 1 from a boat and 1 from the beach. The snorkelling equipment can be used the whole day. Transportation will be taken care of from your accommodation to the dive centre.
Snorkelling day at the dive centre: It starts with a 30-45 minute counting explanation by one of our instructors, about the equipment (flippers, mask and snorkel). Also the safety regulation, the underwater world and the technique about how to snorkel without any effort, will be explained. After the explanation you will receive the equipment: wetsuit, snorkel, goggles, flippers, etc. After that you will go to the boat. Always take a plastic bag with for stuff that needs to stay dry.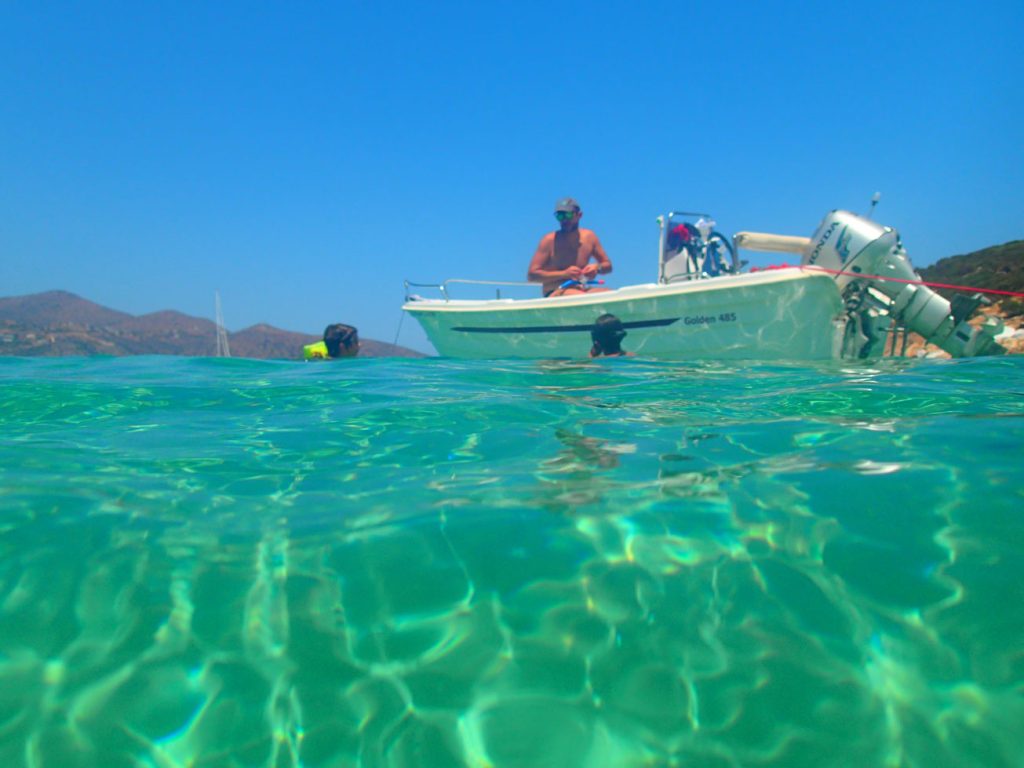 Shortly after you will have your first guided discovery tour through the Kapsis bay. This bay is filled with palm trees. Hereafter the tour continues with the speedboat to the caves. Here we drop anchor to start 45-60 minutes of a guided snorkelling tour. If you wish to go under water into the caves, an instructor will come with you. In case you do not wish to discover the caves under water, you can go with the other instructor for snorkelling around the caves. You will meet up with the rest of the group on the other side. The caves are breathtaking beautiful for snorkelling. Under water we will find lava stone formations, plants, starfish and a variety of see creators like tropical fish, sea urchins, cuttlefish and seahorses.
After this snorkelling trip we go back to the speedboat. The speedboat sails along great rock formations to a Robinson Crusoe beach. This beach can only be reached from sea side, not from land. It is a deserted beach with some little fisherman's cabins. At this uninhabited island we prepare a barbeque. We have everything with us: water, wine & refreshments, Greek salads, meat and watermelons. Here you can go snorkelling by yourself, whilst our instructor prepares the barbeque. There are two ways to go for snorkelling from the beach. At the end of the day we will return tired but satisfied with the speed boat back to the dive centre. Once more we sail along the beautiful rock formations.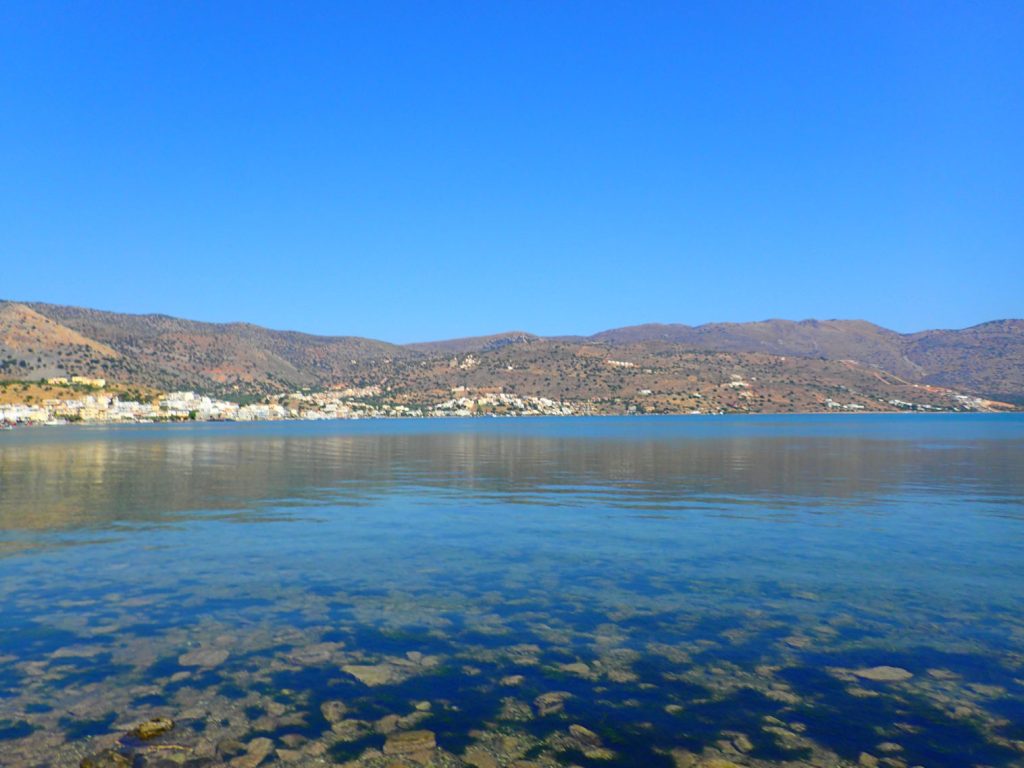 Back at the dive centre it is time to return the equipment after it is washed off in the basins. Then it will be the end of the snorkelling day on Crete and we return to the accommodation. You have now gained some nice snorkelling experience. And if you wish, you could go during your holiday for some more snorkelling in the area. The next step might be to scuba dive once. DSD (Padi) is day of diving to get acquainted with scuba diving.
Snorkelling in Crete Greece – Snorkelling at the south coast of Crete
Agios Farango snorkelling and hiking (snorkel area in paradise): This is a popular trip. First it goes to the South of Crete, where you make a hike of 1 hour through a gorge. It is suitable for everyone. Then you will arrive at the beach where it is a paradise for snorkelling, at a bay that lies inland and therefore snorkelling is always possible. The underwater nature is beautiful; you will meet starfish and sea bass. There are underwater tunnels and gorges and from the water you can admire the beauty of the beach and mountains around you. A more detailed explanation and options of this excursion you can find on the next page, by just clicking on this link: Agiofarango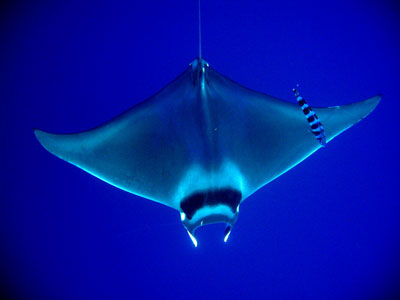 Snorkelling at Chrissi Island: A wonderful island as if it was built for snorkelers. The deep blue sea will show you at least 3 shades of blue. From Ierapetra you will go by boat to one of the most southernmost islands of Europe. Sailing for one hour brings you to Chrissi Island. At the island are 3 different snorkelling spots where you will have lots of underwater fun. There are some bays with sandstone where you will find many fish.
Introduction dive on Crete: After our snorkelling afternoon you can make a free trial dive with bottles in the swimming pool. If you enjoy this, of course after this you can learn scuba diving in the sea. This one day course is an unforgettable experience.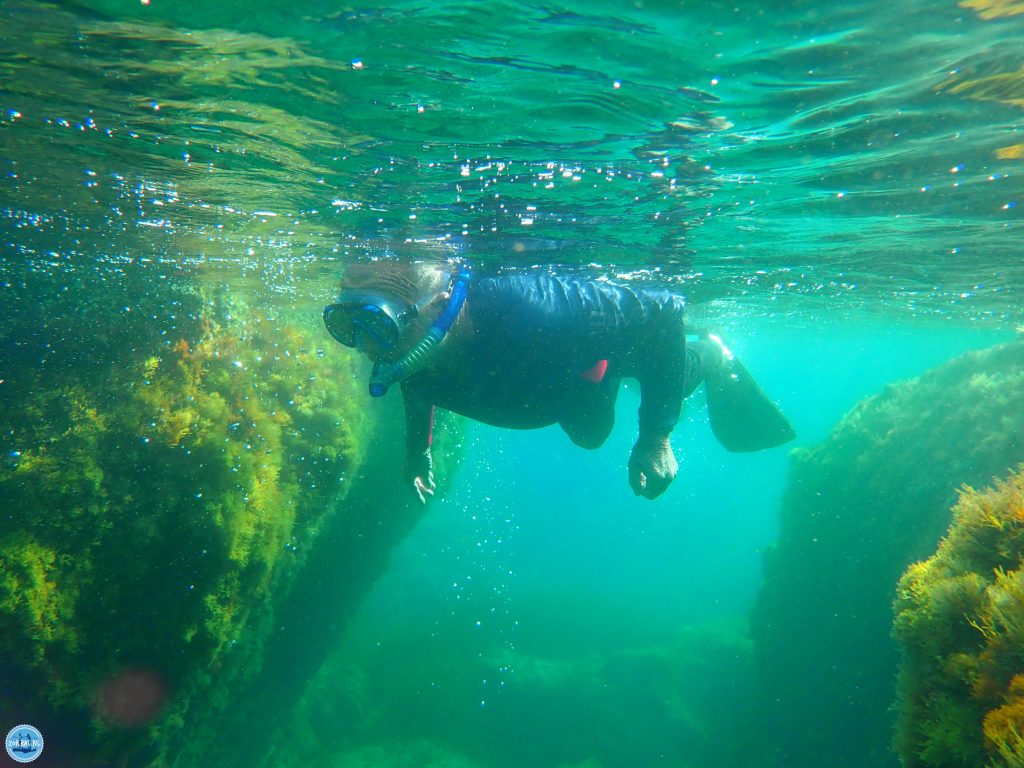 Underwater photography Greece: We teach you how to make underwater photos, which will be given to you afterward as a souvenir. Underwater photography is a little different from "normal" photography and a nice additional theme for an afternoon snorkelling in Crete Greece.
Snorkelling at various locations Crete. Information about a snorkelling holidays in Crete Greece.
Photo album snorkelling on Crete: This picture albums are composed of photographs which we have made ourselves and photographs which have been sent to us by our guests.
Diving information about Crete: The underwater world of Crete is full of cliffs, caves and rock formations, and offers a wide variety of spectacular dive sites for underwater divers of all levels.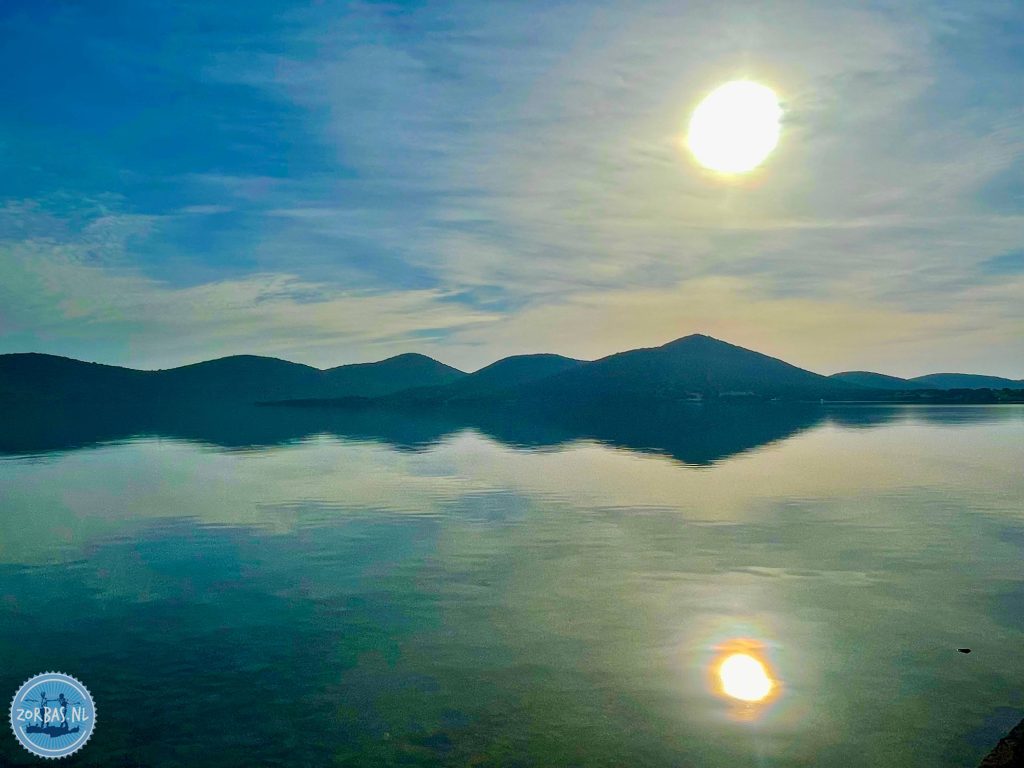 Holidays on Crete: Apartment rental and accommodation on Crete. It is the perfect place for family apartments and holiday homes, all your excursions and cheap flights to Crete.
In case you like more information, please send an email to zorbasisland@gmail.com
Snorkelling in Crete Greece