New excursions on Crete: Every year we have an extensive excursion program with a number of regular excursions and some new excursions on Crete. Many of our guests come back every year, so we provide continuous innovation. Fortunately, Crete is a large island, of which even after so many years we still do not know every corner. That is why we go in winter to look for new places that are worth a visit. It is not possible to create a new excursion in one day. It is a time-consuming job, but we do enjoy it ourselves a lot.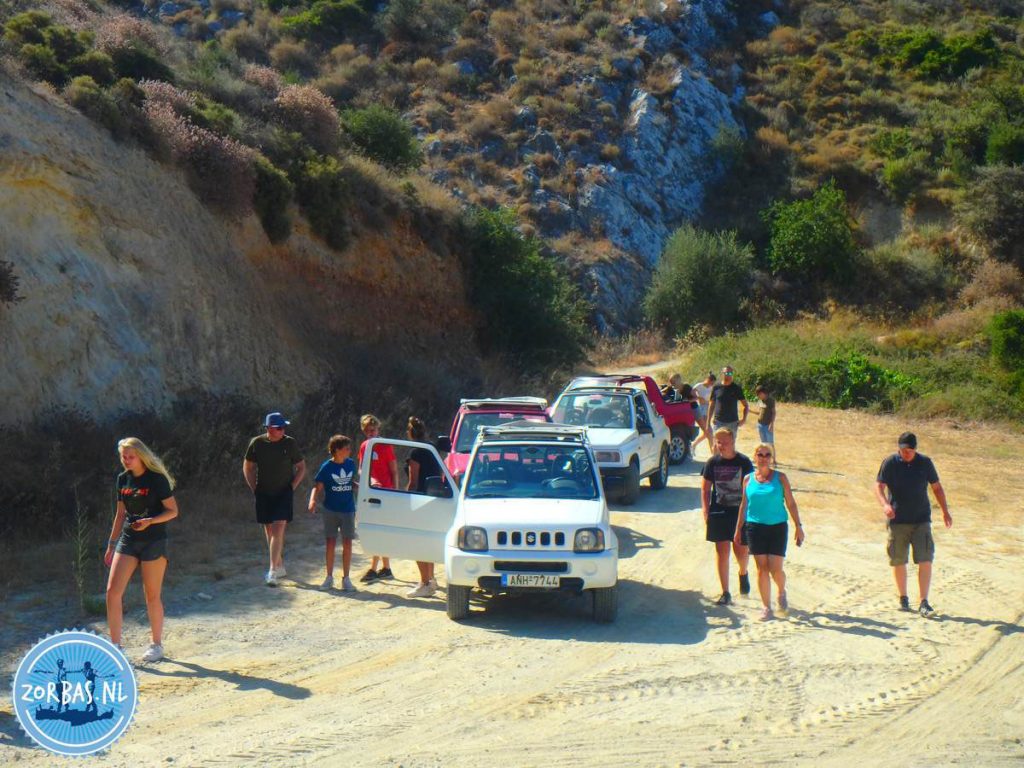 Excursions in the high season: We have the possibility to do new walks in the surroundings of Zorbas. But we also have new versions of known excursions like the cooking workshop, jeep safari, bicycle trips, snorkelling, boot trip, sailing and a visit to Watercity. Added to the program is a puzzle tour in a car, where we will see each other often! We hope to show you Crete in this way!
Elia-trail, the hidden grave: We start the walk in a village kafeneion, where a coffee can be ordered. Through olive fields and two authentic Cretan villages, we climb to a little church built in the year 600. Over a mountain ridge, with beautiful sea views, we walk to a church tucked away with hidden graves. We continue over a kalderimi, pass a shepherd, to go through a pine forest and a bamboo lane in a gorge. You can use some clamber skills here. After some clambering and climbing, we leave the gorge and walk over an old kalderimi and a picturesque village to our starting point. Here we have time to order a coffee and/or an ice cream.
Characteristics of the hike:
Take the heat into account (sun cream and water are essential in your day pack). In the gorge some climbing and clambering skills are needed.
Length: about 10 km
Altitude difference: about 300 meter
Leaving time: 9 am
Duration: about 5 hours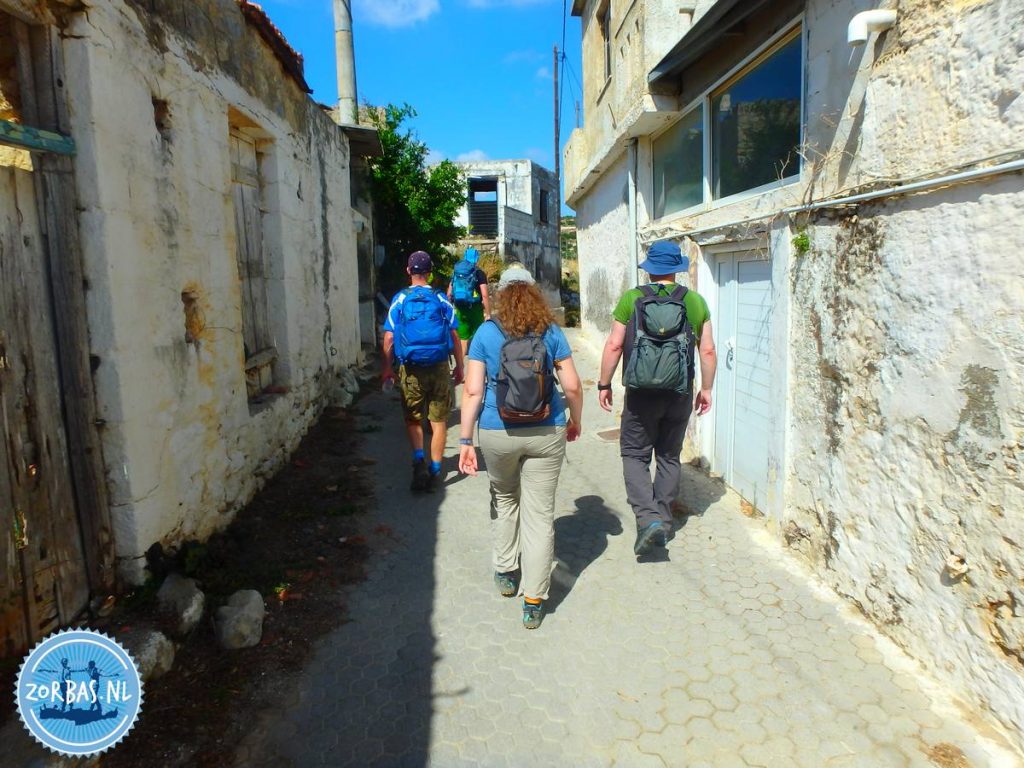 Skotino, the kalderimi: The name of the village means 'dark' because of the nearby cave, where we won't come during this walk. We start in the village kafeneion (coffee house). We walk via an old kalderimi, where people walked for hundreds of years before we were using cars, through a bamboo river and an area with oranges and lemons to a church in the village. We leave the village over sand ways, through olive fields, on our way to our pick nick spot. After the lunch near a hidden church between the pine trees, we walk pass a dry waterfall via small roads to a very old village with its own water well where the time stood still.
Characteristics of the hike:
Length: about 14 km
Altitude difference: about 500 meter
Leaving time: 9 am
Duration: about 6 hours
Skopela gorge: We start at an old monastery. Via an old Venetian village and olive fields, we walk to Skopela. We walk down to a gorge. After our walk through the gorge, we walk via a mountain path back to Skopela. Over an old connecting road between Skopela and the Venetian village, we walk to an authentic olive field where we have lunch. After the lunch we walk back to the monastery where we started the walk.
Characteristics of the hike:
Length: about 15 km
Altitude difference: about 600 meter
Leaving time: 9 am
Duration: about 6 hours
Neraidospilio, the elf lake: we leave from the border of an authentic town, through field roads, with a view on an overgrown gorge. After descending in the gorge, we get to an elf lake where we have a pick nick. After the pick nick we climb out of the gorge to a ruin village with Agios Georgios from 1200 and a little church from 1550. Over an old Venetian bridge, where we might see turtles when we are quiet, we walk back to the town. Here you have the possibility to order a coffee and/or an ice cream.
Characteristics of the hike:
Length: about 12 km
Altitude difference: about 500 meter
Leaving time: 9 am
Duration: about 5-6 hours
Sun rise walk: We start at a monastery and walk through the hills, enjoying the incredible sun rise. After a great breakfast in an olive field we walk to an authentic village. After a stop at the kafeneion, we walk back to our starting point.
From there we drive to a bronze caster, where you can participate in a workshop (extra costs apply). The bronze is casted in the classical way, as 5000 years ago the bronze swords were casted in Crete. During the workshop there is an alternative way of casting because the classical method is too dangerous.
It is possibly to do the workshop only or to walk only.
Characteristics of the hike:
Length: about 8 km
Altitude difference: about 300 meter
Leaving time: 5 am
Duration: about 7 hours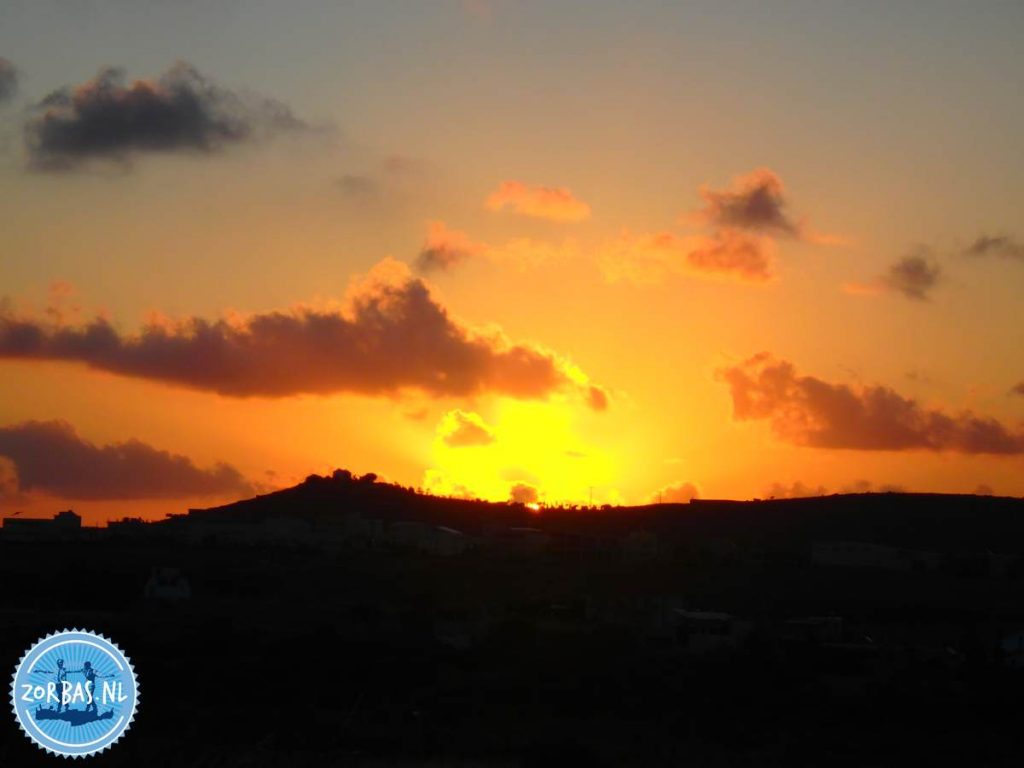 Jeep tour: A tour in a jeep through the inlands of Crete, where you drive yourself. A day full of action and seeing a lot of things that you wouldn't see otherwise. Driving through nice landscapes with a lunch on the way.
Leaving time: 10 am
Duration: about 5-6 hours
Cycling on Crete: On an electric bike a tour through the inlands of Central-Crete. In consultation off road is possible.
Leaving time: 8.30 am
Distance: 40-60 km (dependent of the route)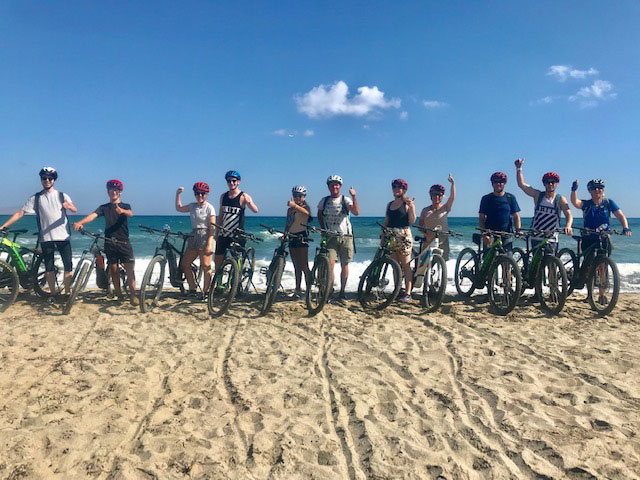 Snorkeling in South-Crete: Turtle-reef: in this environment you can see a lot of things, a beautiful reef, a cave and gorges under water. A caretta caretta (turtle) has been seen this year, so with a bit of luck we can see a turtle. First we swim through swallow water along the reef. Later we leave the reef and swim through deeper water with gorges under water back to our starting point. We have seen a turtles, sea stars and a lot of fish in this area. Advantage: there are not many sea urchins.
When there is too much wind, we will go to another spot: Animal-rock. This is a beautiful area with little gorges under water, a tunnel (open on top), beautiful rock formations (above and under water) and of course a lot of fish.
We have lunch at the beach. You also have the possibility to go for a 'normal'swim. Both beaches have pebbles, so water shoes are recommended.
On the way to the South, we visit a village with an old olive oil factory, where the time stood still. On the way back we drive a different route to the inlands, with a stop for an ice cream.
Leaving time: 6 am
75 minutes drive
Duration: about 8 hours
Cooking workshop in the Zorbas olive field: You can cook the most delicious dishes in a beautiful olive field (soutzoukakia (meat balls in tomato sauce), courgette cookies, fresh fries and Cretan pasta). We will tell you about local herbs and the use. And we will have a real olive oil and wine tasting during the cooking!
Leaving time: 10.30 am
Duration: about 4 hours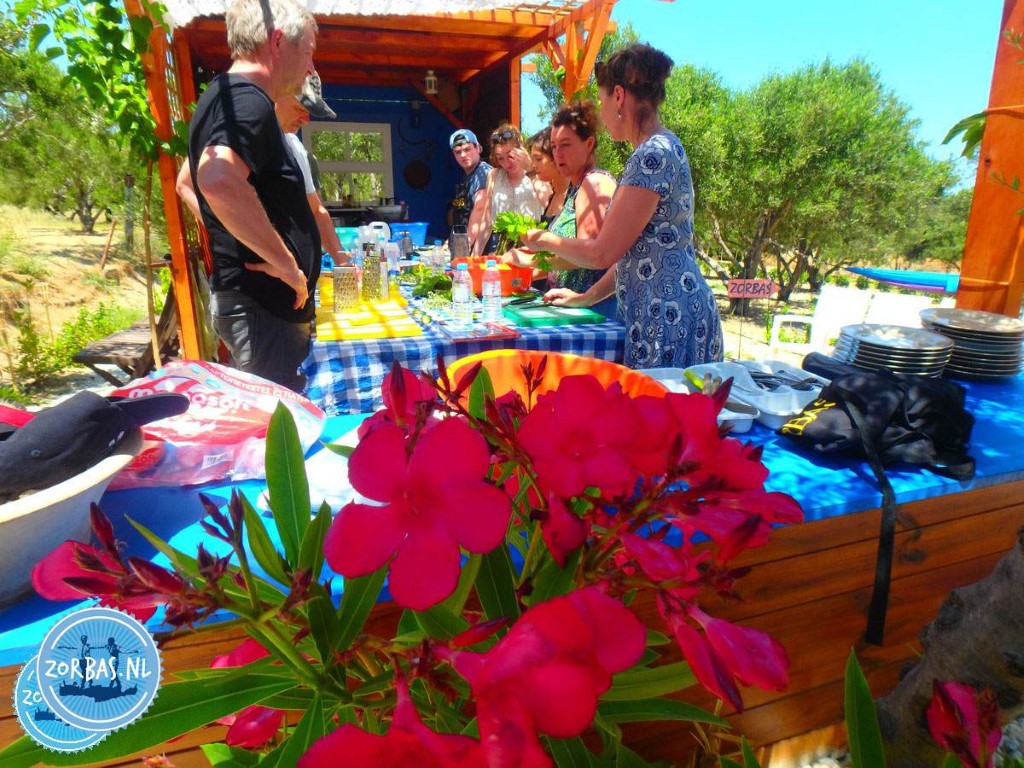 New hikes Crete: A large part of our excursion program consists of hikes in the nature of Crete. Hikes through gorges, nature walks and hikes, walks through villages, walks in combination with a boat trip, you can find it all in our program. But how do we come up with new trips every year? We somehow end up in a place that we would like to show you. That can be purely coincidental, but it may also be that locals have told us something interesting about it. Then we go and explore the area. After several days of hiking, we put all the pieces of the puzzle together and we have a new hike. To map out a nice hiking route in the mountains of Crete can easily take a few weeks.
Changing existing excursions: Several excursions are included in our program every year, but the content is usually renewed. A good example of this is the excursion 'unknown Crete'. If we keep it the same every year, there is nothing unknown to it. An important part of this excursion is a visit to a few villages to experience the real Crete. The island has about 570 villages, so it is always possible to find that one unique village to show you. And whilst we are on the way searching, it can happen that we suddenly find a beautiful secluded bay for snorkelling. Also for the snorkelling excursion we search every year for a new location, because the underwater world around Crete nowhere looks the same.
Car routes and off-road routes on Crete : The island has a very extensive road network. For our car routes we are always searching for new routes, which we can record on GPS for you. But besides the normal asphalt road, there are certainly as many dirt roads, the off-road trails on Crete. These are fun for our jeep safari and quad safari, but also the bike routes for the fat bike are on these dirt roads. For our new excursion with the fat bike, we will have to cycle a lot of kilometres this winter to map out suitable routes.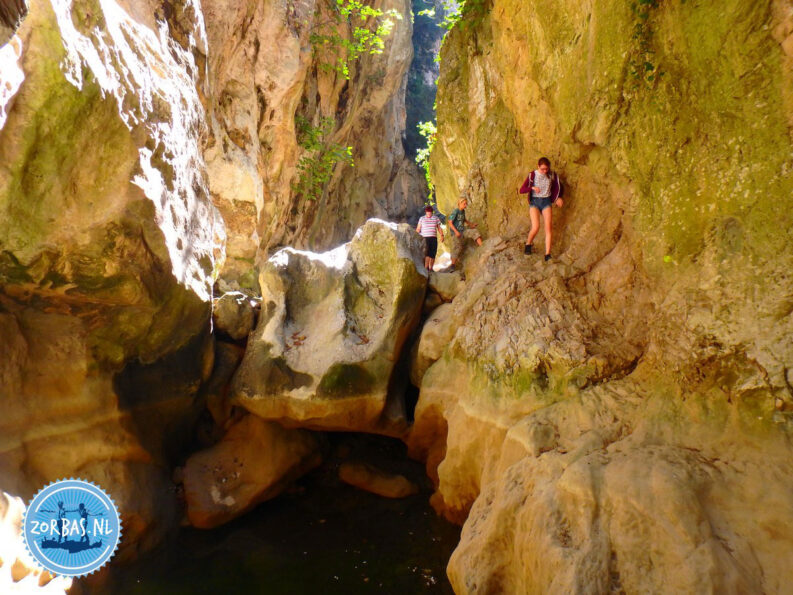 new excursions on Crete – new hikes Crete- winter on Crete – winter on the Greek island Crete – new hikes in Greece – excursion with the e-bike in Greece
Planning new excursions in winter on the Greek island Crete: A lot of people are not aware that you can also enjoy a holiday in the winter on Crete. We offer accommodation and excursions in winter on Crete, but you can also spend your winter on Crete. Thanks to the mild climate you can often enjoy the sun. And when you are there, you might as well join us on our journey of exploration through Crete. Sometimes it is even for us a surprise where we end up.
Holidays on Crete: Apartment rental and accommodation on Crete all year round. This is the right address for family apartments and holiday homes, excursions and cheap flights to Crete. There is a detailed overview of the latest holiday news from Crete including many pictures also about walking on Crete. Crete is the most southern holiday island of Europe.
In case you like more information, please send an email to zorbasisland@gmail.com