Sarakina gorge Crete: This gorge with its beautiful nature is close to the village of Mirtos. Walking through this gorge is a real challenge. Through this gorge you can make a either a short or a longer hike. The gorge is breathtaking beautiful and has sometimes a lot of water inside. In spring and autumn you also walk parts through the river or small streams and sometimes you even have to swim! We organise this gorge hike at Mirtos in combination with an overnight stay in Mirtos. We then walk two days in the area. You can also find this information at multi-day hikes.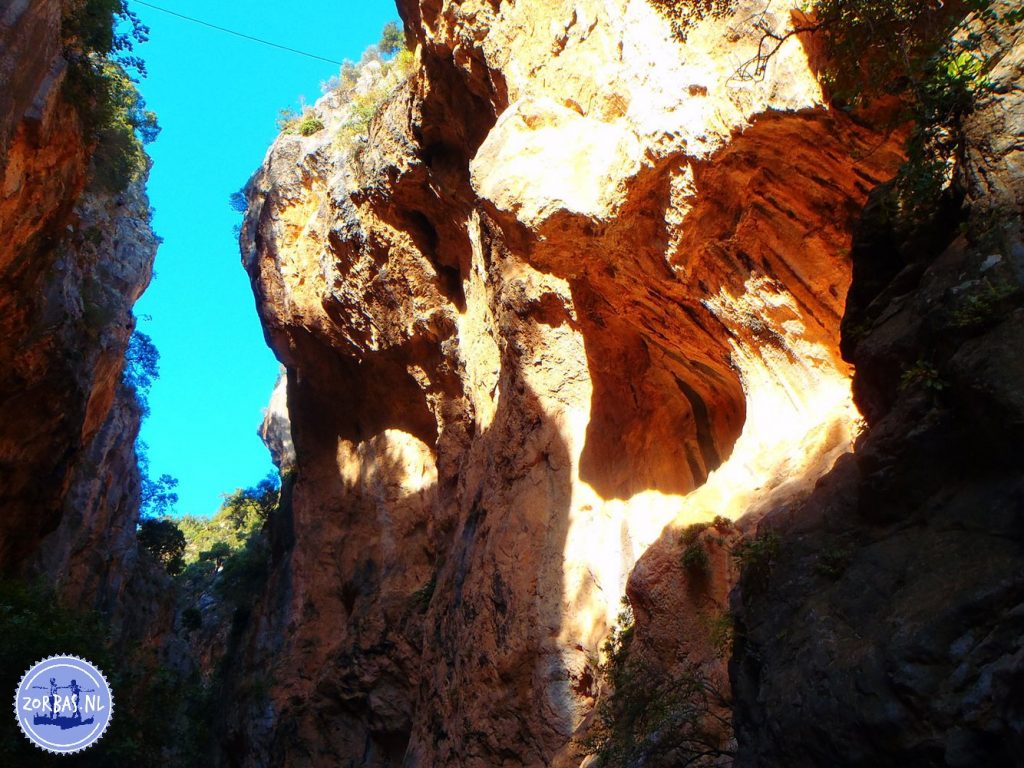 Sarakina Gorge Crete – General information about the hike
Distance Sarakina gorge Crete Greece: The shortest walk is 4 kilometres, but from the top of the gorge back to Mirtos is 12 kilometres. The combination hike from Males to Mirtos is 16 kilometres and the combination hike from Males and Metaxohori is 18 kilometres. You can also walk in two days from Selakano to Mirtos. This hiking trip is 36 kilometres. The distances through the Sarakina gorge are given in kilometres, but for the longer hikes you should take into account more walking time, because you have to climb as well. Both with the shorter hike through the Sarakina and the longer one to Mirtos, you are descending. The differences in heights are fairly big and when you start high up and make the long hike, you will have to go all the way back to sea level.
Information Sarakinas: The Sarakina gorge Crete is a real hike with many rocks and water. All the hikes mentioned below in the area of Sarakinas and Mirtos are quite heavy. There is water coming through the gorge all year round, which helps the nature to be always nice and green. You can walk here summer and winter. In the gorge you hike mostly down stream, but there is also some climbing involved with the longer hike through the Sarakina. Somewhere in the middle is a hydro station, just outside from the village Mithi. Many people stop at this hydro station of Mithi to walk to the gorge. From this hydro station it is only a 1 kilometer walk, but then you can see a wonderful part of the gorge. The hike through the gorge is a real adventure.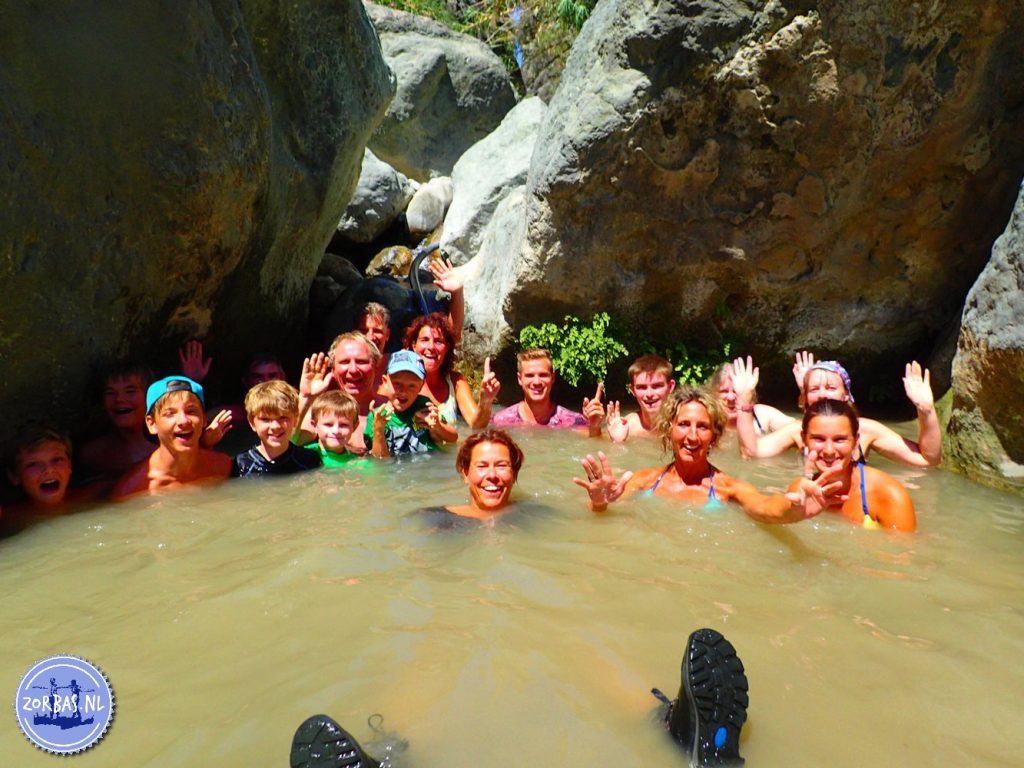 Marking for the hike: You actually only need to follow the gorge, but for the longer hikes you can use a hiking map or a GPS. In some walking guides the hike is described via Metaxohori, but sometimes the directions and the map are not correct. If you just follow the gorge or the river, you can't go wrong.
Outfit for the hike: Hiking boots or firm athletic shoes with a good grip. In your backpack put water and optionally a GPS. In the winter bring also extra clothes, socks, a raincoat, etc.
Hiking period Sarakina gorge Crete: In both summer and winter you can walk and hike here. Be careful in the winter after it has been raining. You will have to go through water, which can be dangerous. The gorge then has running water, which can even be swirling!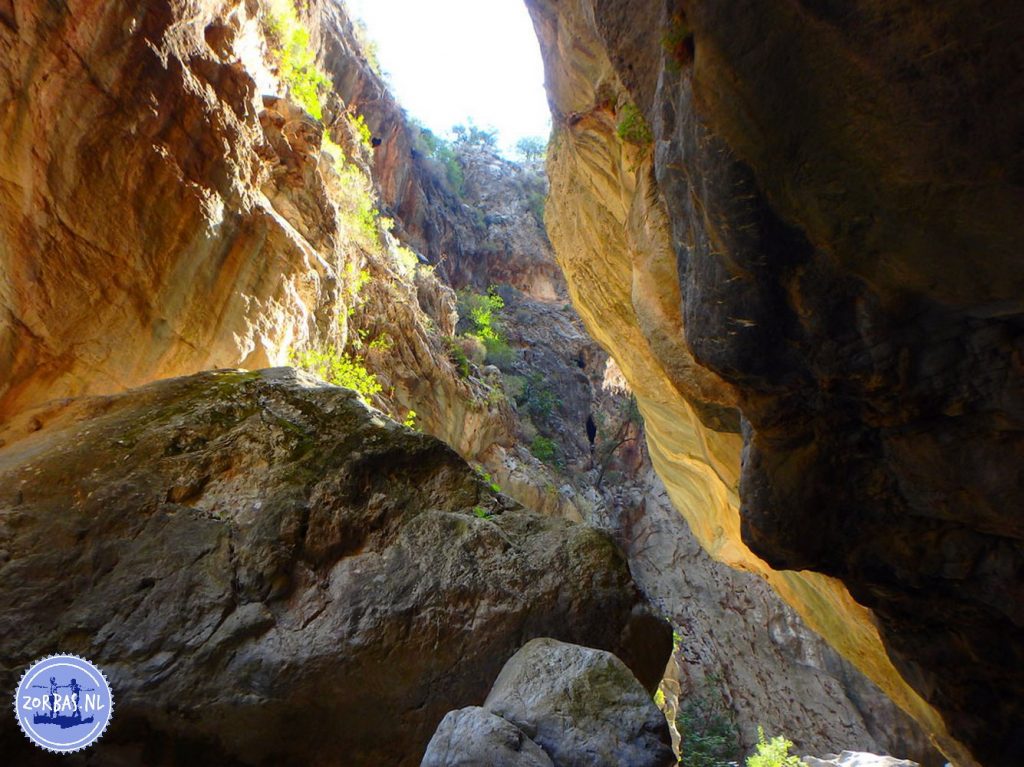 Sarakina Gorge Crete – There is a short and long version of the hike
Short Sarakina gorge hike: This is a short hike of not even 4 kilometres. The most beautiful way is to start from the top, but don't forget that also this is not without danger! You can also start from the hydro station at Mithi, walk a bit into the gorge and come back the same way. We walk from the top down to the hydro station in Mithi. Sometimes we need a rope, but there have been days that we did not need one. Watch out for the carved rocks, since these can be slippery from the water. If you walk from the top down through the gorge, there will be a lot of running water during winter until the start of the summer.
The nature here with its many pine trees is beautiful. You walk crisscross down through the water and over the rocks. Sometimes you can hardly see the blue sky because of the high rock walls in the gorge. On the way there are many streams and small waterfalls. The great variety in colours of the rocks is amazing. When you get to the hydro station, you can use there a picnic bench.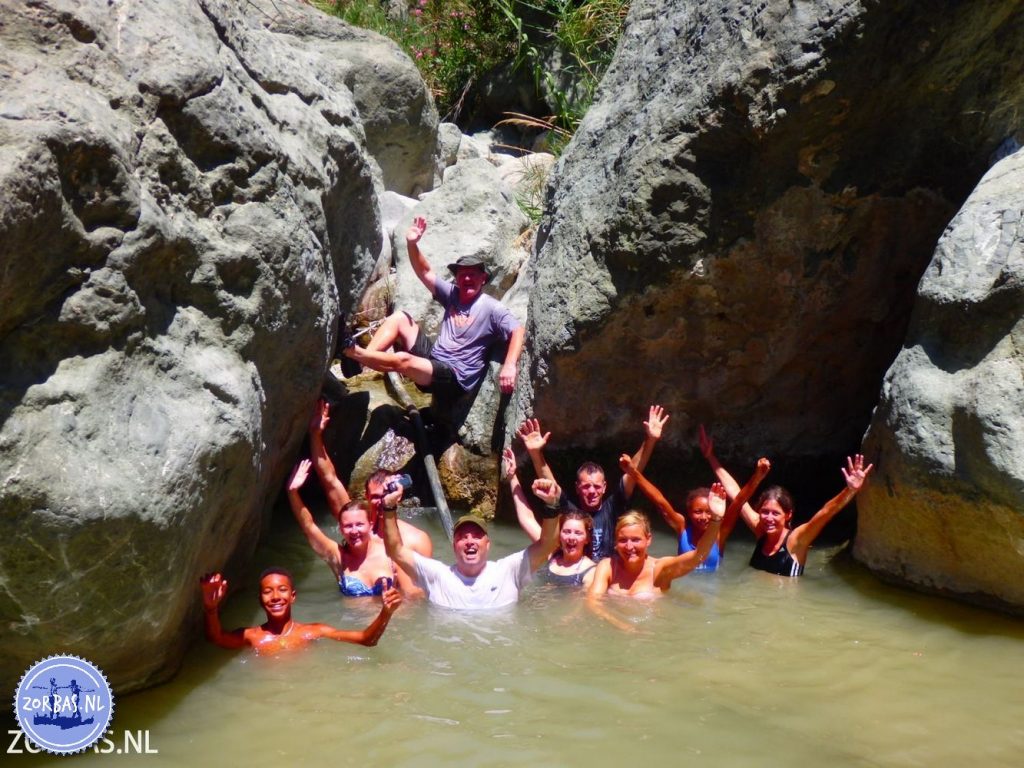 Long Sarakina gorge hike to Mirtos: This longer hike starts from the top, just like the description of the shorter Sarakina hike. This hike is in total about 12 kilometres, you now walk until you get into the village of Mirtos. From the hydro station before Mithi you cross the road and follow the river, which mostly doesn't have water at that point. Through the wilderness of bamboo you follow the river. Watch out where you walk, since there are many loose stones along the way. The more you walk the more changes you see in the nature. From bamboo, where you really have to find a way through, to pine tree forests. You also walk through some waterfalls, which is lovely in the summer! Sometimes you can see a turtle or crabs in the water.
But be careful, the little streams can be very slippery! We will get to the point where the gorge is really narrow and walk along sheer rock walls. When you look around you here, you realise how beautiful this gorge is: a unique piece of nature. The gorge is at some points not wider than 1.50 to 2 meters. Halfway this gorge you have to swim both summer and winter, there is no way back… you have to go through the water! There it is 2 meters deep and nice and cool in the summer. Mind your electronic items, bring a waterproof bag with. You swim just a little bit and then you can continue trekking.
At the end of the gorge you can wring out your clothes and continue walking towards the sea. First you come to an area with nice brown rocks and then you continue following the river, which has no water in the summer. When the river widens, you walk on the left side until you get to Mirtos. This is a nice walk between orange and olive trees.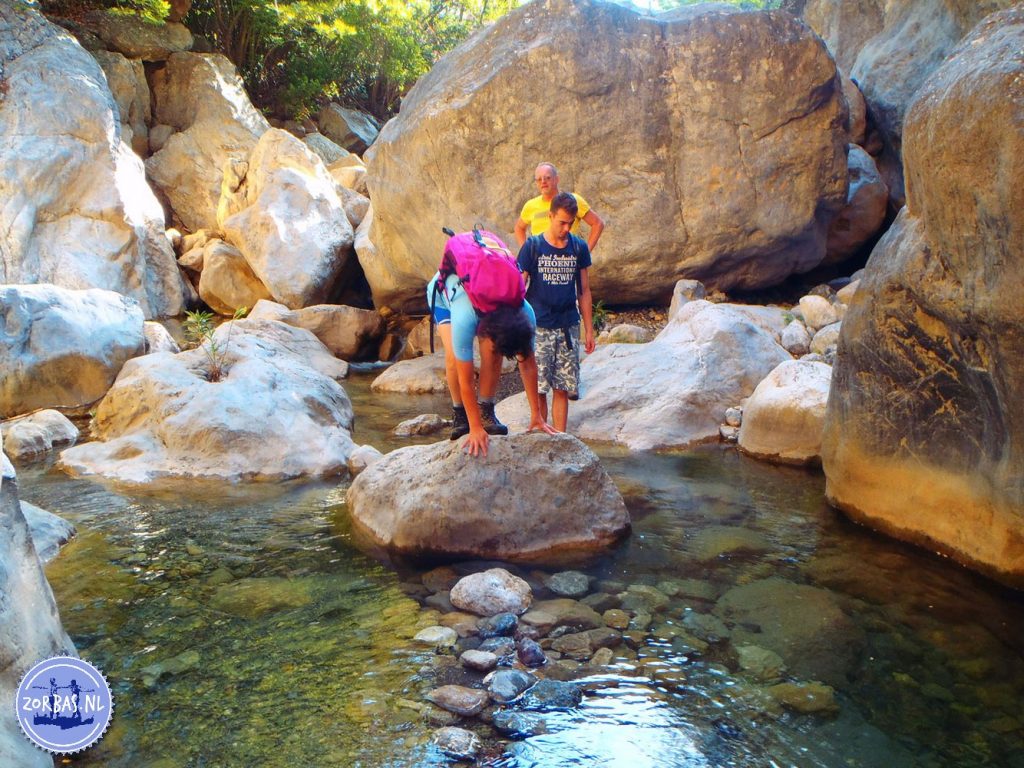 Males & the longer Sarakina gorge Crete hike: This is a hiking track of about 16 kilometres. It is at some parts a heavier hike. This hike is a combination of the above described hikes. You start at the village Males. From Mirtos to Males is long way climbing up to where the gorge hike starts. You could also take a taxi from Mirtos to Males. After the village you start descending. You can see the sea far away from you, but that is where you have to go to! The beginning of your hike goes along olive groves and an almost deserted village. You descend and even climb a small part until you come to the river, where it continues as described above.
You can also walk from Males to Metaxohori, which makes this tour until Mirtos 18-20 kilometres. A lot of hikers feel this being too heavy, mainly because there is also climbing up to do.
Sarakina Gorge Crete – Two days hiking at Selakano, Sarakina and Mirtos
Two-day hike from Mirtos, Selakano, Sarakina to Mirtos: This is a hike of 36 kilometres split up in two days. During these hikes you come through the 3 above described walking areas. It is a wonderful hiking route through different parts of nature. We start completely high up in the area of Selakano. On the way we walk via Selakano, Males, Christos, Metaxohori, Sarakina, Mithi, Riza, Tertsa back to Mirtos.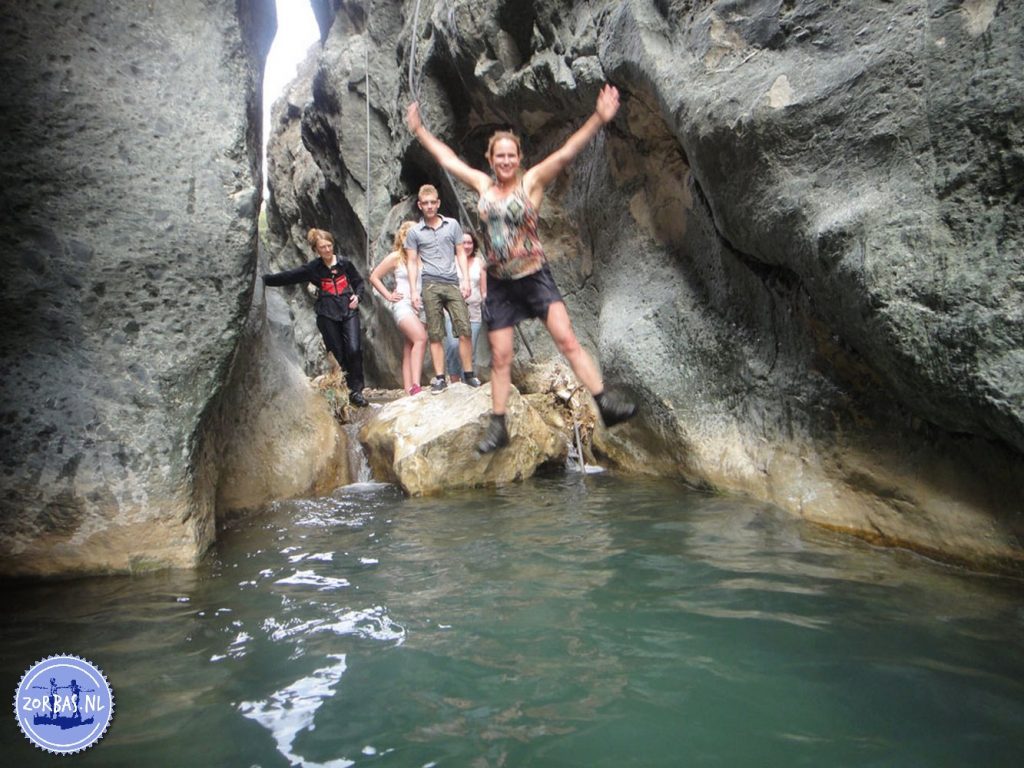 Mirtos hiking village: There are more hikes possible starting from Mirtos through this gorgeous area of South Crete. There are hikes from 1 to 4 days. Mirtos is a perfect base and starting point for your hikes. It is even possible to combine with a visit to Chrissi Island, departing from Ierapetra.
Hiking & accommodation on Crete: Our apartments are located directly on the seafront and are suitable for everybody, from families and groups to singles and couples.
Multi-day hikes on Crete: A page with all the hiking options and multi-day combination hikes all over Crete.
Photo book hiking on Crete: Here you find an summery of our hiking pictures. Throughout the years we have collected many photos, but we have put them in an overview for you to show you the numerous possibilities for a great walking holiday on Crete.
YouTube hiking films about Crete: We have also made many short hiking films to show you what we have to offer on hiking holidays on Crete. All the films have been compiled both summer and winter.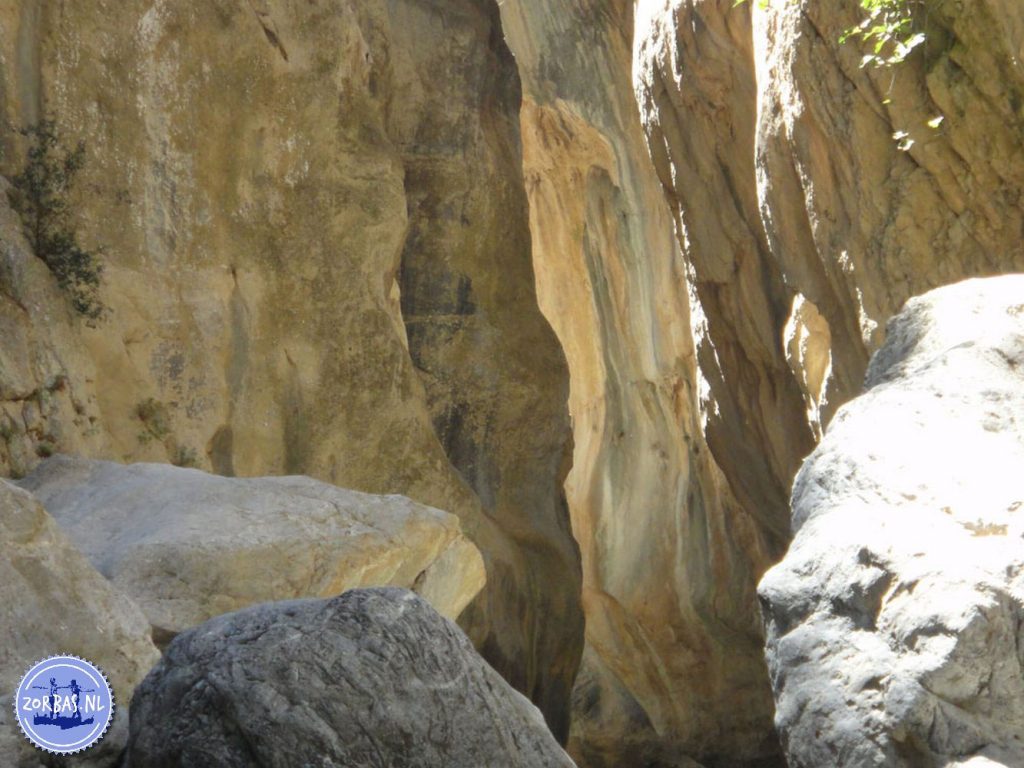 News about hiking in Crete: A page for daily news about excursions in unknown areas on Crete. All year round we upload daily news about our tours on the island. This can be from pictures to new recipes for Greek cooking, you name it and you will find it here.
Sitemap hiking on Crete: Here you find many hikes on Crete, since there are unlimited possibilities for hikers on Crete. We have hiking trails that you can walk by yourself, but we also offer hiking tours on Crete accompanied by a guide. You can go for nice walks on Crete.
Holidays on Crete: Apartment rental and accommodation on Crete. It is the perfect place for family apartments and holiday homes, all your excursions and cheap flights to Crete.
In case you like more information, please send an email to zorbasisland@gmail.com
Sarakina Gorge Crete