Active hiking on Crete: Skalopatia canyon: A unique piece of nature on Crete is Skalopatia. The location is Central Crete. We start our hike from the kafenion in the village and walk a distance of 7, 12 or 20 kilometres. This walking trip has not been discovered by the mass tourism yet. The trail is unique, with some little streams during summer and winter. Many turtles live in this area. It is lovely to see how these turtles live in the clear blue water and lie down on the rocks for some sunbathing.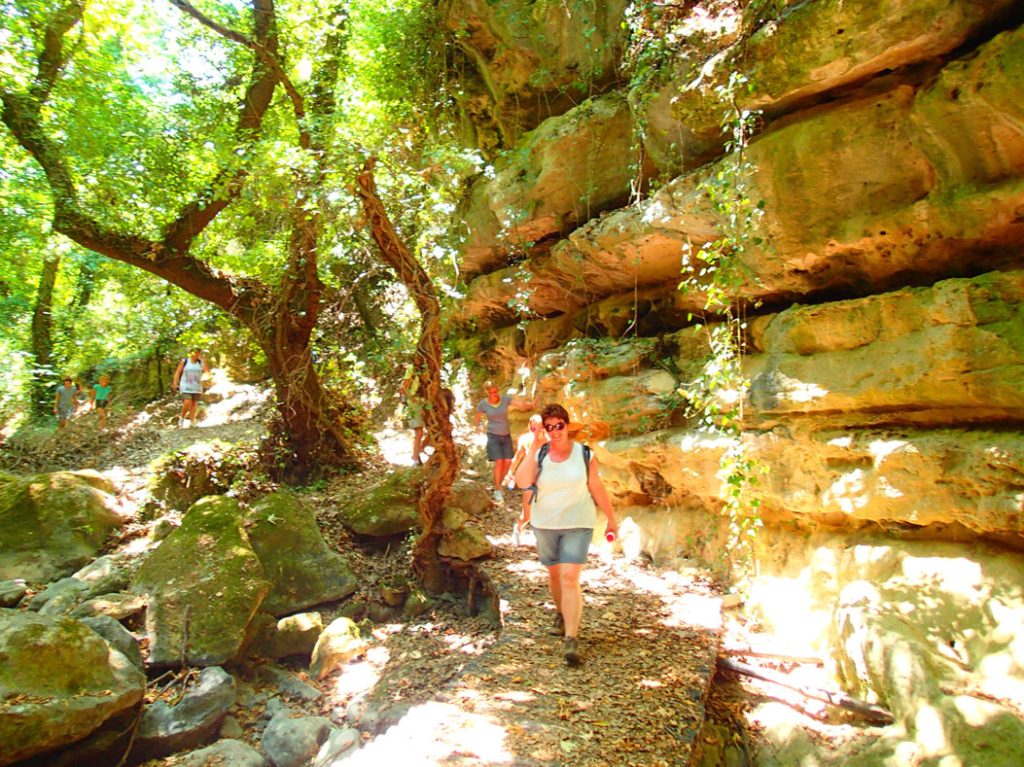 Active hiking on Crete – The level of the walk can be customized
Who can participate active hiking on Crete? We adjust our walks to the participants. We organise (upon request) heavier hikes (20 kilometres), medium heavy hikes and easy walks (5-8-12 kilometres). All options are possible upon request. We suggest you wear good walking shoes with socks. It is also important you bring enough water on the trip, since the entire track goes through nature. We have at Skalopatia a multi-day hike available with sleeping overnight in the forest.
Skalopatia consists of several walks: A description of the various possibilities around Skalopatia.
Skalopatia West: An easy walk of around 7 kilometres through the nature. Elderly persons and children can also join this walk. Along the way there is great variety to see in the nature. This hike is possible all year round, both summer and winter. The river at the beginning of the gorge has always water. The hike starts at an old watermill and along the way you will come across several uninhabited cottages and watermills, all built from natural stones. We follow the river through a jungle-like area and beautiful nature. In the summer the hike is comfortable to do, since 75% of the hike is in the shade. We can extend this Skalopatia West hike to 10 and even 15 kilometres.
Skalopatia East: An easy hike with many possibilities. We can either walk here 8, 10, 12, 15 or 20 kilometres. This trail goes along the river through a jungle-like area with constant changing scenery. There is less shadow than in Skalopatia West, but enough to be comfortable even in the summer. With this hike we need to do a bit more climbing as in the Skalopatia West walk. On the way you can admire the turtles. These you will always see when the sun is shining. Further below there is a more detailed description of both East and West Skalopatia.
Kalderimi on Crete: These are old paths from the time that the villages were connected by donkey paths. You will often recognize these paths during our hike through Skalopatia. The Kalderimi used to be the only connection roads on Crete till 1900 and far before. Along the way you will also see places where once the cattle could drink. In Central Crete are many ancient Kalderimis going via little villages and ending up in the capital Heraklion. That was a long road to go by donkey.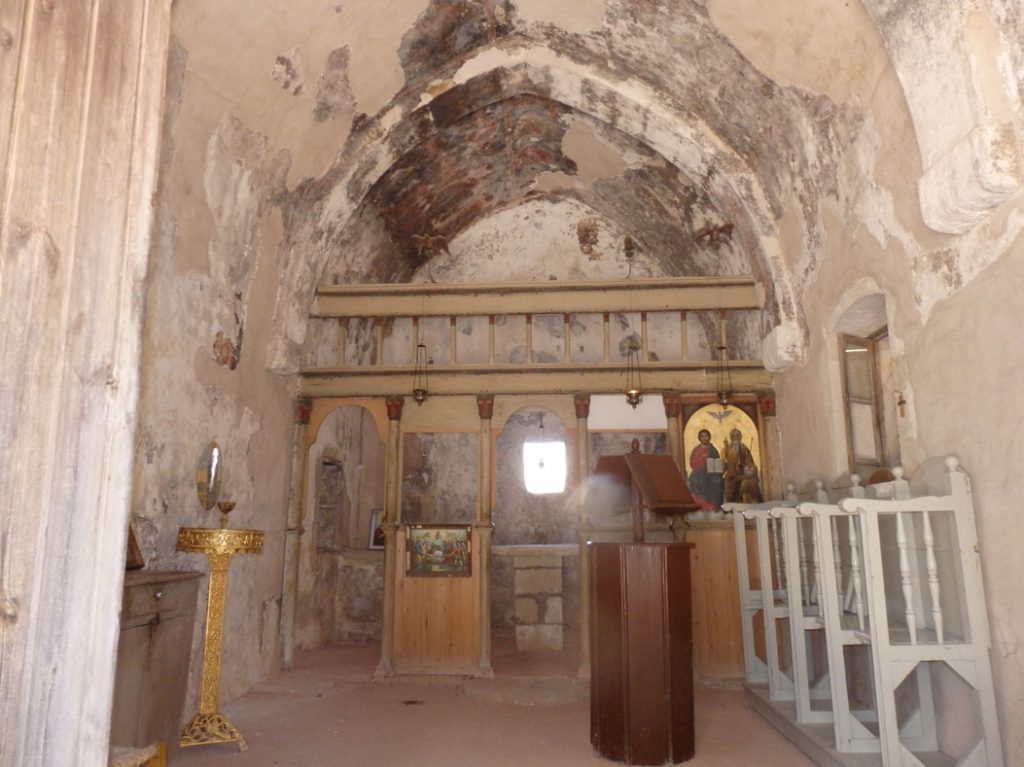 Active hiking on Crete – Description of the walk
Walking holiday on Crete (Skalopatia): We leave after drinking a coffee from the local kafenion towards Skalopatia. Through an area with vines and olive trees we walk to a beautiful ancient Venetian arch bridge. After the bridge we descend gradually 500 metres with views of the gorge. Once we are down, we see on the left a little freshwater lake. This lake lies in the shadow of many trees like oaks and plane trees. On the opposite side you already see the first turtles. We continue on the kalderimi along the trees and a stream, where many water plants grow. After a few kilometres we come to the first spot, where in the summer months hundreds of turtles live.
We always approach quietly in order to see as many turtles as possible. The path continues to an old water lock, where in the old days water was collected (at this spot in the winter you have to take off your shoes). After the water lock, which is constructed of sandstone, we descend to the stream. This path has been built between wonderful rock formations. And a few kilometres on the way we reach a real Cretan forest with lots of vegetation and native plants.
There are still many native plants on Crete. After some kilometres walking through the forest, we reach some kind of a jungle. Here you walk in between bamboo and oleander bushes. And not long after we walk even through an orange grove. This part of the trip goes along stunning rock formations. At the end of these rock formations we reach the lowest part of the gorge.
Now the path runs up and along a ravine. Here we have great views of the stream and all the trees and plants that grow here. Halfway we arrive at the spot where we organise our lunch. Down besides the stream is an ancient fortress with little houses that were built from sandstone. It is a kind of deserted village. In the sandstone you find many fossils.
After lunch we walk further up along the stream. Continuing through the gorgeous nature we arrive at an abandoned church. Just after the church we are again descending to the level of the stream and we encounter the turtles once more. Now the trail goes along fences that are there for the sheep and goats. Here we need to open and close often the fences to pass, so the sheep and goats remain in their areas. You will see here many sheep herds and along the sometimes perpendicular rock formations the mountain goats. At the end of the gorge we arrive at some kind of a gathering place for cattle. And yet again you see an abandoned church with some shepherd's huts around. Here we will be picked up. With the heavier hikes we continue walking on to sea level.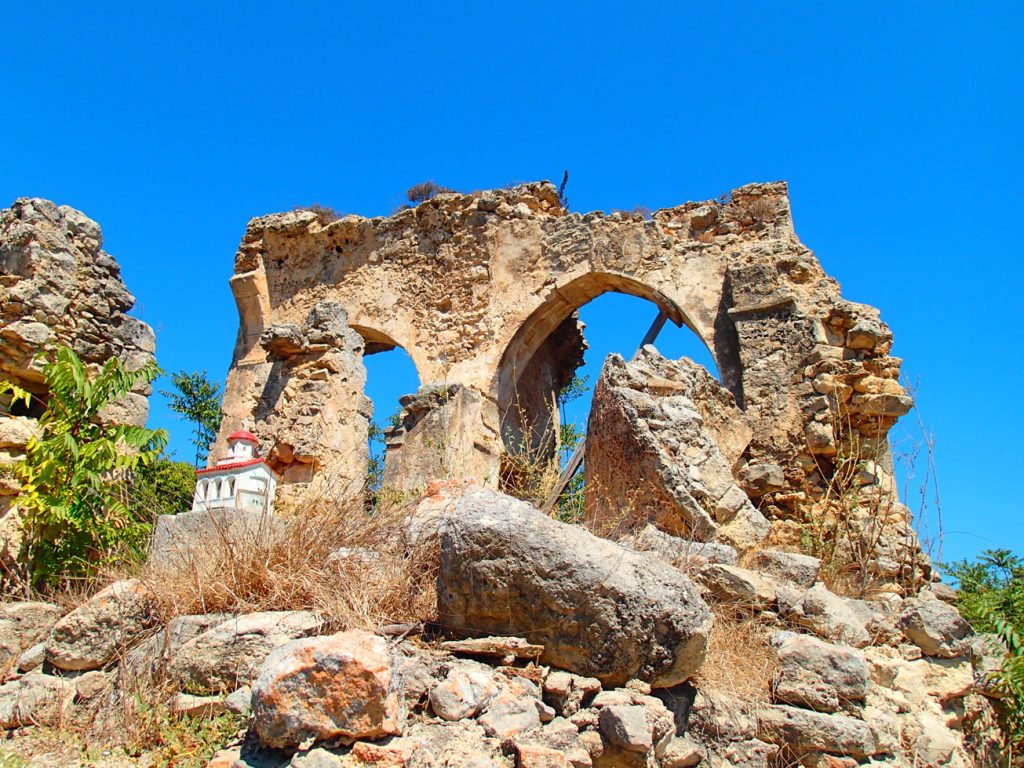 Active hiking on Crete – Additional information
Plants, herbs and trees on Crete (Skalopatia) along the way: Anthemis riga, Malcomia flexuosa (Cruciferae), olive trees, cypresses, orange trees, Arum idaeum Cousrur (Araceae), Cyclamen, Maquis, Cistus salviifolius, Phlomis fruiticosa, Lavandula stoechas, Asphodelus aestivus, Iris, Phrygana, Polygala monspeliaca, Ophrys, Orchis quadripunctata, Ebenus cretica, oleander, Dracunculus vulgaris.
Photo book about walking and hiking on Crete: Excursions and hiking on Crete Greece photo book with information about hiking and walking.
Walking on Crete on Youtube: On this page you can see a lot of movies of our hikes on Crete. Each week we post a new video of our last walk, so you get an idea about hiking on Crete.
Hiking and accommodation on Crete: The location of our apartments is directly by the sea. The apartments are suitable for everybody: from families to groups, but also for two persons or singles!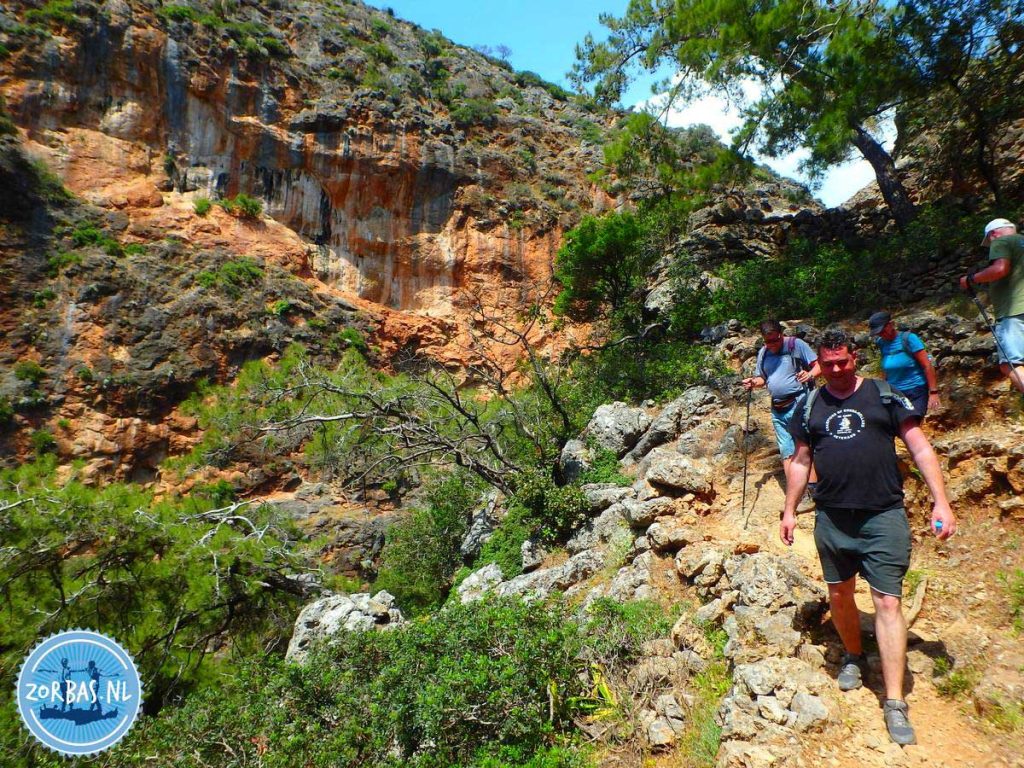 News about hiking on Crete: A page for daily news about excursions in unknown areas on Crete.
Sitemap hiking on Crete: Here you find many hikes on Crete, since there are unlimited possibilities for hikers on Crete. We have hiking trails that you can walk by yourself, but we also offer hiking tours on Crete accompanied by a guide.
Excursions: This page filled with lots of excursions you can do on Crete. Excursions on an island that is worth a visit.
Holidays on Crete: Apartment rental and accommodation on Crete.
In case you like more information, please send an email to zorbasisland@gmail.com
Active hiking on Crete