Aposelemis Canyon on Crete: This canyon is a hike where a lot of climbing and scrambling is involved. The gorge was made long ago by shepherds and is still used daily. The gorge is breathtakingly beautiful, an experience you will never forget. Along the way we will encounter many sheep and mountain goats. During the winter the Aposelemis gorge becomes a small river which makes it a beautiful green area with many native plants. Halfway through the gorge you will reach a cave. Around here the vultures live: the wings of these vultures sometimes have a wingspan of 2 meters.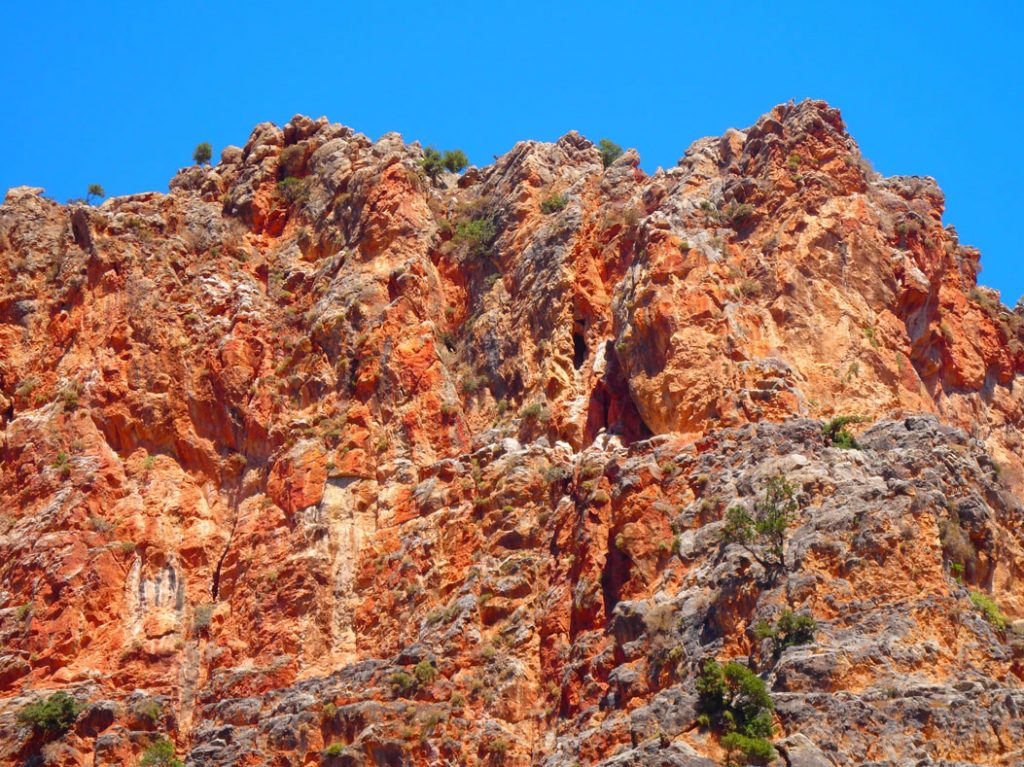 This hike is about 8-10 kilometers. We can also extend this walk up to 12-18 kilometers. Good walking shoes are essential. You can do this hike both in the summer and in the winter. Only after rain in the winter it is a difficult hike, because of the water. We will have to do a lot of climbing and descending over loose stones, but the gorge walk is suitable for most hikers.
Aposelemis Canyon on Crete – The hike through the canyon
The Aposelemis gorge: We start this hike in a village or on the other side of the village, depending on the number of kilometers we walk. The path along the river Aposelemis is made by shepherds, many goats and sheep live here and we will meet them face to face on numerous occasions. We always need to close the iron gates properly, so the herds of sheep and goats do not wonder off.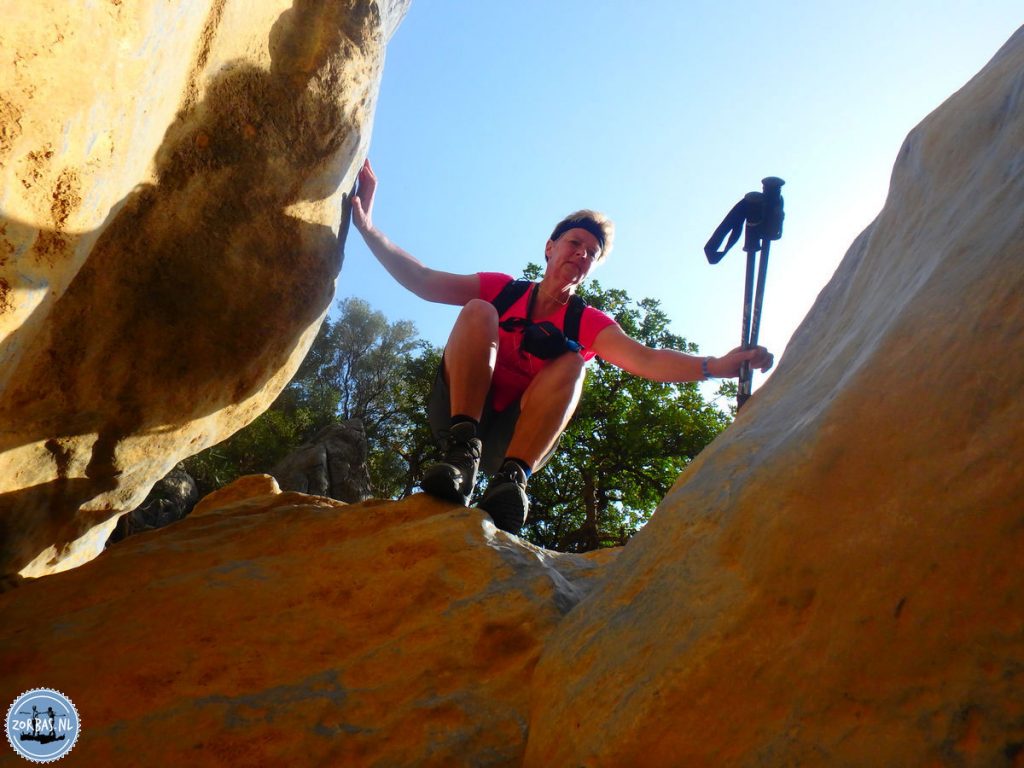 The Aposelemis is a river with water from the high mountains of the Lassithi plateau. In the summer months, the river dries up. Along the way you will find lots of flowers and plants. At the beginning of the gorge is a BBQ and picnic area. We will follow the river all the way down. At the start of this walk we see an old Venetian arch bridge that cannot be passed anymore. This Venetian arch bridge indicates that this used to be an old kalderimi, a donkey path connecting the villages. The riverbed consists of many stones and rocks, even marble and granite. At some point the riverbed consists of black granite with beautiful white and grey marble, the perfect spot to make our Greek coffee and have a break.
After coffee: We head on surrounded by impressive brown and grey rocks. At the bend in our trail, we have a breathtaking view on the gorge with vultures. We descend slowly on eroded rocks. The rock formations here have many colors and beautiful shapes, so you can make beautiful pictures.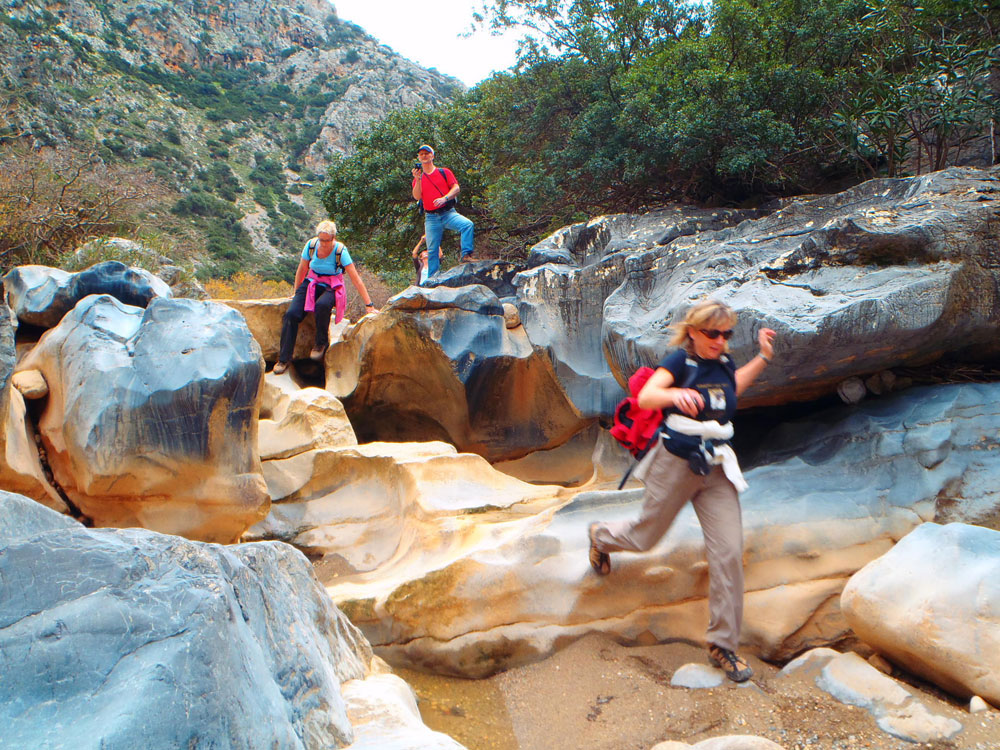 Vultures gorge: After climbing and descending we come to the rocks with vultures. High above us are many vultures, the wings of the vultures have a wingspan of some 2.5 meters. You see these vultures fly high above us. In this place, right between the rocks with vultures, we have lunch.
After lunch in the Aposelemis Canyon on Crete: We descend further between the beautiful rock formations, where we can admire the eroded parts of this gorge. Over centuries the rocks have become completely smooth and have the most amazing patterns. Our curvy path continues to an area where many sheep and goats live.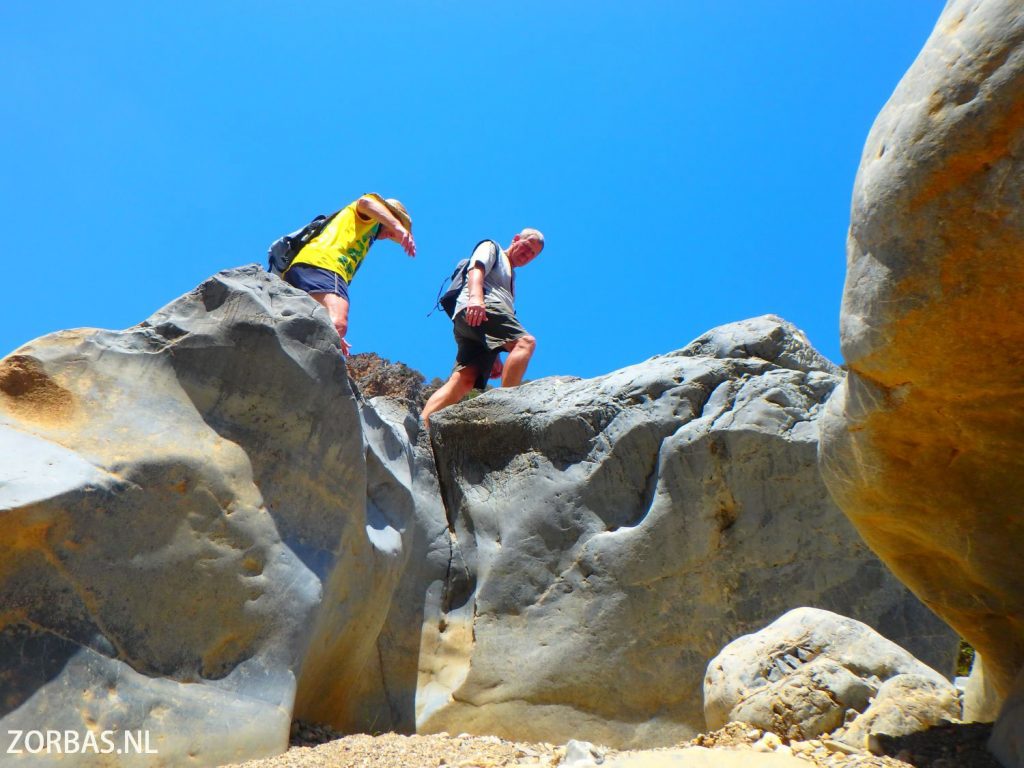 Bird spotting on Crete: At the end of the gorge, we can also walk through a green area where many different birds live. During summer and winter you can observe rare birds. A lot of these birds do not fly to Africa, but remain on Crete all winter. You can also find freshwater lakes near the sea with lots of green.
Sandstone formations: At the end of our hike you will be treated to some sandstone formations, which are full of fossils. Beautiful sandy rocks show nature's history.
Hiking and accommodation on Crete: Our apartments are located directly by the sea and are suitable for everybody: from families to groups, but also for two persons or singles!
Aposelemis Canyon on Crete – Pictures and short movies
Photo book about walking and hiking on Crete: Excursions and hiking on Crete Greece photo book with information about hiking and walking.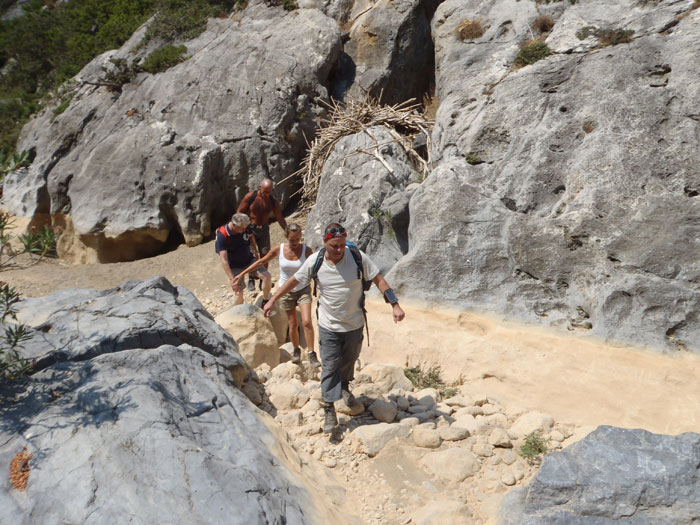 Information about walking on Crete: Here you find many hikes on Crete, since there are unlimited possibilities for hikers on Crete. We have hiking trails that you can walk by yourself, but we also offer hiking tours on Crete accompanied by a guide. You can go for nice walks on Crete. The Aposelemis Canyon on Crete is just one of the many canyons you can hike through.
Walking on Crete on YouTube: Here you can see a lot of movies of our hikes on Crete. Each week we post a new video of our last walk, so you get an idea about hiking on Crete.
Excursions: A page filled with lots of excursions you can do on Crete.
Holidays on Crete: Apartment rental and accommodation on Crete.
In case you like more information, please send an email to zorbasisland@gmail.com
Aposelemis Canyon on Crete