Havgas gorge Lassithi Crete Greece: A special hike through the Havgas canyon at Lassithi, not to be confused with the Havgas gorge at the village Kalamafka. This gorge has a river with melting water from the Katharos plateau. There are not a lot of people hiking in this gorge. This is actually strange, because it is a magnificent canyon with beautiful scenery and nature. It is not an easy walk, but very suitable if you are an experienced hiker.
There is no marked hiking path, you will follow the river. The river is dry from the end of May, but from December up to May water runs through the river. It is very clear drinking water, this water is later collected in basins on the Lassithi plateau. If the basins are full, the water is piped to the reservoir lake of Avdou. The river actually ends in the Aposelemis canyon, about 20 kilometres further.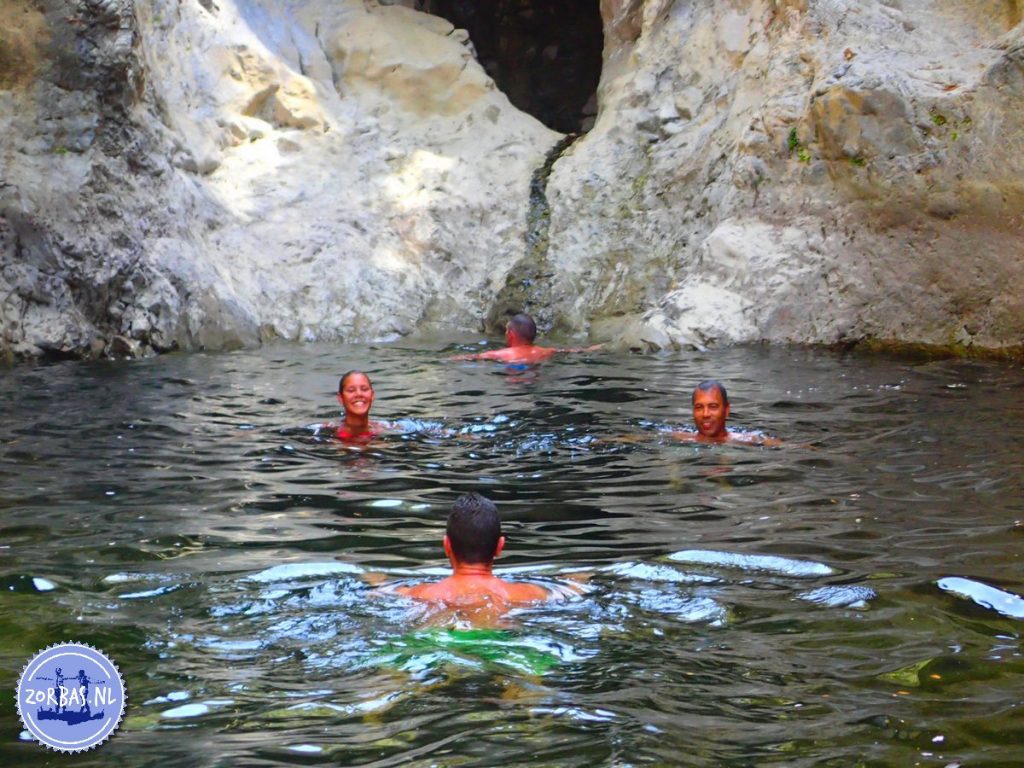 Havgas gorge Lassithi Crete Greece – Canyon on Crete
Canyon on Crete (Havgas): This canyon is in some places wide and later on very narrow. The canyon is situated between the mountains Katharios Lakkos (1200 meter) and Kefala (1270 meter). The length of the gorge is approx. 4 kilometres. The gorge starts at a small freshwater lake at Lassithi, nearby Agios Georgios and Agios Konstantinos. In the early morning the view over this freshwater lake is fantastic.
Nature in the Havgas gorge & canyon: You will spot a lot of birds in the gorge. Because there are not a lot of people walking through this gorge, the gorge is full with flowers and plants during spring. In early winter you will already see a lot of beautiful flowers. High up in the mountains grows diktamos, of which the famous Cretan mountain tea is made.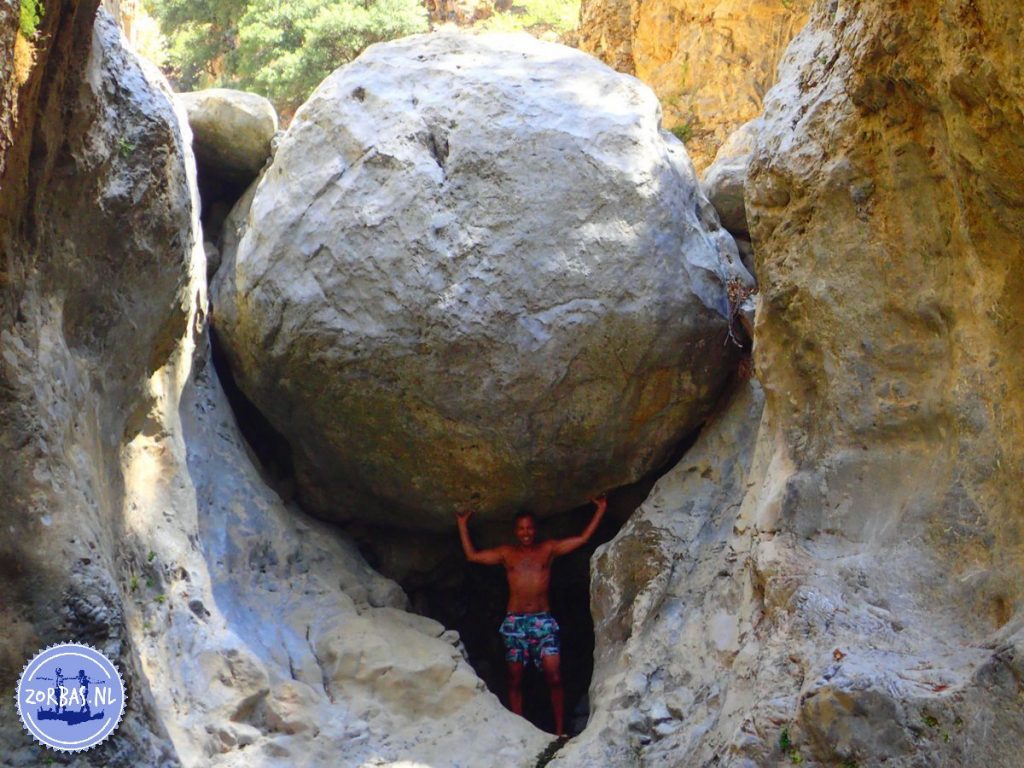 The Havgas boulder: A unique stone, which got a round shape by the water that flows around the stone. It looks just like this rock has been put here on purpose. At this boulder the hike does not continue, during the winter and spring there is too much water and it is too high to climb on to. This point is called Neraidokolympos, you have to walk back from this point.
Waterfalls on Crete (Havgas): During your hike through the gorge you will see a lot of waterfalls. Before the boulder you can climb approx. 22 meter to 3 smaller waterfalls. During the winter it is inevitable to get wet clothes. It can be a bit dangerous at some point, so be careful.
Walking in the Havgas gorge Lassithi Crete Greece: When you leave from Agios Konstantinos, this walk is approx. 8-10 kilometres. The hike through the gorge starts at the water basins. You will have to open some fences for the sheep and goats along your way. Make sure you always close these fences, so the herds of sheep and goats stay in their areas. Don't go exploring on your own, when it is not possible.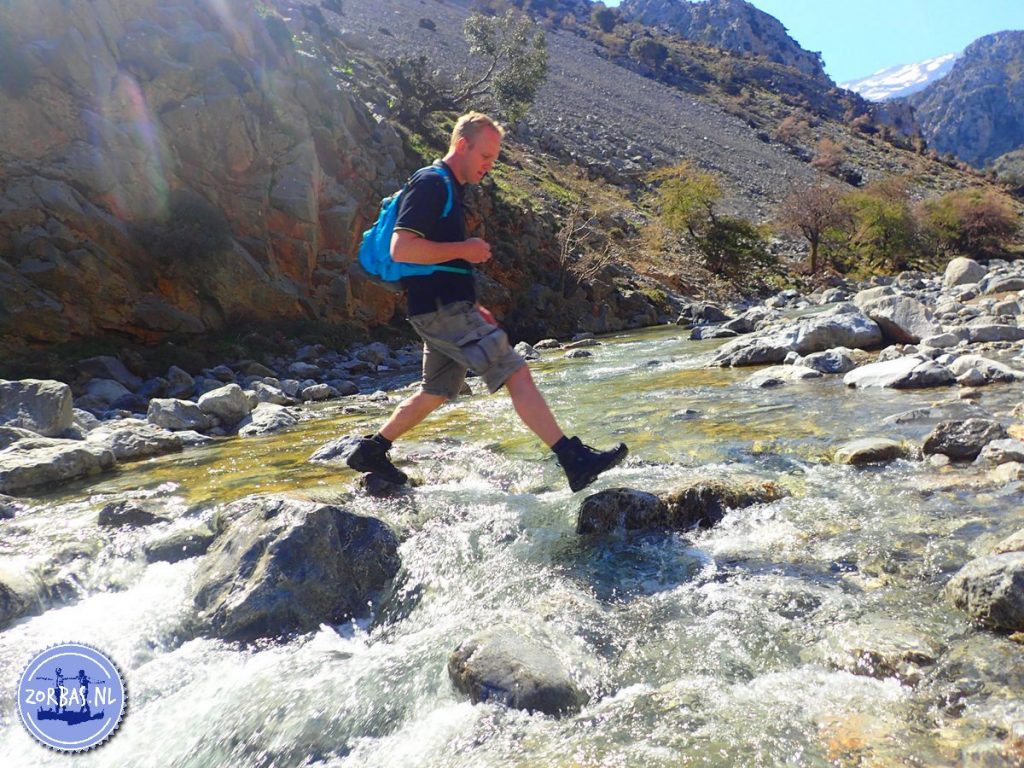 Havgas gorge Lassithi Crete Greece – Lassithi Plateau on Crete
More walking and hiking on Lassithi, Crete: The beautiful green plateau of Lassithi is the whole year perfect for special surprising hikes on Crete. After the gorge, you can continue your walk on the Lassithi plateau. The plateau is a agricultural area with several villages, surrounded by the magnificent Dikti mountains. There are lots of walks available in this area.
Multiple days hiking on Crete (Havgas – Plateau Lassithi – Rozas Gorge- Aposelemis – Kokkini Hani): At Lassithi you can hike beautiful tracks in multiple days. You start at the Lassithi plateau. This walk goes from village to village on the green Lassithi plateau with lots of agriculture and beautiful nature. You walk through areas with hardly any tourism, but the Lassitih plateau is a well-known place on Crete, so it depends on which season you like to go hiking if you meet more tourists.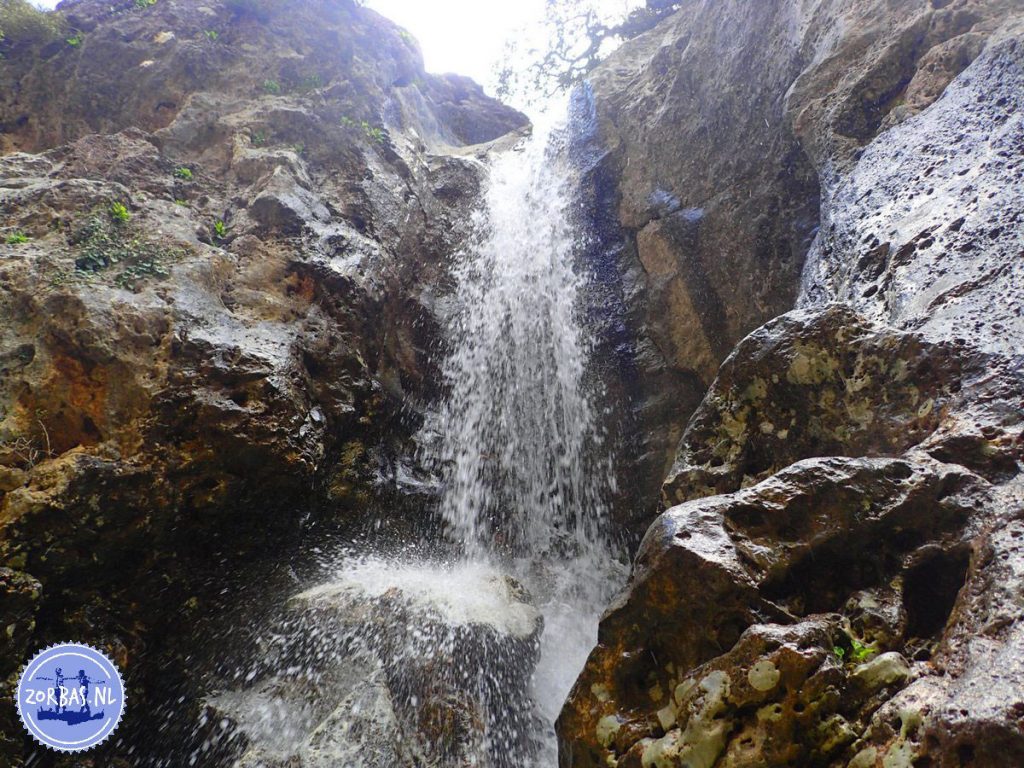 Walking on Crete on YouTube: Here you can see a lot of movies of our hikes on Crete. Each week we post a new video of our last walk, so you get an idea about hiking in summer and winter on Crete.
Walking & hiking on Crete: Here you find many hikes on Crete, since there are unlimited possibilities for hikers on Crete. We have hiking trails that you can walk by yourself, but we also offer hiking tours on Crete accompanied by a guide.
Hiking and accommodation on Crete: The location of our apartments is directly by the sea and the apartments are suitable for everybody: from families to groups, but also for two persons or singles!
Excursions: A page filled with lots of excursions you can do on Crete.
Holidays on Crete: Apartment rental and accommodation on Crete. It is the perfect place for family apartments and holiday homes, all your excursions and cheap flights to Crete.
In case you like more information, please send an email to zorbasisland@gmail.com
Havgas gorge Lassithi Crete Greece