Pottery on Crete, Greece: Pottery and culture on Crete. We visit potteries while on excursions on Crete, but you can also participate in a pottery workshop on Crete. At every pottery you can also buy pots, vases, jars and various art. Terracotta pots on Crete from Thrapsano and workshop pottery in Anopoli.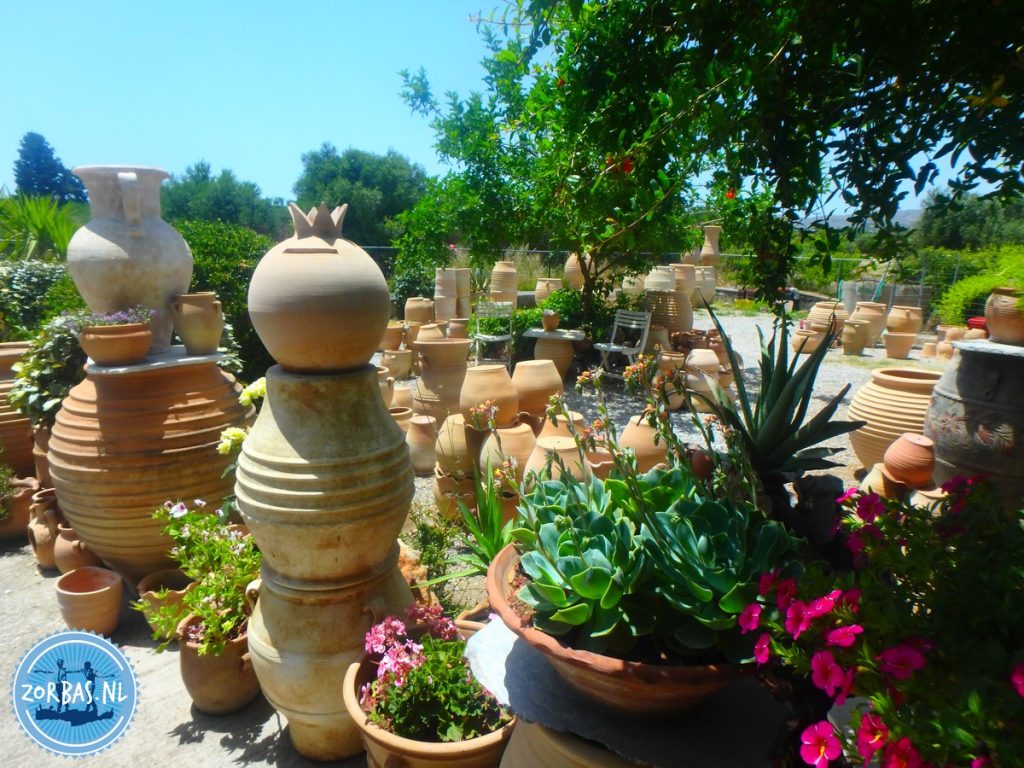 Pottery on Crete – In Ancient Greece ceramics pots were used for storage
Pottery & ceramics on Crete: Before we started to use plastic bottles for water etc., everything was made with ceramics on Crete. During snorkelling you might sometimes find a piece of an old clay jar in the sea. But not everything you find on the bottom of the sea comes from the era of Knossos. Until only 50 years ago these jars were still used for water etc., just like we use our plastic bottle now (it is forbidden to take anything you find from the sea bottom). Even during the Minoan era there was pottery on Crete. People used the pots for water, olive oil, wine, cereals, etc. At Knossos are several examples of ancient Cretan art. The pottery was made in all shapes and sizes. Every day pottery and ceramics are made on Crete.
Pottery on Crete – Not far from Zorbas Island you can visit a pottery
Pottery in Anopoli (Yiannis): A nice spacious pottery, one part of the pottery is used as a factory. Every day pottery and ceramics are handmade and hand-painted in the factory. It is impressive to see how quick the potter makes his pots. Whether it is a vase or a napkin holder, within seconds it is ready to be baked in the oven. Next to the working area there is an exposition area. Here you can look at everything Yiannis creates and even buy some pottery yourself. The prices are really good! You can buy beautiful pots, jars or vases but also other handmade arts. You can even let them make unique pottery by your own design.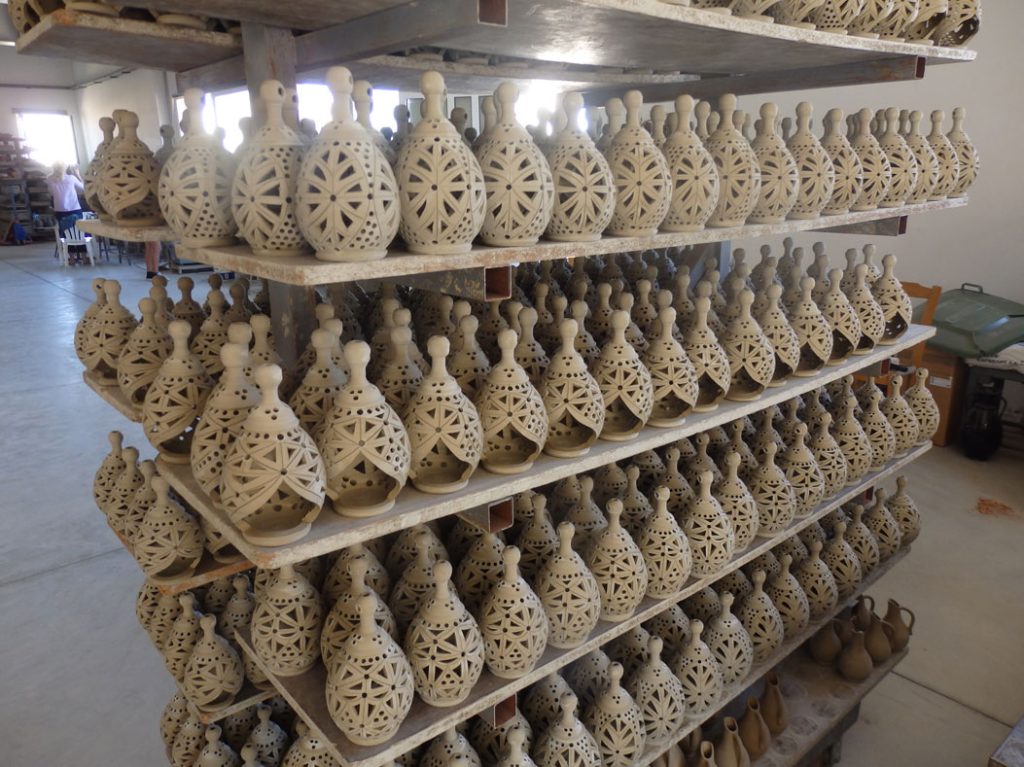 If you visit the pottery in the winter, they are even busier. Everything is hand made by old Cretan models. You can easy spend a few hours here. The pottery is open every day, except on Sunday. You will be treated on a nice cup of coffee or a little glass of Raki!
Pottery on Crete – An excursion to a pottery is fun for everyone
Children & pottery on Crete: A nice and creative trip with the children to the pottery. Children create their own pot or vase or something else with clay. Afterwards all the creations will be baked in the oven. If you don't feel like going to the beach or the weather is not that great, this is a fun trip. You can combine going to the pottery with a visit the village Anopoli or the waterpark "Watercity", both are close to the pottery. Another alternative is to combine a visit to the pottery and the aquarium in Gournes.
Excursion pottery Crete: A workshop pottery is a fun excursion. At the pottery you can make your own creation, for example a pot, vase, carafe or bowl, it is totally up to you. Next it has to dry and it needs to bake in the oven. Off course you can take your own pottery back home. After a demonstration about pottery we visit the pottery shop and have a coffee or a Raki. It is very easy to visit the pottery on your own. From Kokkini Hani you drive towards Anopoli, on your way you will see the signs to the pottery.
Pottery in Thrapsano, Crete: In the village Thrapsano they create the handmade large pots. They make these large terracotta pots just like the ancient model 5000 years ago. They even make terracotta pots as high as 1.20 meters! It is great to see how these pots are crafted in rings. We regularly visit this pottery to have a look at their creations. If you like to take a large terracotta pot home, the pottery arranges transportation to many countries. The pots are really price worthy and all pots are handmade.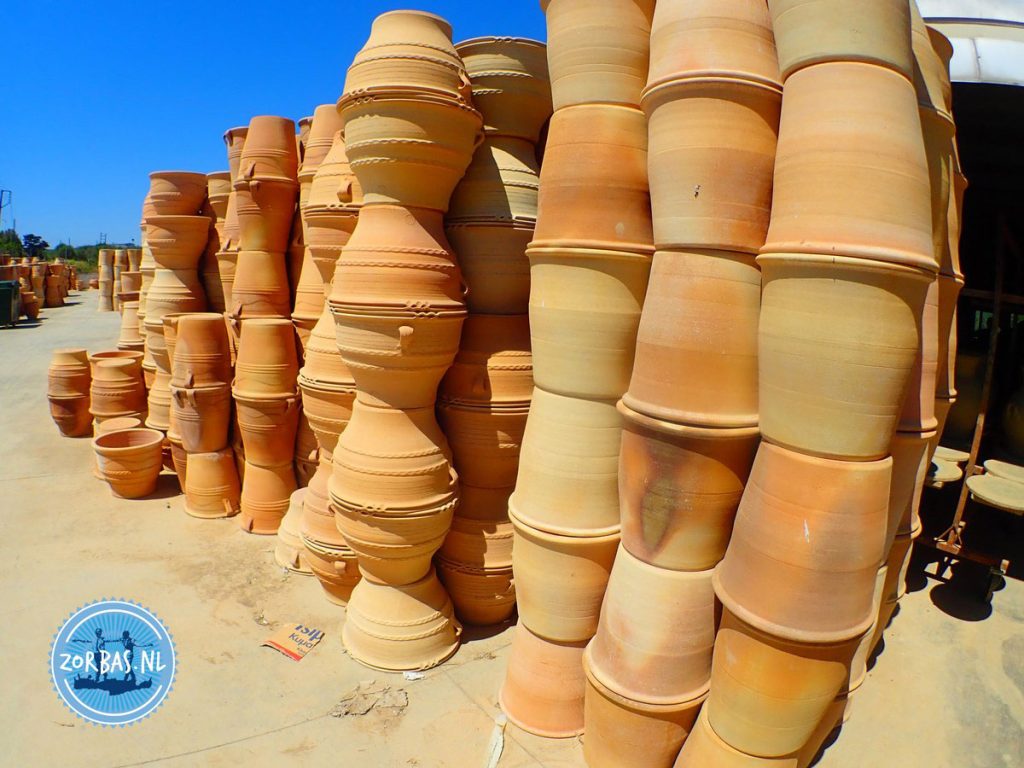 Combination unknown Crete & pottery: You can easily combine a visit to a pottery with an excursion through unknown Crete. This tour is possible with a visit to the potteries in Anopoli and Thrapsano. Off course you can do this tour individually.
Cooking workshop & pottery workshop on Crete: We often combine a workshop Greek cooking with a visit to a pottery in Anopoli and Thrapsano. We usually visit the pottery in the morning, but on request we can organise different workshops for you.
News: For daily news about pottery on Crete and other excursions; summer and winter we update daily with news and pictures from all our activities on Crete. Whether it are new photos or a Greek recipe, you can find everything on our news page!
Excursions: A page full of active excursions on Crete. You can explore the beautiful Crete, an island that is worth a visit.
Accommodation: Have a look at our page for a holiday on Crete including accommodation, lots of photos and information for an active holiday on Crete.
In case you like more information, please send an email to zorbasisland@gmail.com
Pottery on Crete