Jeep safari Crete Greece: Driving off-road on Crete gives you the chance to explore the real Crete. The countryside of Crete has countless roads that go through the mountains from village to village. Only these are dirt roads, which are not registered on any road map. The jeep safari takes you on these roads and you will see that the real Crete is not comparable to the tourist areas.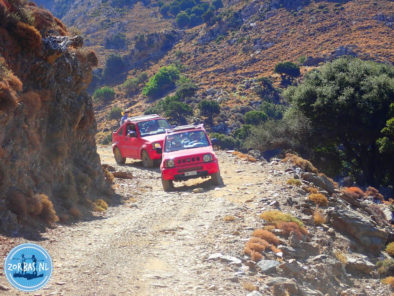 The purpose of our jeep safari is to show you how beautiful nature and culture in the mountains of Crete is. It will take you to places that are not described in tourist guides. We always try to avoid touristic sites or visit those in a different way. For example, we do drive with a jeep safari to Lassithi, the famous plateau on Crete. But also, the Lassithi Plateau can be seen from a different part of the Dikti mountains, without you being overwhelmed by many tourists.
The Dikti mountains surrounding the Lassithi plateau are ideal for jeep safari. There are more than enough dirt roads. Besides the local farmers, not many people know to find these roads. Lassithi is a mountain plateau at an altitude of around 840 meters and is surrounded by mountains with peaks going up to 2100 metres. In winter there is snow on these mountains and even in spring you often see some parts that still have some snow. Beautiful to see whilst you are in an open jeep wearing your summer clothes.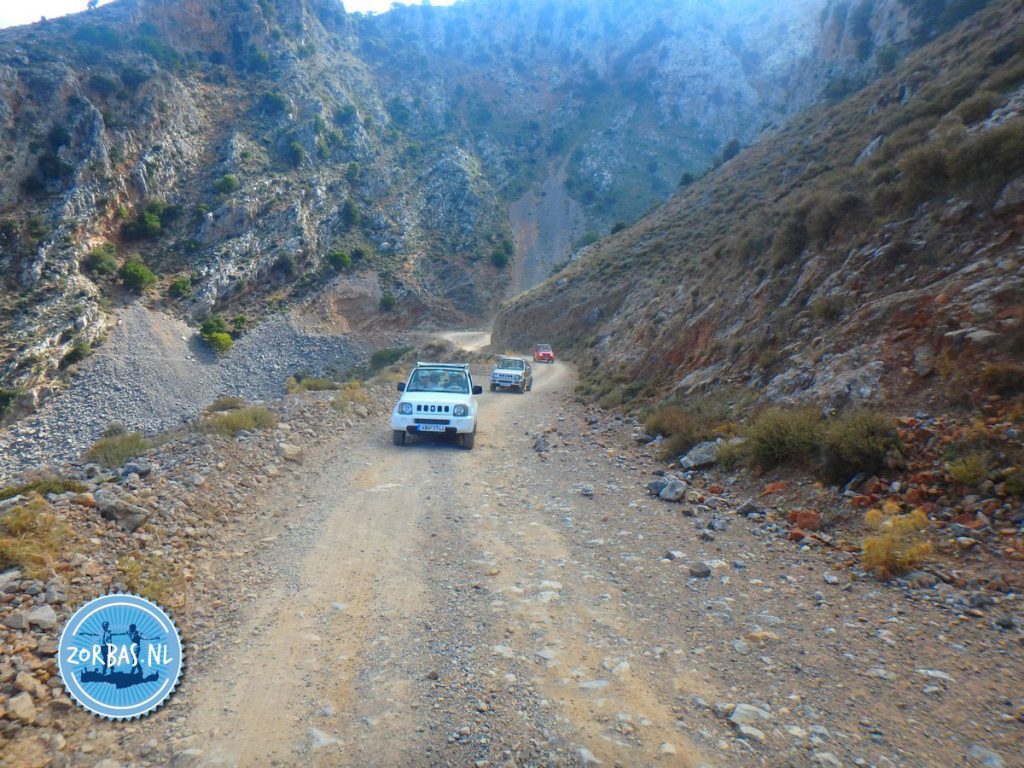 Because of the snow on the mountains in winter, Lassithi gets of a lot of melting water, which is coming down to the plateau in spring and early summer. The Venetians designed a large system of drainage ditches that was constructed between 1514 – 1560 and is still in use. The fertile soil on the plateau, the climate, the water and the flat terrain make Lassithi the perfect area to grow potatoes and other crops.
Jeep safari on Crete Greece: A jeep safari on Crete has many elements for a fun active holiday: adventure, culture in traditional Cretan villages and magnificent scenery on our beautiful island. Besides our jeep safari to Lassithi we have many more routes we love to drive. On this page you find a few examples, but we have many more routes we can drive. We do not describe details on our website, because we prefer to keep the beautiful places to ourselves and our guests.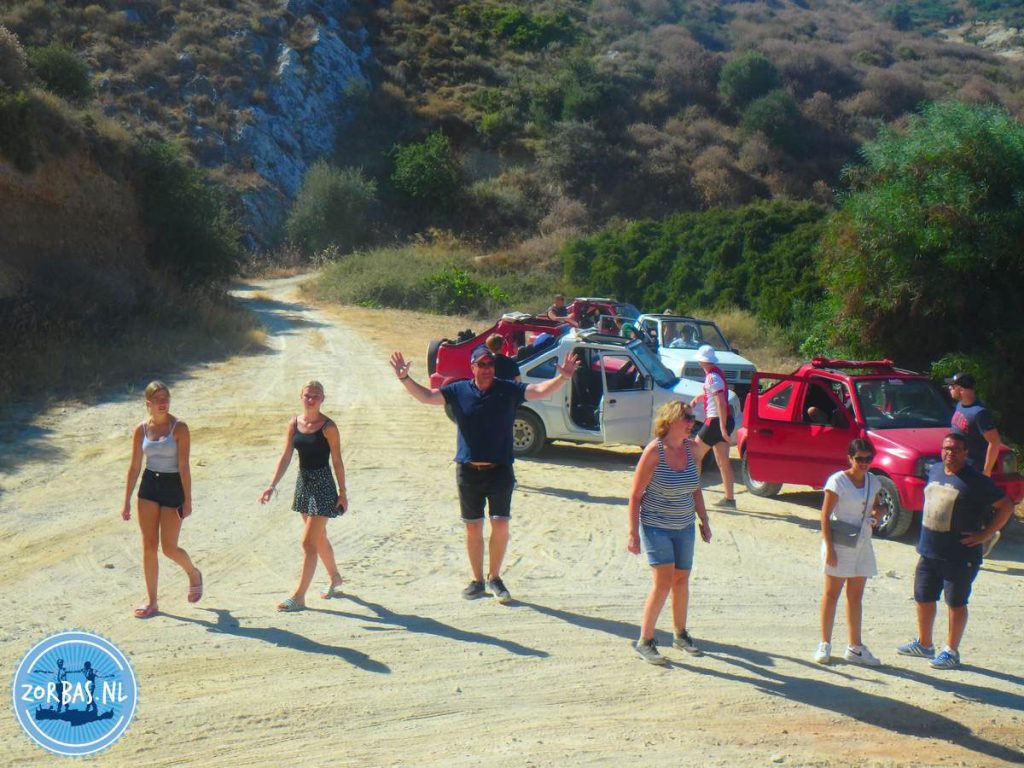 Multi-day jeep safari on Crete – one week jeep safari on Crete: Maybe after one day jeep safari you got the taste of it and want more. We offer you a different kind of holiday on Crete, 7 days driving off-road on Crete. You will see places that others never have seen before, 700 kilometres off-road through Crete. A lot of people have visited Crete before, but we like to show you a different kind of Crete. Through this trip, you can get to know the real and unknown Crete.
Daily news from Crete: On this page, we give daily updates of all our activities in Crete. Every day, during summer and winter, we upload our weblogs.
Excursion on Crete: Here you find a lot of information about excursions during your holiday on Crete like: car and bike rental, car and accommodation, diving, cycling, hiking, hiking combinations on Crete, Greek cooking lesson, playing golf, boat trips, horseback riding, outdoor activities, sailing, jeep safari, fishing, group excursions, active holiday on Crete, weekly excursion programs or fly-drive.
Holiday on Crete: For renting apartments and holiday homes, all your excursions and cheap flights to Crete you can come to us most time of the year. If you are looking for apartment rental and accommodation on Crete, you have come to the right place. We have a variety of apartments, suitable for families, singles, couples or more people travelling together. It does not matter whether it is summer or winter, you can always enjoy the outdoors on the southernmost holiday island of Europe. We can help you to organize your holiday on Crete Greece to your wishes. An active outdoor vacation, active holidays, a beach holiday, or a combination of both; we can all realize for you.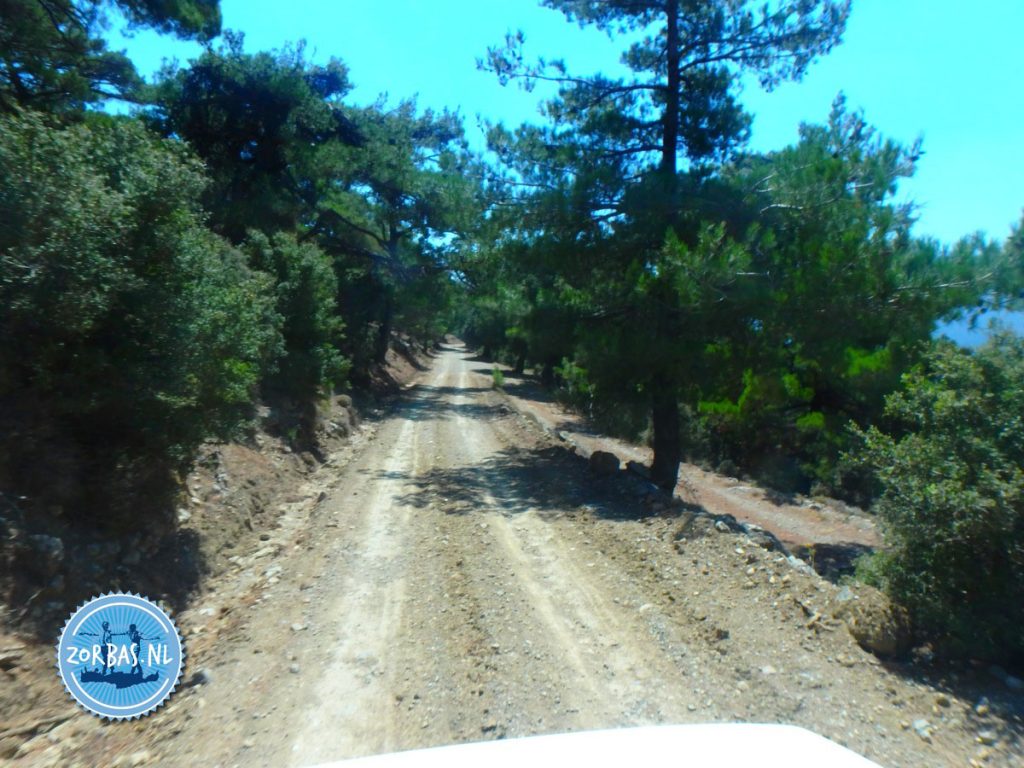 To give you an impression of your vacation in Zorbas Island on Crete, we have created a "Zorbas Island" movie for you: Zorbas Island Vacation movie in 5 Minutes.
In case you like more information, please send an email to zorbasisland@gmail.com