Outdoor cooking in Crete: To make outdoor cooking a great experience, we choose a suitable location for our cooking classes every year. This year, for our cooking course in Greece, we have created a very special cooking location. As many already know, is that we use only our own olive oil for our dishes. To guarantee good quality olive oil, we have our own olive grove where we harvest our olives every year. Among these beautiful olive trees, we have built facilities for cooking.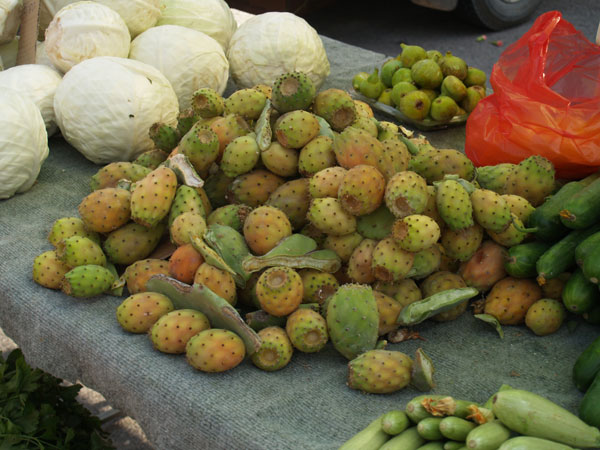 Own herb garden: Apart from the olive trees and the facilities we need for cooking, we have our own herbs and fruit at the cooking place. Our herb garden looks promising. There is nothing like cooking with fresh products, which is also unsprayed. When they come from our own garden and are sun-ripened, a meal tastes even better.
Cooking classes in Greece: On the Greek island of Crete, we have been organising cooking classes for years, both for one day and for several days. Thanks to the wonderful sunny climate, we can almost always cook outdoors. We have many recipes from Greek cuisine, which we love to share with our guests. During the cooking lessons, our cook will show you how easy it is to put a tasty healthy meal on the table. The day is ended by eating the meal you just made among the olive trees and over a nice glass of local wine.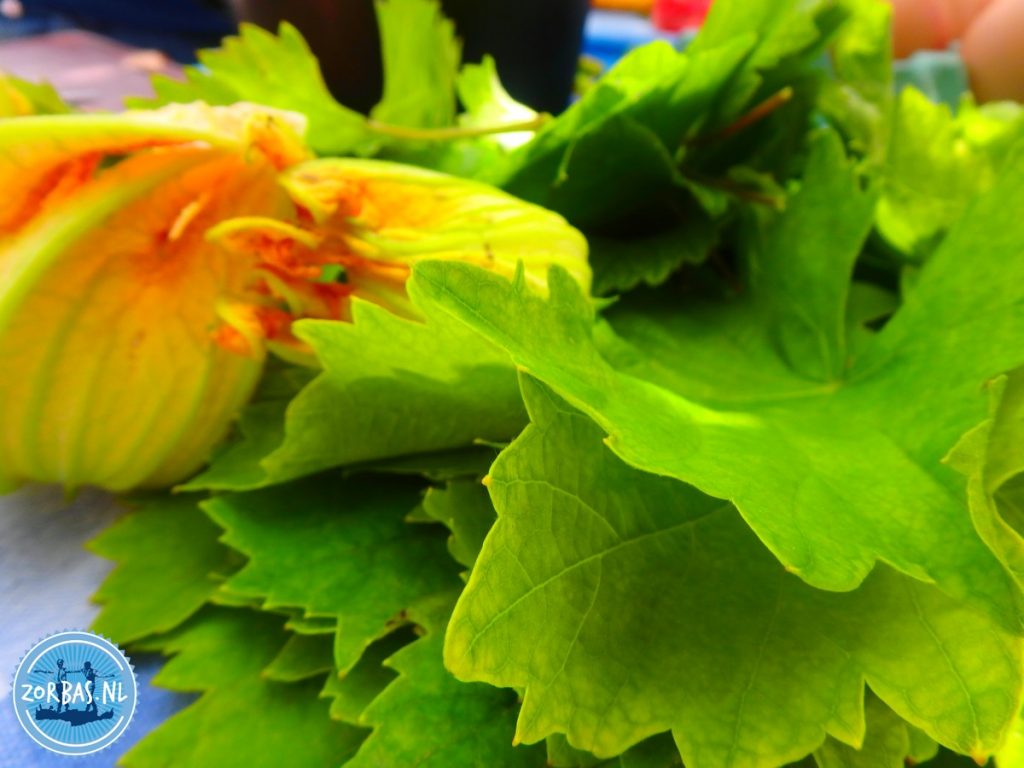 Cooking holidays in Greece: Healthy eating is now a part of everyday life and many people are looking for an easy and quick way to put a healthy meal on the table. During your holiday in Crete, we can help you with that. A day of outdoor cooking or maybe even several days, the atmosphere of the surroundings and the beautiful local products are a huge source of inspiration for many. If you would like to know more about this, read on this page or feel free to contact us.
The Greek cookbook of Zorbas Island: Here you will find recipes from the Greek cuisine of Zorbas Island. You can now prepare these varied and healthy Greek dishes at home. Of course, you can also taste all the dishes yourself during your holiday on Zorbas Island. We always use fresh (organic) local products for all our Greek dishes. During our Greek cooking workshops, we explain more about the ingredients and preparation of Greek cuisine. In Crete, we have special dishes, so we would like to let you in on our secrets. Have fun cooking and kali oreksi.
Photo book Greek cooking classes in Crete: This page will give you an overview of our more than 10 years of cooking experience in Crete. We do a number of cooking workshops every year. The photos were taken by us during our cooking workshops in Crete.
Our own Zorbas Island olive oil: The whole process from harvesting to bottling or canning is done by the Zorbas team and selected partners. In November (sometimes December), the olives are harvested manually and cold-pressed within 24 hours. This ensures a mild flavour and low acidity. After a period of a few weeks, to let the oil settle, the oil is bottled or canned and labelled. Ready for use or sale! On this website, you can order olive oil from Crete and read more about the whole process.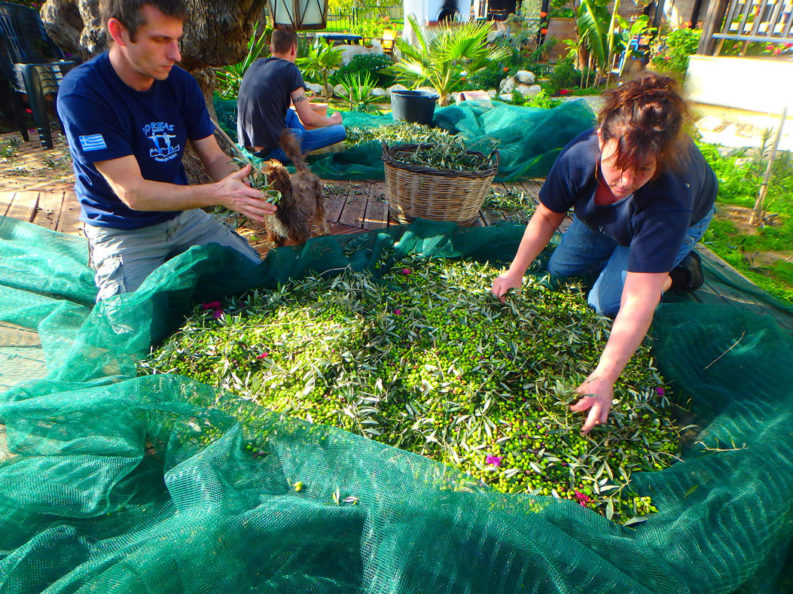 Harvesting olives in Crete: It is that time again, the time of olive harvesting in Crete has arrived. From the beginning of November until the end of January, olives are taken from the trees all over the island for olive oil production. Crete is known for its high-quality olive oil, Extra Virgin Olive Oil. At Zorbas Island, we use olive oil for all our dishes, which we produce ourselves every year. So it's time again to put on work clothes and go out into the country with the whole Zorbas team. Guests help too! Want to harvest olives with us sometime?
Idaia wine information: If you want to know more about Idaia wine from Crete, check out the Crete wine information page: Idaia wine Crete.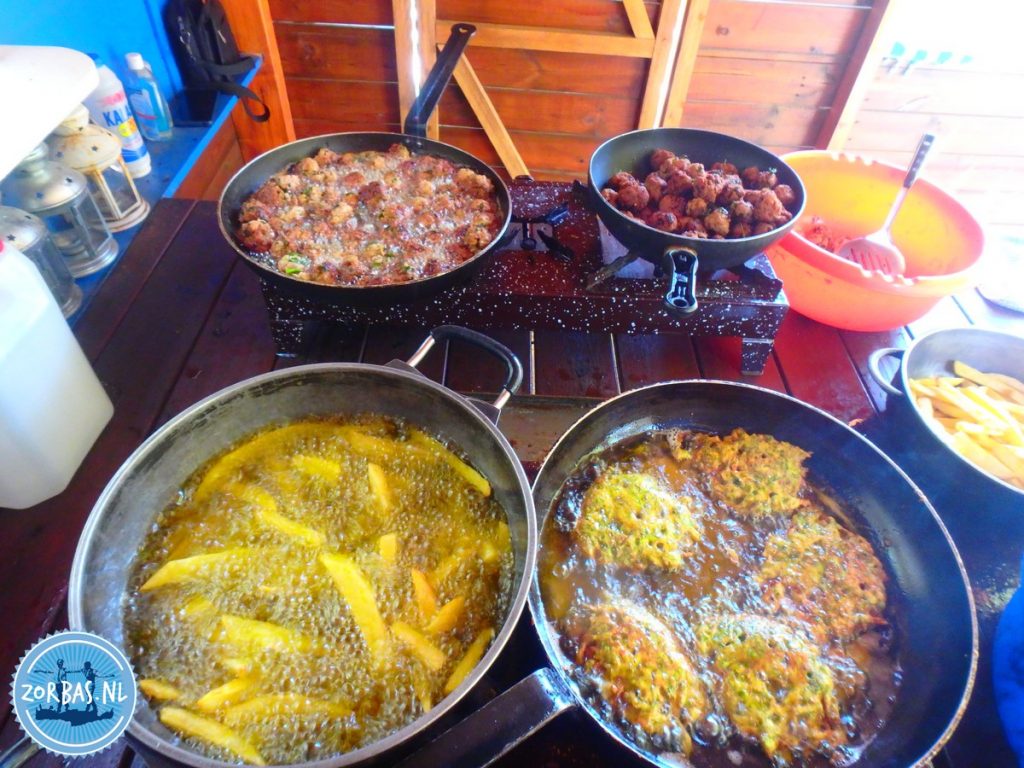 Daily news from Crete: On this page, we give daily updates of all our activities in Crete. Every day, during summer and winter, we upload our weblogs.
Excursion on Crete: Here you find a lot of information about excursions during your holiday on Crete like: car and bike rental, car and accommodation, diving, cycling, hiking, hiking combinations on Crete, Greek cooking lesson, playing golf, boat trips, horseback riding, outdoor activities, sailing, jeep safari, fishing, group excursions, active holiday on Crete, weekly excursion programs or fly-drive.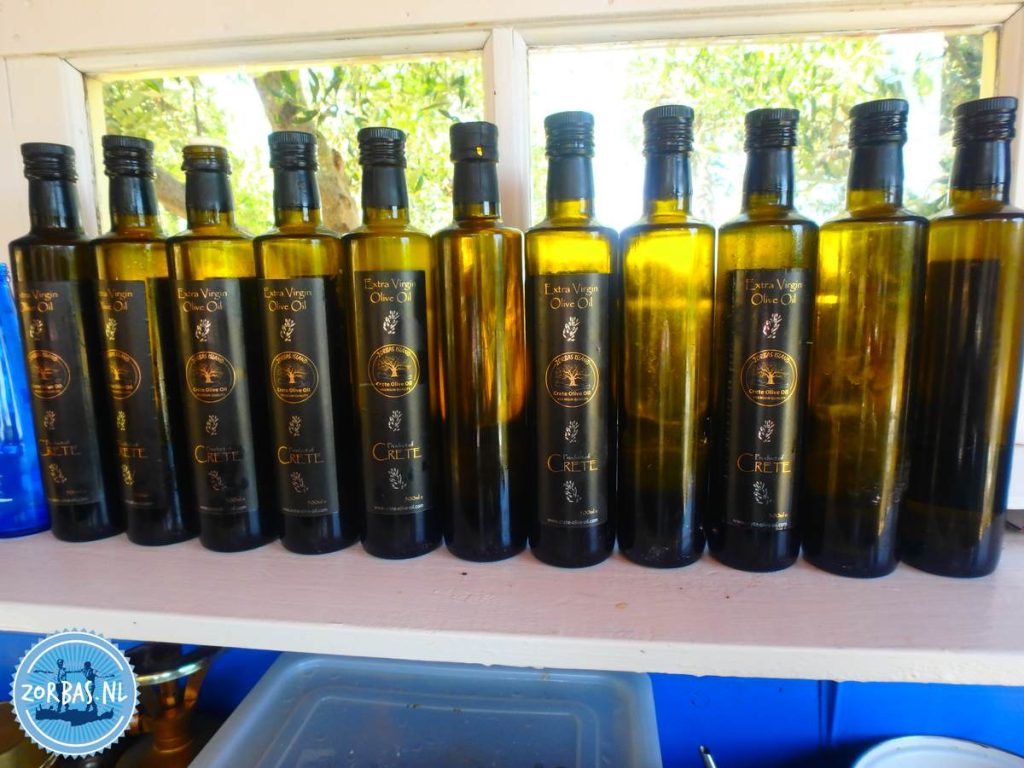 Holiday on Crete: For renting apartments and holiday homes, all your excursions and cheap flights to Crete you can come to us most time of the year. If you are looking for apartment rental and accommodation on Crete, you have come to the right place. We have a variety of apartments, suitable for families, singles, couples or more people travelling together. It does not matter whether it is summer or winter, you can always enjoy the outdoors on the southernmost holiday island of Europe. We can help you to organize your holiday on Crete Greece to your wishes. An active outdoor vacation, active holidays, a beach holiday, or a combination of both; we can all realize for you.
To give you an impression of your vacation in Zorbas Island on Crete, we have created a "Zorbas Island" movie for you: Zorbas Island Vacation movie in 5 Minutes.
In case you like more information, please send an email to zorbasisland@gmail.com